15 May 2022
By Richard Rivkin
It is no secret that wind energy workers are exposed to several different work-related hazards. Whether constructing new turbines, refurbishing existing units, or performing general work around windmills, it is imperative for their employers to assess all the potential threats in order to implement optimal work practices and procedures, including the use the personal protective equipment (PPE), while also ensuring the PPE is safe and effective for its intended use.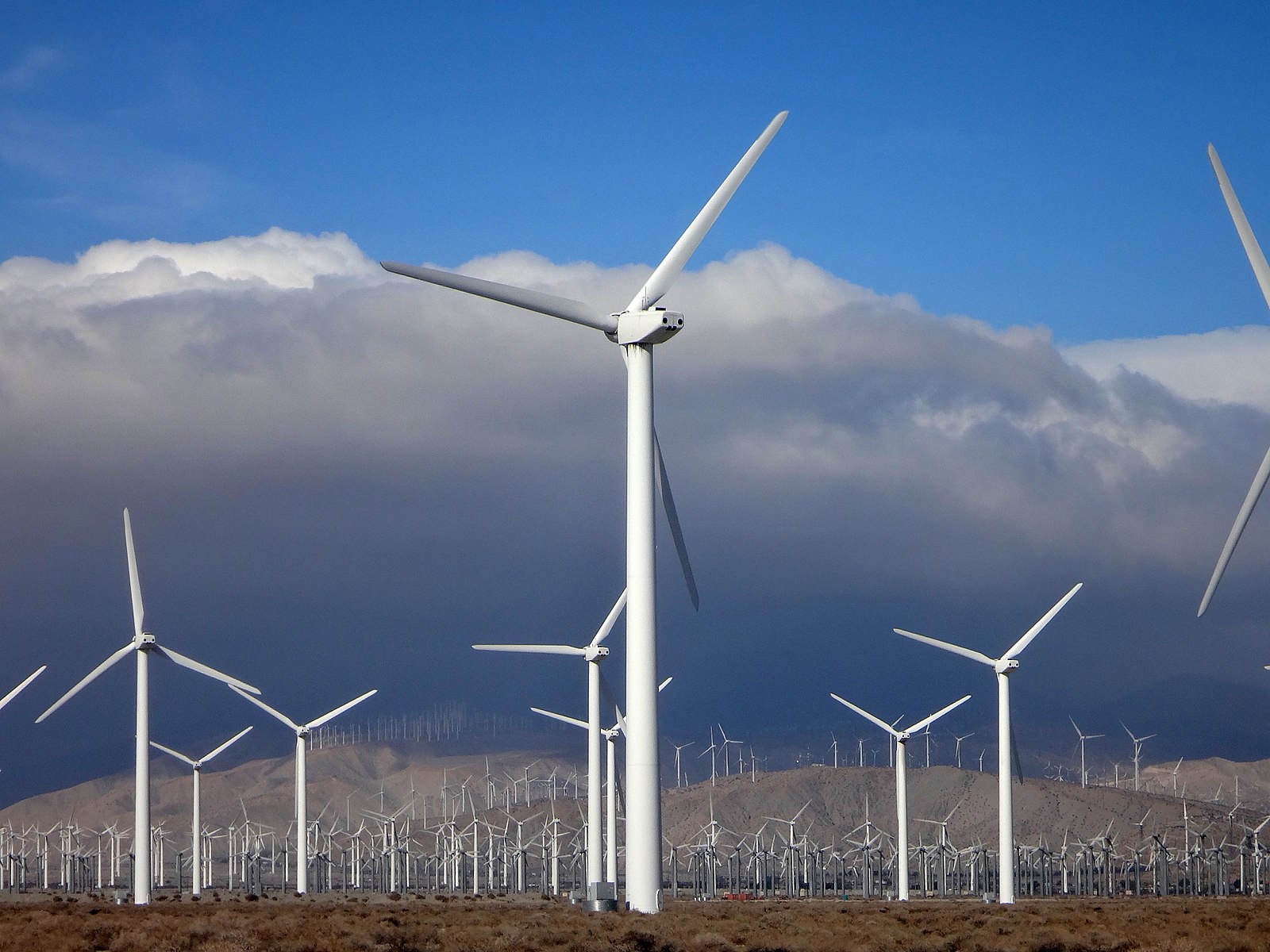 Electrocutions and exposure to arc flash are among the top safety and health concerns. At any given time, wind energy workers are working on or around generators, control panels, slip rings, batteries, capacitors, transformers, collector systems, substations and test equipment. Or they may be performing activities such as IR inspections with equipment open, racking in and out of circuit breakers, inserting or removing energized equipment, LOTO, fault finding and testing in an energized sate. All of which pose significant electrical safety risks. A proper arc flash hazard analysis and shock risk assessment will identify the exact controls that should be in place (engineering, mechanical, human, or otherwise). From there, the appropriate electrical safety program and PPE can be determined.
The NFPA, along with the Occupational Safety and Health Administration (OSHA), mandates and enforces safer electrical work practices under the NFPA 70E standard. Wind energy workers are touching exposed conductive parts, which makes their hands highly susceptible to arc flash and electric shock. OSHA rules require the use of rubber insulating gloves (electrical gloves) when even the smallest probability of contact with 50 volts AC or higher exists.
Electrical gloves are the only protective gear designed for constant contact with, and protection from, energized conductors and equipment. All of the other items are designed for protection from accidental, incidental, or brush contact. Arc-rated work gloves alone provide no protection from voltage. Electrical gloves are an essential element in protecting workers exposed to high-voltage currents. Shock protection is the primary benefit. However, electrical gloves also provide significant burn protection in the event of an arc flash.
According to the OSHA 29 CFR 1910.137 standard, electrical gloves must be rated for the voltage to which a worker will be exposed (phase to ground or phase to phase) and marked to indicate their rating. For in-service use, the maximum use voltage must be above the actual exposure, but it is important to take note of the proof test voltage as well. All electrical gloves are tested by the manufacturer at the specified proof test voltage. Manufacturers also perform a dielectric breakdown test at an even higher voltage to validate the dielectric strength of the rubber material. The result is a significant margin of safety between the test voltages and the maximum use voltage. Each specific hazard assessment will help in determining which class of gloves is appropriate for the application. Voltage protection is broken down into the following classes, and each class of gloves is clearly marked with the maximum use voltage on the color-coded label: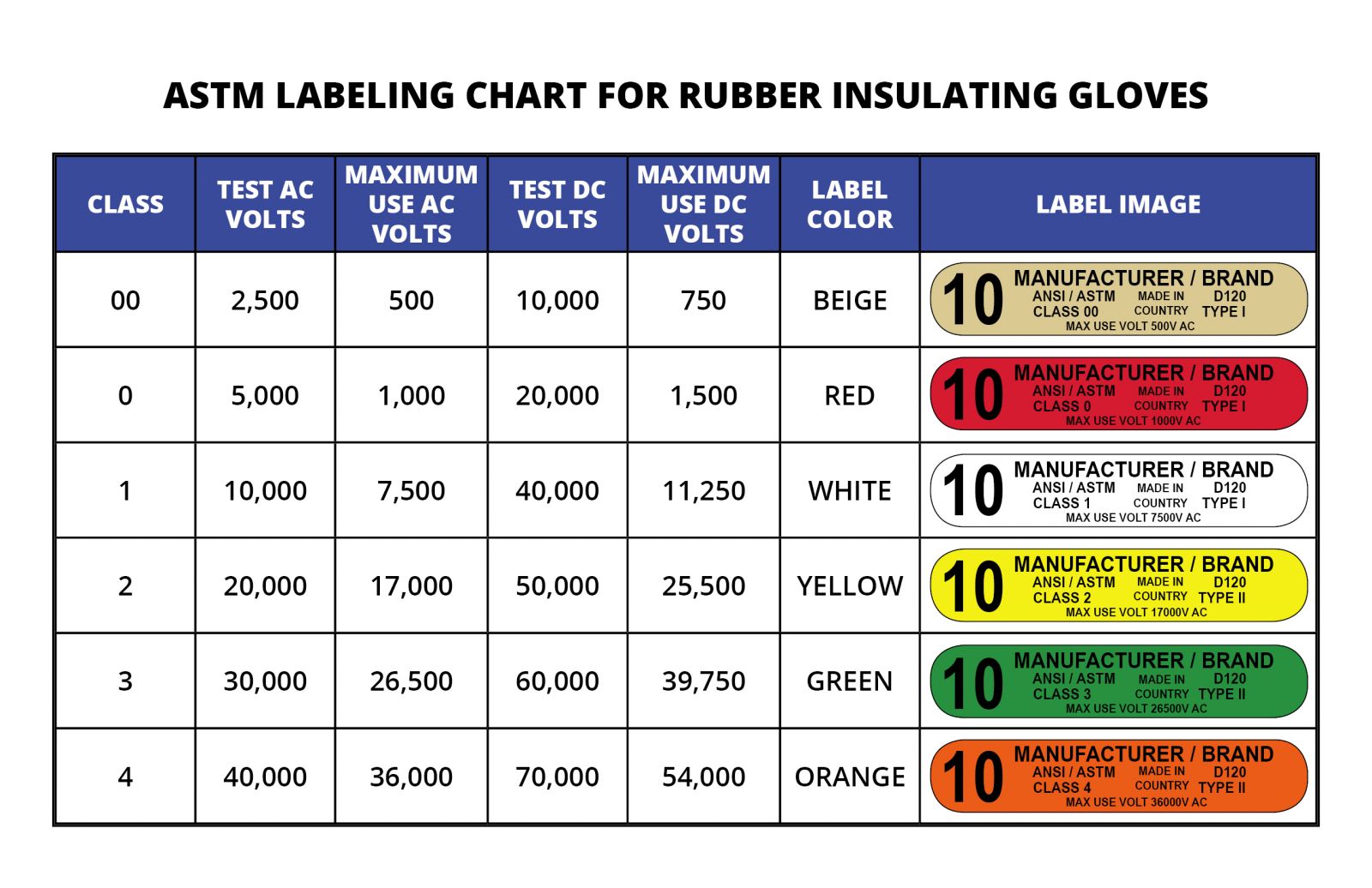 It is important to note that the ASTM standards also include DC test and maximum use voltages, as wind energy workers could be exposed to both AC and DC.
But wearing the appropriate personal protective equipment alone is not enough. OSHA regulations and ASTM standards also require regular dielectric testing of in-service electrical gloves in order to maintain compliance and ensure the products' safety and integrity when exposed to a wide range of voltages.
ASTM Manufacturing and Acceptance Standards mandate the testing of rubber insulting equipment by the manufacturer or supplier prior to the first delivery to the end user. Users also have the option of performing or requiring an acceptance test upon receipt of the goods and prior to placing rubber insulating gloves into service. Once placed into service, the periodic re-test intervals should be based on work practices and test experience. For gloves, ASTM F496 states that the interval shall not exceed six (6) months except for industries that utilize insulating gloves as precautionary protection, in which case the maximum interval may be increased to nine (9) months. However, do not place rubber insulating products into service unless they have been tested electrically within the previous twelve (12) months. These in-service re-test intervals are the MAXIMUM permitted and in addition to the daily field care and inspection. It is quite common for users to specify shorter intervals.
Periodic retesting of electrical gloves should be performed at the proof test voltage using specialized equipment designed to gradually increase the voltage to the desired test level. The dielectric test is two-fold: pass/fail on the ability to withstand the rated test voltage and, for electrical gloves, quantitative on the ability to prevent electric current from passing through the rubber goods above the maximum contained in the specifications. Products passing the inspection and test procedures can then be returned to service. If you do not have the equipment required to perform these electrical tests, there are independent testing facilities that can perform the acceptance and in-service testing on behalf of end users. At a minimum, ASTM standards require that the inspection and testing process include the following steps:
Check-in
Removing previous testing marking
Washing using cleaning agents that will not degrade the insulating properties
Visual inspection of all surfaces (inside and out)
Electrical testing
Final inspection
Recordkeeping
Marking
Packing in appropriate containers ("appropriate containers" means boxes, or similar sturdy packaging materials to prevent folding, creasing or similar loose storage that can cause stress on the rubber) for storage or shipment
When selecting a test lab for use, make sure that it is a NAIL-accredited test lab. NAIL stands for National Association of Independent Laboratories for Protective Equipment Testing (http://www.nail4pet.org). It incorporates the only Laboratory Accreditation for the electrical equipment test labs program in North America. NAIL4PET helps develop uniformity in testing, and works in close association with the American Society of Testing Materials (ASTM International).
Of increasing interest is the "test it as you use it" approach. While AC is the primary method of electrical testing, the ASTM Specifications for Electrical Protective Equipment for Workers do include both AC and DC test voltages and maximum use voltages for safety. Therefore, it makes sense to DC test electrical gloves for use in wind renewable power generation where there is exposure to DC energized circuits and equipment.
Overall, the hazards and risks associated with working on or around wind turbines are similar to those found at most power generation facilities around the world. The remoteness and confined space environment exacerbate the need for electrical safety. Fortunately, there are practices that you can implement to prevent injuries and citations. Testing is a critical and required - yet often overlooked - component to maintaining arc flash and electrical safety and compliance. With several workers required to wear electrical gloves and so many different testing intervals to consider, it is easy to see how compliance can fall through the cracks. Consider partnering with an electrical test lab that can test your electrical gloves AND manage the change-out process for you. Keeping these services bundled together under one roof will minimize out-of-service time and save money by delivering a start-to-finish solution that includes cleaning, visual inspection, electrical testing, markings according to your safety protocols, and shipment to your jobsite so that you can focus on other work priorities while staying safe, productive, and compliant!
Richard A. Rivkin is Chief Executive Officer and Chairman of the Board at Saf-T-Gard International, Inc., a privately held family-owned and -operated global supplier of industrial safety products based in Northbrook, Illinois. Founded in 1936 as Latex Glove Company, Saf-T-Gard carries on the tradition that was started more than 85 years ago: bringing customers the products, training, and service they need to keep employees safe in the workplace.
Saf-T-Gard International, Inc. | http://www.saftgard.com
Author:
Richard Rivkin
Volume:
2022 May/June