15 Jul 2022
By Bill Gannon
A new permitted wind farm off the coast of Cape Cod, Massachusetts has been under construction since November of 2022. This project is located 35 miles from the coast. Consisting of 90 wind turbines, each 1 nautical mile apart from each other, it's the first large wind farm off the coast of New England. It's expected to produce electricity for 400,000 homes. This is a huge project with many environmental concerns, both at sea and on land.
The power from the offshore substation will be brought onshore via cables buried below the ocean floor, which prevents disruptions from any outside source once the project is completed. The power cables will be brought into the mainland of Cape Cod, then trenched and buried for several miles to the two substations, where the power transformers will be located. Given Cape Cod's reputation as a pristine area and vacationer's paradise, years of research went into minimizing the environmental and aesthetic impact of this project.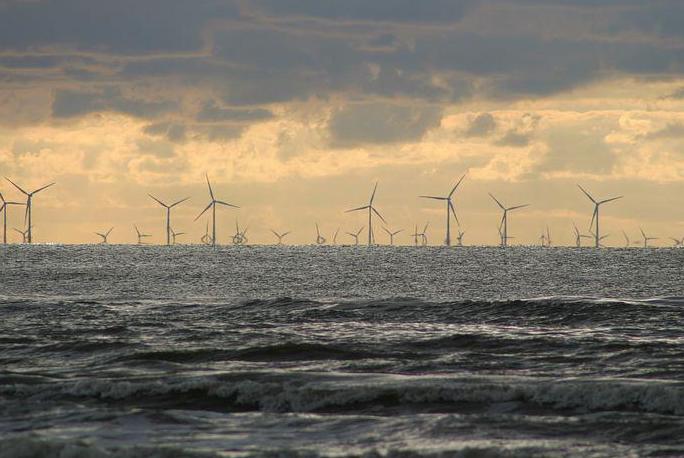 Only after all areas of concern were addressed would permitting be granted for construction to begin. Many engineering firms were involved in the earlier stages of the project. A main concern was how oil containment would be employed at the substations on Cape Cod. One method, called passive containment, involves no moving parts. This allows rainwater to flow through the filter media draining the containment pits. This innovative passive containment system allows for removal of oil sheen to non-detectable levels in rainstorms, while also providing 100 percent oil containment in the event of a total failure, by instantly shutting down all drainage in seconds.
Cape Cod Massachusetts water supply is from the underground aquifers; preventing any contamination is vital. The benefits of passive filtration, along with limited maintenance, would safeguard the needs of Cape Cod and its sensitive aquafer.
The passive technology can be demonstrated by having water flow through a media tube, then introducing transformer mineral oil. As the water level drops, the oil enters the tube and is absorbed into the media. The media dissolves on oil contact and tackifies, causing a solid seal in seconds. This passive approach also works on oil – contaminated water running through the filter to the point where any oil sheen is removed to non-detectable levels. Since 1999, this passive technology has been proven in the field to contain oil from both spills and transformer explosions with fire. No oil has ever been released.
After years of planning, the first of two substations is finally under construction. This substation will have eight oil containment areas for 4 large power transformers, 2 shunt reactors, and several GSU transformers and capacitors – all requiring complete oil containment. Each containment area is sized for the amount oil in each piece of equipment. The large transformers and shunt reactors contain up to 23000 gallons of oil, and must have 110 percent containment. An additional free board of 30" remains for rainwater, while at the same time being able to drain the water. The containment areas are concrete, approximately 49' X 39' with a depth of 5'3" sloped toward the passive oil barrier.
These barriers are manufactured using a 36" inside diameter High Density Polyethylene pipe (HDPE), 30" in height with a 4" lateral drain on the bottom floor of the HDPE housing. After the housing is installed, hooked up to drainage piping, backfilled, and with concrete poured around it, the area inside the containment must be thoroughly cleaned to remove all concrete dust and debris. The sumps are then covered until the barriers and dirt filter are installed.

The above picture on the left shows the completed barrier, with the top hat filter resting on the black housing (as delivered). The canister is attached with stainless steel screws to the top flange on the housing. Lastly, the top hat filter attaches above the canister to filter dirt and debris before entering into the barrier canister.
Each passive barrier has a flow rate of 50+ gallons per minute while continuously draining during a rain event. Passive filtration provided for oil containment is relatively maintenance free, provided the area is clean when installed. The top hat filter is the first stage of filtering, keeping most dirt and debris out of the barrier canister. The canister also has internal dirt filters that can be cleaned by removing the top grate; if dirty, the round 2" thick batting disk can be replaced.
Because passive filtration oil containment does not require pumps or opening ball valves for drainage, it offers a major advantage regarding maintenance. Draining water from containment areas requires time taken away from other important jobs. Many containment areas can be overlooked, and not properly drained, which creates other problems like too much rainwater without the volume for oil, mosquito breeding, algae growth, or oil sheen. Passive filtration solves all these problems.
Passive oil containment is used in thousands of applications, in many different forms. By allowing only clean water to be discharged, and sealing off in an oil or fuel spill, this technology has set a new standard for oil containment.
Bill Gannon is President at Solidification Products International, which he founded in 1991 to develop and manufacture solidification technology and products for passive oil containment and unique industrial applications. He can be reached at bgannon@oilbarriers.com.
Oil Barriers | http://www.oilbarriers.com
Author:
Bill Gannon
Volume:
2022 July/August