15 Jul 2022
By Richard Harada
As the percentage of wind power generation increases, the level of importance in maintaining these systems grows. Many of the conventional assets such as generators, transformers, and breakers are used for wind applications - but on a totally different scale, and located in a moving nacelle, on a tower, 100m off the ground. The maintenance techniques for wind generation are evolving as the technology matures.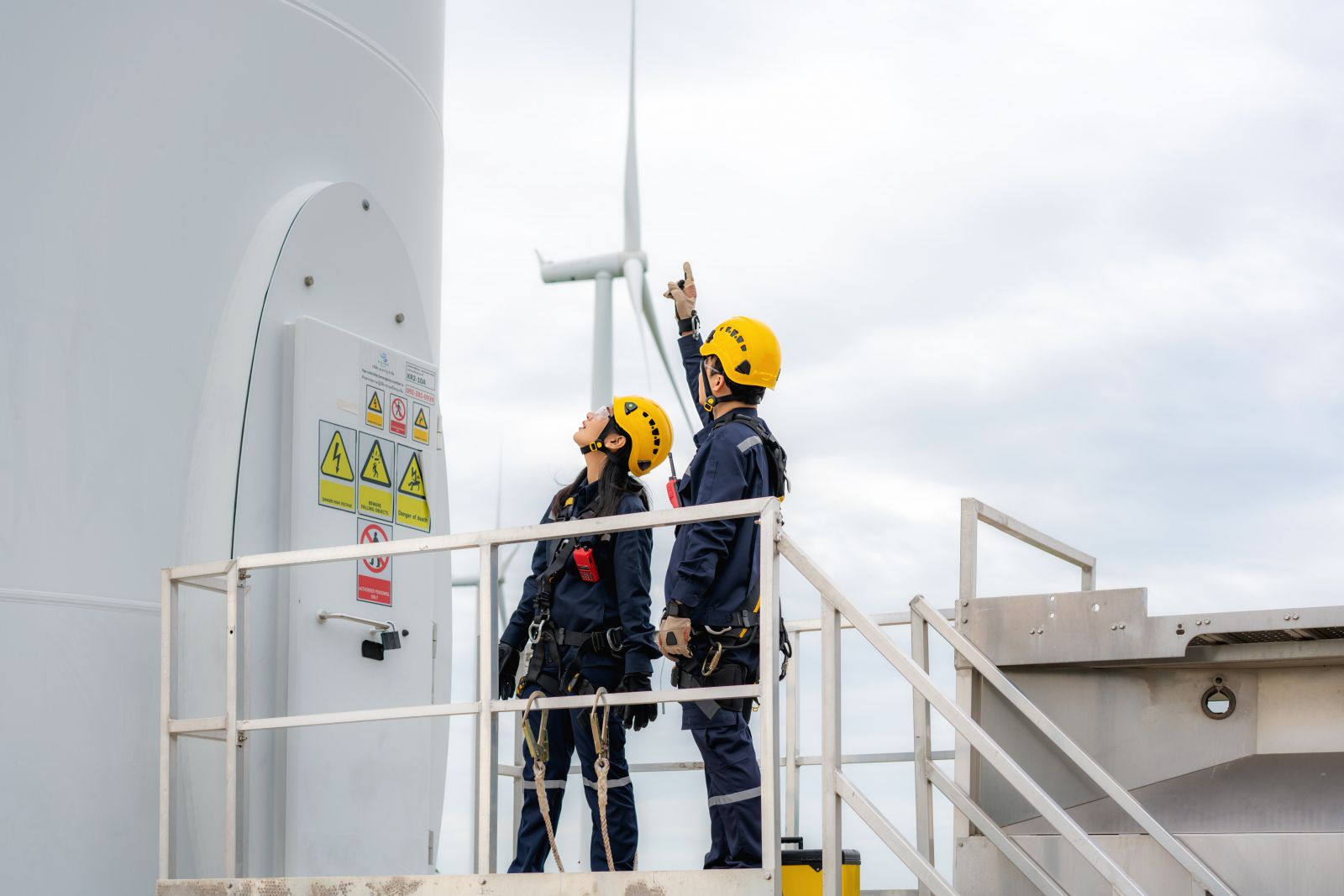 Challenging Locations
Wind farms are usually in remote locations, requiring extra time and logistics to get to sites with the proper equipment. Offshore windfarms are even more challenging; they require more planning, training, and transportation to reach the site. Once at a windfarm, it takes additional time and physical exertion just to access the equipment inside the nacelle. Wind turbines inspections are much more complicated when compared to the inspection of land-based substation equipment; and require specially trained wind turbine technicians. In the US, a medium-sized windfarm will have 50 to 100 turbines per site. Inspecting each turbine manually can take days, or even weeks. In addition, the fact that wind turbines are shut down during the inspection means that electrical issues that occur under load will not be detected.
With these challenges in mind, wind farm operators recognize the value of online condition monitoring. [1] Through automated and early detection of anomalies, condition-based maintenance can prevent serious failures, allowing operators to optimize resources and reduce repair costs.
Technology to Overcome Challenges
Some utilities are implementing the same technologies that are driving the fourth industrial revolution in the manufacturing sector. The Industrial Internet of Things, (IIoT), machine learning, and cloud computing are among the new technologies that are already being used by electric companies for asset monitoring, predictive maintenance, and the operations of distributed energy resources (DER). Industry experts have started calling this trend "Energy 4.0," to highlight the magnitude of the transformation they expect it will bring to the electric industry. Energy 4.0 technologies can provide the tools utilities need to adapt to this new industry environment, and move to a greater adoption of these technologies by the electric industry.
Monitoring the Wind Turbine with Thermal Imaging
Thermal imaging sensors measure the infrared radiation from an object and convert it into a temperature value. An important feature of thermal imaging is that it is 'non-invasive'; it uses a sensor that can measure temperatures without physically touching the object. Therefore, outages are not required to install the sensor or make the temperature measurements.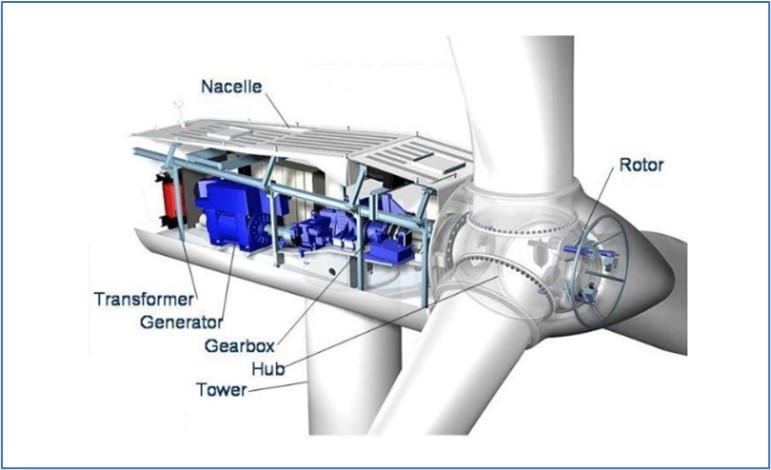 Electrical and mechanical systems inside the nacelle can be monitored with infrared sensors
Thermal imaging is commonly used in electrical applications to detect faults in connection points, switches, bushings, transformers, generators, and motors.
Thermal sensors can also detect excessive heat due to friction in the bearings of the generator, gearbox, or motors that control the positioning of the turbine components.
An advantage of thermal imaging is that a single sensor can monitor a variety of different pieces of equipment, instead of having separate, specialized sensors for each. Thermal asset monitoring can be used to track temperature fluctuation over the course of a day, a week, and even seasonally to monitor if there is a trend in the asset temperature that could be an indicator of an impending problem.
Automated and continuous thermal monitoring can also provide measurements during changing environmental and load conditions, as well as provide the data directly to operators, SCADA, and asset management systems.
With the advancement of IoT and infrared technology, the two are now able to be combined onto a single sensor. This brings thermal imaging into the IoT world, and makes the technology and associated data much more accessible and cost effective.
Monitoring Inside the Nacelle with IoT Sensors
An IoT sensor with onboard thermal and visual imagers, and built-in wireless communications, is an ideal solution for monitoring inside the nacelle. The sensor can take temperature readings on live systems, which will detect overheating bushings, cables, joints, and insulators – even in enclosed and confined spaces. Thermal sensors can also detect thermal anomalies in mechanical equipment such as motors, bearings, and the gearbox. Due to the small size and low power requirement of IoT sensors, they can be installed quickly using magnetic mounts to keep the units in place.
The sensors take snapshots that give operators a visual and thermal view of the system, with analysis done on a continuous basis. A dashboard provides a comprehensive view of the data with graphs of the temperature points, as well as visual and thermal images. Alarm thresholds can be set in the dashboard to alert operators instantly if pre-set temperatures are exceeded. The data and alarms can be sent to SCADA or APM systems, allowing the utility to use the data in a condition-based maintenance program.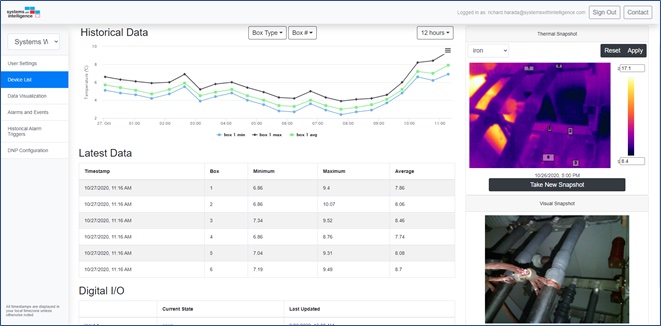 Comprehensive dashboard provides status, trending and visualization information
Summary
Using IoT and thermal sensing technology will allow windfarm operators to perform remote inspections, with 24/7 monitoring on sites and equipment that would otherwise be difficult, costly, and time-consuming to inspect. The sensors provide remote visual and thermal imaging of equipment inside the nacelle. The IoT sensors can be installed quickly and easily due to their small and lightweight form factor, low voltage requirements, and built-in communications. Continuous thermal monitoring ultimately improves safety and reliability, while reducing operating and maintenance costs.
Richard Harada heads the Marketing and Product Management teams at Systems With Intelligence. He has over 20 years of experience in industrial networking communications and applications, and ensures that products are developed that meet industry requirements.
Systems With Intelligence | http://www.systemswithintelligence.com
[1] M. Rebolini, A. Valant and F. Pepe, "Terna's approach for on-line monitoring system Intelligent management of Assets in a large scale infrastructures," in AEIT International Annual Conference (AEIT), Cagliari, ITALY, 2017.
Author:
Richard Harada
Volume:
2022 July/August