15 May 2021
By Mihir Patel
The wind industry is constantly changing and creating new "rules of the road" as we move forward in this ever-evolving business. Not only must wind energy professionals keep up with government regulations, workforce changes, and an influx of new projects; they are also shifting the way they do business in the middle of a worldwide pandemic.
One such challenge that has endured a large shift in the last two to three years has been navigating difficult terrain at project sites. As the industry grows at exponential rates, project developers are getting creative and looking even harder at challenging locations. While some of these project sites may be less than ideal, presenting complex terrain issues and varying atmospheric conditions, they still involve the use of extremely large components being set up on similar footprints as traditional arrangements. The varying terrains, coupled with the setup of enormous turbines on difficult to reach turbine pad sites, pose great challenges to the industry. In an effort to allow wind project developers and companies to execute economic, efficient, and innovative set ups, four best practices have emerged.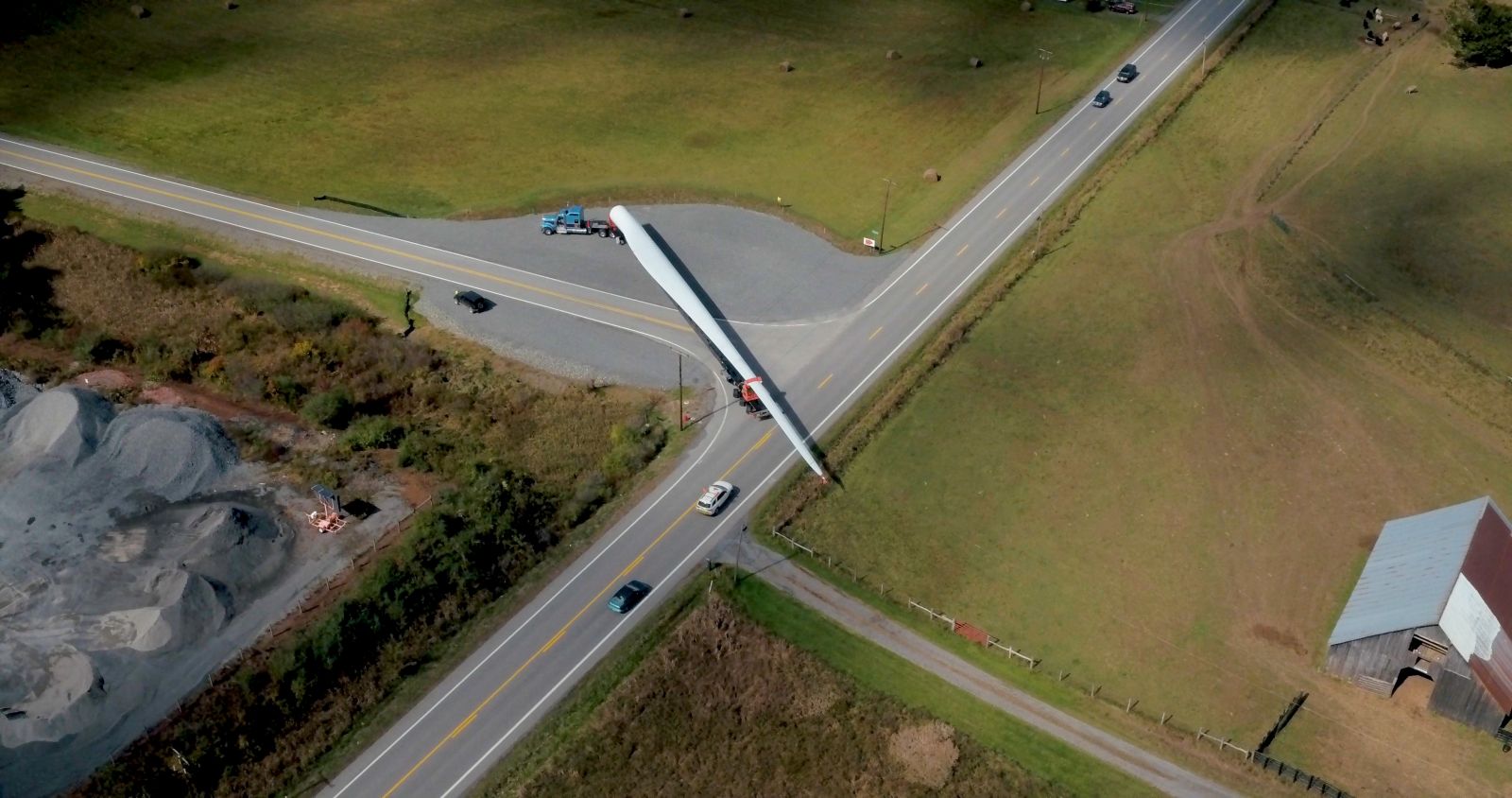 Economical Approach
Wind projects across the country are planned for sites far less traditional than those of past projects (close to shore lines and flat plains). New locations, including the Northeast, Upper Midwest, and Pacific Northwest, feature hills, mountains, and sharp grades in elevation. Additionally, the increase in component size means greater OEM (Original Equipment Manufacturer) Turbine Civil Specification Requirements are needed on the new project sites; maximum grade allowances and the k-value gets reduced drastically with larger turbine blades based on updated civil specifications. For the most part, blade beam trailers have not changed much since the inception of the first blades - the newer mega blades have a large rear tip overhanging, which raises turbine tip drag concerns on these difficult project sites. Simply getting to these locations can be a challenge, requiring an innovative mixture of services from a transport and logistical mindset that sees beyond an engineering outlook. Creative solutions entail securing custom trailers (which are non-wind specific designs) and unique engineering designs to ensure safe passage of the turbine components, as well as not overbuilding the access roads. For example, a logistics firm has the capability to design and build access roads through dense forests (dealing with DEC requirements around streams) and up ridgelines with over 15 percent grades, while allowing the 3+mw turbine components easy access up to the pad sites.
Off- Road Package
Another important consideration is the type of trailer configuration used for transportation; most OEM's do not allow delivery vehicles to be pulled or pushed due to the potential for damage. When someone envisions transporting a turbine, they picture a giant trailer pulling a huge wind blade. While this may be the case for an easier transport through the flat plains of Texas, when you are trying to tackle a trip through the Pacific Northwest ridgelines, the trailer can look vastly different. These special configurations consist of blade lifters and heavy-duty steel trailers meant to be pushed and pulled in every direction. The development of an off-road package has allowed trailers to be pushed or towed up grades, and can drastically reduce the civil specifications due to their smaller size.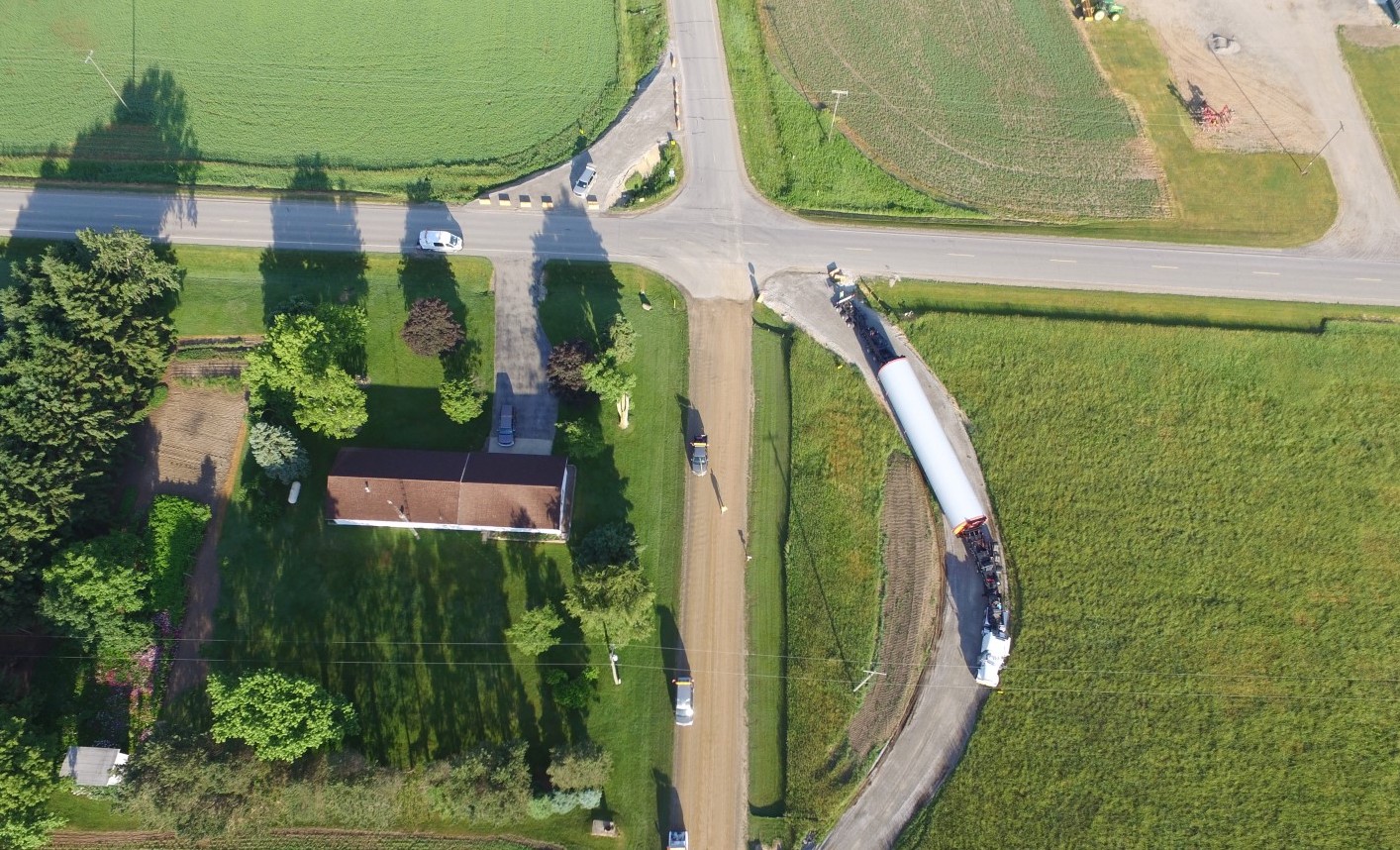 Innovative Approach
The movement of a giant turbine is no easy feat. It requires months of planning and execution. When looking at the transportation plan, it's important to challenge what the trailer holding the turbine can do, versus what the OEM specifications are requesting. OEM's build their specifications around ALL trailer combinations that they might utilize to deliver to ANY project site regardless of terrain. Why build a site in New York like you would build in Iowa? Project firms will hone in on the geographical location and source to a particular trailer set up, allowing reduction in the civil requirement and, ultimately, saving civil build-out costs.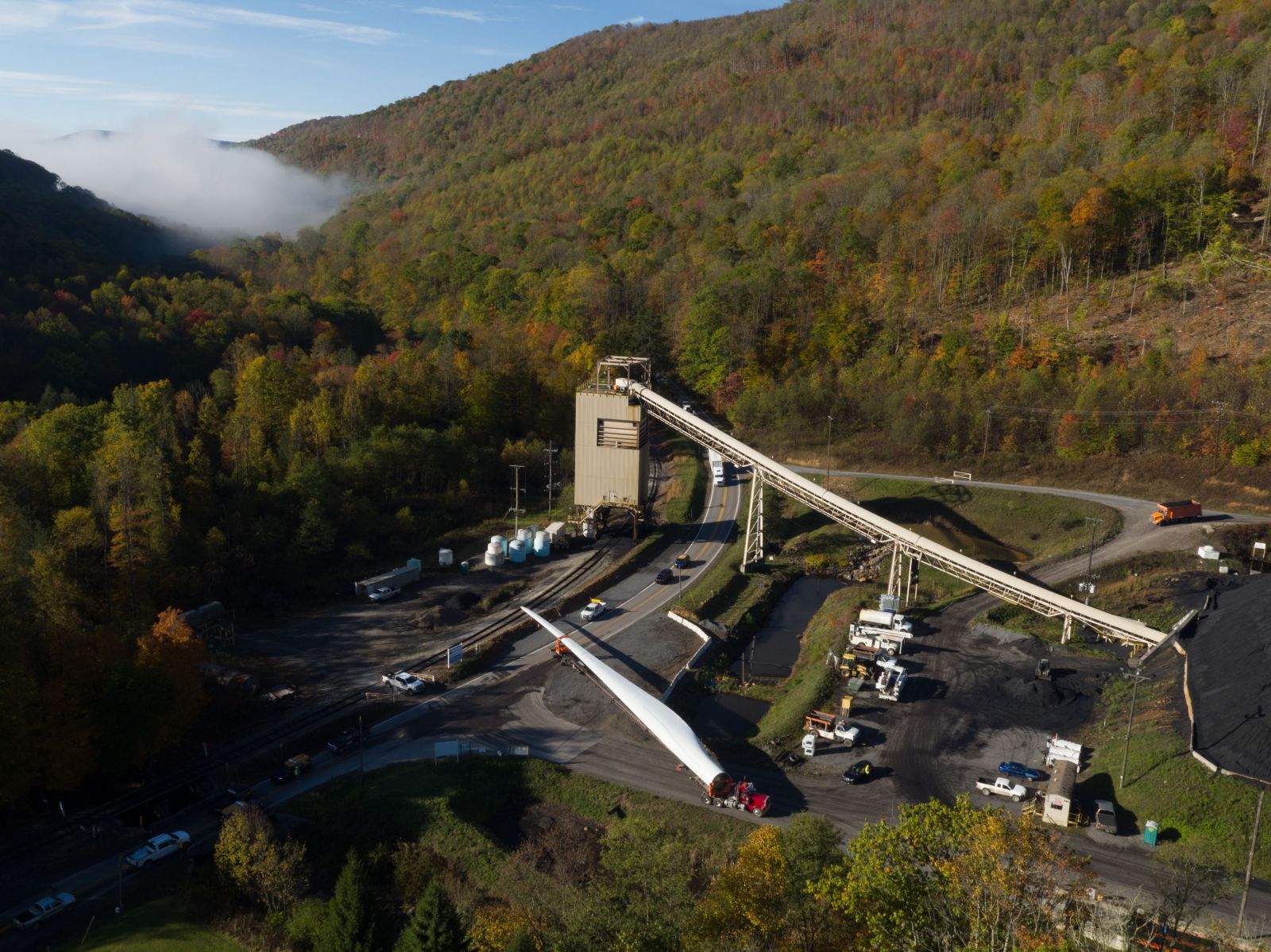 On-Site Delivery Lay Down
One final best practice to utilize when citing wind projects on challenging terrain is a service model called "on-site delivery laydown". This service delivers the components at the bottom of the hill. While it is a larger upfront cost verses a typical OEM direct-to-pad-site model, it usually results in a cost savings when taking into consideration a 'Just in Time' delivery to pad (in terms of crane and truck demurrage). Site design data has proven that this method of delivery assists projects developers in their proposal to lenders.
As developers race to set up new wind energy sites all across the United States, they must consider the various terrain of newly identified regions. Once the site is chosen and the decision is made to move forward with the investment, it is time to plan out the transportation of the massive components to these difficult to reach locations. Thinking outside of the box and being innovative in the approach of delivering the components is key to a successful project that not only meets budget requirements, but does it efficiently and safely.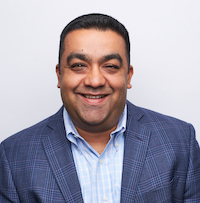 Mihir Patel is Partner and Vice President of Government Affairs and Planning at Logisticus Group, headquartered in Greenville, South Carolina. Logisticus Group is a transportation logistics, engineering, project management and technology company. You can reach Mihir at mihir.patel@logisticusgroup.com.
Logisticus Group | http://www.logisticusgroup.com
Author:
Mihir Patel
Volume:
2021 May/June