18 Sep 2021
By Keegan Lang
Hundreds of billions in institutional dollars are pouring into now-conventional tech: wind, solar, and batteries. Their costs have plummeted below the price of natural gas. Regardless of who holds political office or what the pandemic can throw at us, the clean energy industry is consistently seeing strong, year-over-year growth in the United States.
While that momentum is exciting, in order to stay on a net-zero pathway and avoid the worst impacts of climate change, we'll need to install wind power three times faster over the next decade.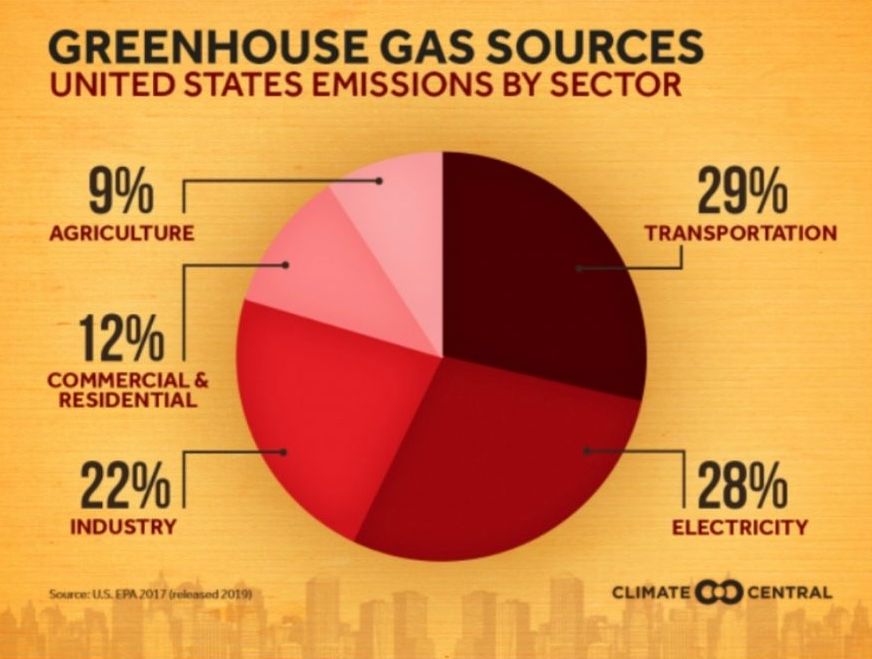 The challenge for wind - and renewables in general - is that the energy isn't generated close to where it's used. Without rapid deployment of transmission lines, it will be hard to pick up the growth pace. In fact, despite the global investment shifting to renewable energy, transmission is emerging as the single biggest barrier to scaling.
Renewables' growing transmission need coincides with a growing problem of the oil and gas industry. In other words, more and more idled pipelines. With the renewable energy revolution passing them by, oil and gas pipeline companies now see a quarter of North America's three million miles of fossil fuel pipelines sitting idle. It's a growing stranded asset problem.
A compressed air process enables fossil fuel companies, with their vast resources and ties to government officials, to profitably participate in the clean energy revolution.
One sector's problem is another sector's opportunity
The answer is right beneath us - use pipelines as transmission wires. These idled pipelines can be used to move compressed air to move turbines at existing power plants producing very little, if any, greenhouse gas emissions (GHGs). Not only will this make operations greener for pipeline owners, it will turn stranded assets into money-making assets in a low-risk approach. Pipeline owners can profit from the high-paying, high inertia power that ramps up immediately.
The first step is to locate clusters of wind near compression stations. The next step involves building wind turbines alongside oil and gas pipelines, using the resulting power to inject compressed air into pipelines that can power turbines to generate electricity at points further down the pipeline.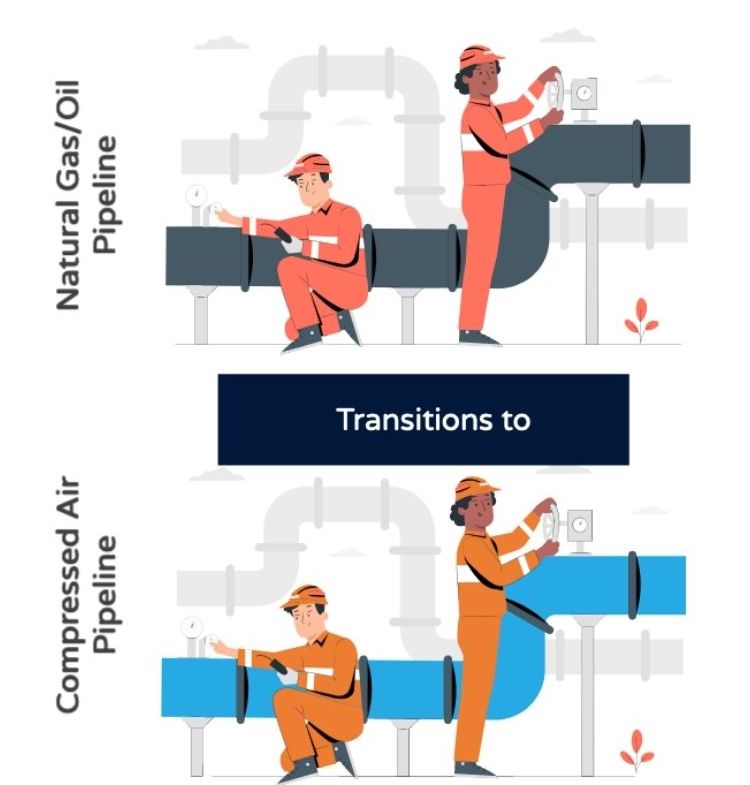 Consider this: If we generate wind energy closer to where the electricity will be used, we can optimize the existing transmission infrastructure with much shorter runs and at a much lower cost. By delivering energy from where it's produced to where it is needed, we keep transmission reliable and affordable.
Right now, there's a compressed air proof-of-concept in Alberta, Canada at an office complex. The energy is used to power a simple air compressor; the compressed air creates spinning inside an expander to create electricity. While the process is currently being applied to actual power plants, it will be ready to be commissioned in about 6 to 8 months.
Compressed air is made with today's equipment, harmless if leaked, and has benefits beyond electric generation. Through this process, it generates heat that can be used in a variety of ways, including to create steel and treat foods and chemicals. Cold air can also be generated upon release to create ice, refrigerate, or cool air for buildings and data centers.
Every fossil fuel company is trying to determine its place in the accelerating global shift to renewable energy. Why not produce the same energy with the same equipment - but fuel it with easy-to-generate compressed air?
Compressed air doesn't require water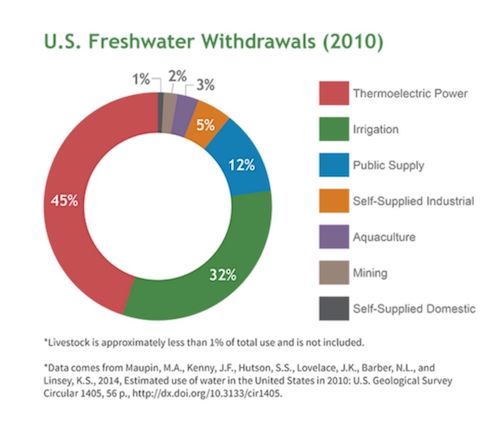 In a time of drought and water scarcity, there's another somewhat surprising benefit to using pipelines as transmission wires: Compressed air electric generation uses air pressure to move turbines. The current process uses steam. In fact, 45 percent of U.S. water usage goes towards generating electricity. Air pressure requires no water at all.
If wind generation is close enough to the compression station, there is no need to convert to alternating current (AC). Instead, direct current (DC) motors can be used for compression, saving the 25 percent of the power lost by converting to AC. This allows for the use of all the power generated by wind turbines or other renewable resources.
Through optimizing the existing transmission network and reducing clean water consumption, we're entering a new paradigm that could be the slingshot to solving renewables transmission lines, thereby tackling the biggest barrier on the path to renewable baseload.
As unconventional as it sounds, compressed air technology is a win-win solution that brings renewables and fossil fuels together. If fossil fuel companies can authentically participate in the clean energy revolution, wouldn't that be a good thing? Forget the red and blue divide; this is a bipartisan issue. When it comes to compressed air, both sides benefit.
Keegan Lang is Senior Vice President at Breeze, a developer for early CAPS power plants.
Breeze | http://www.breezesqueeze.com
Author:
Keegan Lang
Volume:
2021 September/October