15 May 2022
By Chase Anderson and Chris Lantz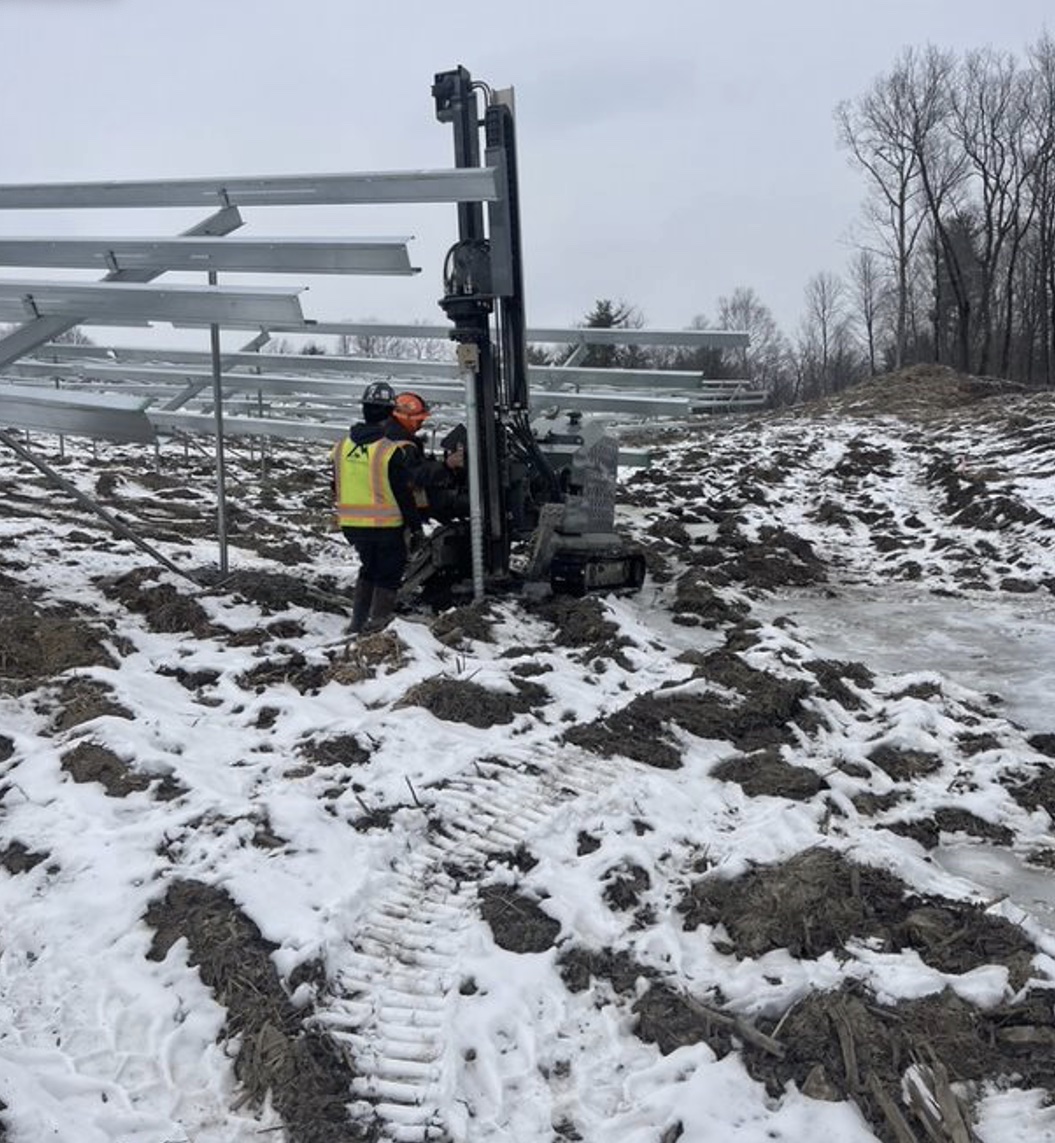 Utility-scale PV projects throughout the Northeast face the extremes: brutal cold, heavy snow loads, winds, rocky soils, and frozen ground that can result in devastating frost heave conditions. With most of the choice flat sites already built out, developers looking at steeply undulating terrain for more competitive leases do so at a cost: these sites often feature compacted soils, glacial till, and cobble over shallow bedrock pocked with boulders.
Construction challenges abound. Frozen ground slows installation, while spring thaws can create a muddy morass. Both serve to narrow the window of opportunity for getting things done. Developing solar assets under such challenging conditions can be daunting, but following a few best practices and working with partners experienced in managing the Northeast's challenging conditions can make the difference between long-term returns and short-term failure.
Digging deep to set a solid foundation
Two key issues create the biggest below-ground headaches in the Northeast: Frost heave and pile refusals.
Frost heave — the upward ground movement that occurs as soil freezes — forces the soil apart and causes the ground's surface to bulge. Frost heave can be particularly severe in the glacial till that is common throughout the Northeast.
For PV plants with driven piles, the foundation also can be subject to adfreeze, in which the frozen soil adheres to the piles' surface. Adfreeze combined with frost heaving results in frost jacking, which literally lifts the foundation, resulting in margin-eroding repairs to maintain system integrity.
Refusals are another risk inherent to developing PV in the Northeast. Dense, rocky soils can conceal hidden boulders, causing unexpected and schedule-endangering delays when piles cannot be sunk.
To eliminate refusal and adfreeze risks - and control the possibility of frost heave - ground screws are far more suitable to these conditions than driven piles.
Consult with partners familiar with the differences before committing to your foundation decision. Ground screws are quick to install and ideal for rugged sites, but require special equipment, more units than piles, and a higher upfront material cost. Driven piles are affordable and reliable with lower upfront material and construction costs on typical sites, but are problematic on rugged terrain.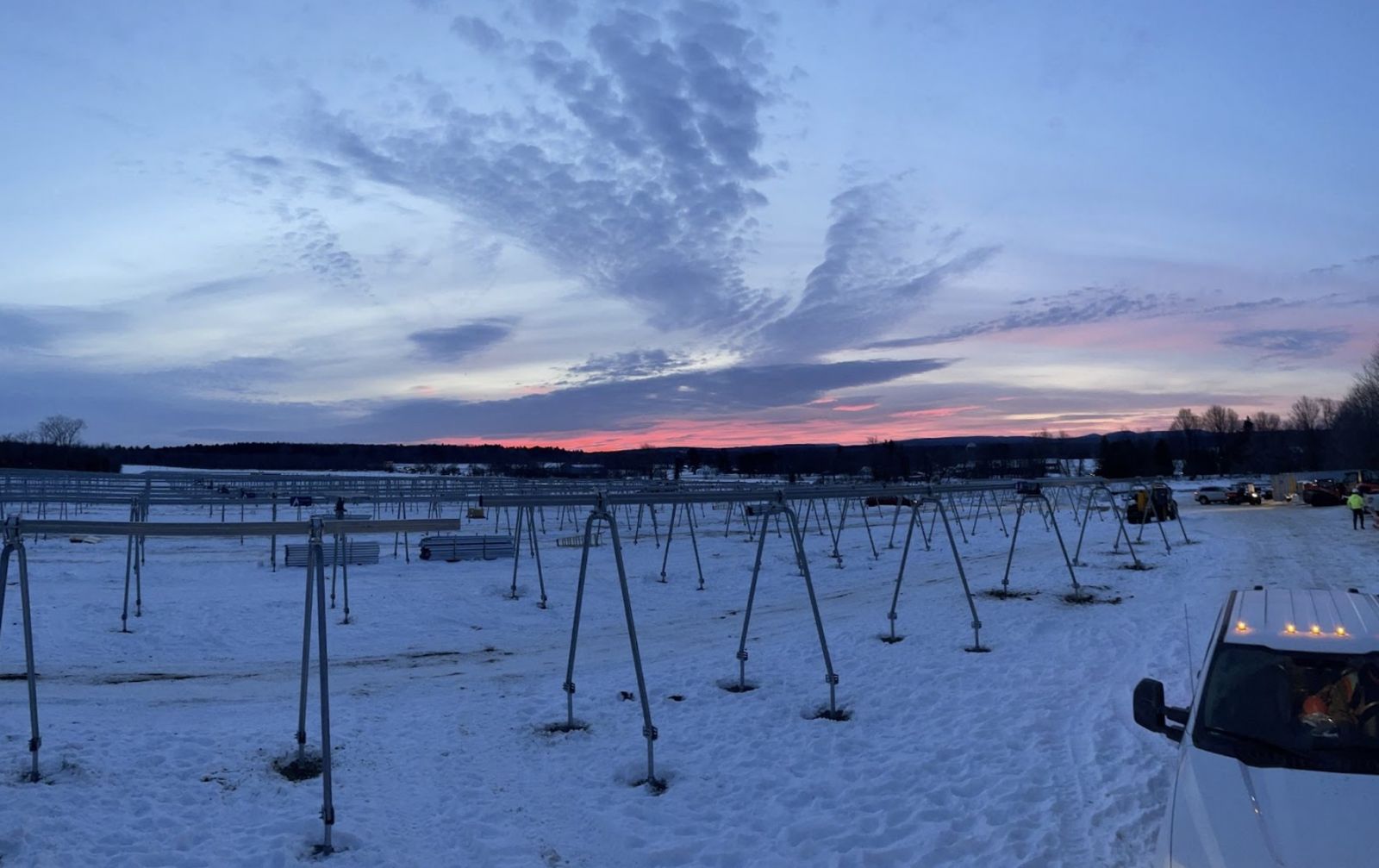 Assessing the situation above ground
Three primary factors influence design decisions above the ground: Snow, wind, and site topography.
Snow is the biggest factor. Racking must be designed to withstand and, if possible, shed heavy loads regularly. Building codes written for roofs often fail to account for solar projects. Snow that slides off a roof has several feet in which to pile up. But when it sheds from a ground-mounted solar module, it only has about a three-foot fall to the ground; after that piles up, there's nowhere left for the snow to go.
Adding height between the module and the ground means crews must do more construction work at an awkward elevated level above their heads, sometimes requiring ladders.
Additionally, to bear the weight of more snow loaded on the modules, the purlins have to get bigger or the spans smaller. Look for a racking partner who conducts robust load-testing measures such as increasing loads with artificial snow during the winter, or loading test structures with as much as 13,000 pounds of bricks in warmer settings.
Wind is another concern in the Northeast, both on the coast where hurricane-force gales must be considered and along inland lakes. Make sure designers have done thorough wind tunnel testing to account for the varying angles of force possible on the project site. Some racking manufacturers use advanced software to simulate the most cost-effective design for your site's unique wind profile.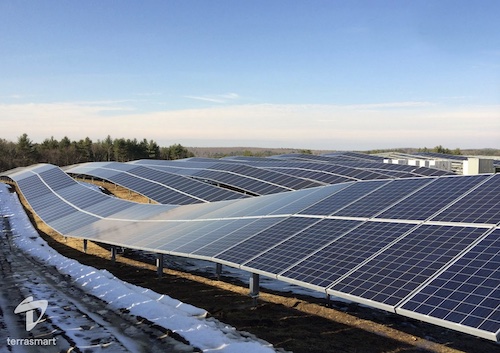 Rugged terrain also poses an above-ground challenge. Steep slopes and undulations require flexible racking that can accommodate up to 36 percent slopes in all directions, aiding install-friendly tilt angles from 5 to 35 degrees.
During the initial design phase, make sure your partner optimizes the tracker system to be cost competitive mechanically, for constructability, and with regard to topography. Considerations for steep and undulating terrain are made to best balance these three design parameters: mechanical feasibility, constructability, and topographical terrain considerations.
Structural calculations shouldn't just analyze the racking in a perfectly flat configuration, but also assess how on-site slopes affect span length and beam configuration. These kinds of mechanical changes can affect the lateral loads of snow and wind on foundations, requiring further adjustments to maintain integrity.
Case study: Delivering quality in less-than-ideal conditions
Converting a former undulating hayfield in Sangerfield, New York, into a 6.5-MW solar farm posed a number of unique challenges.
At the start of the five-month installation, the ground was frozen and installers often had to contend with snow; Sangerfield sees nearly triple the average U.S. snowfall. By the time the last of the site's 17,038 modules went up, the grass would quickly sprout to waist-high if installers didn't keep it mowed. In between those two extremes, installation teams had to contend with thick, sucking mud that threatened to mire their forklifts.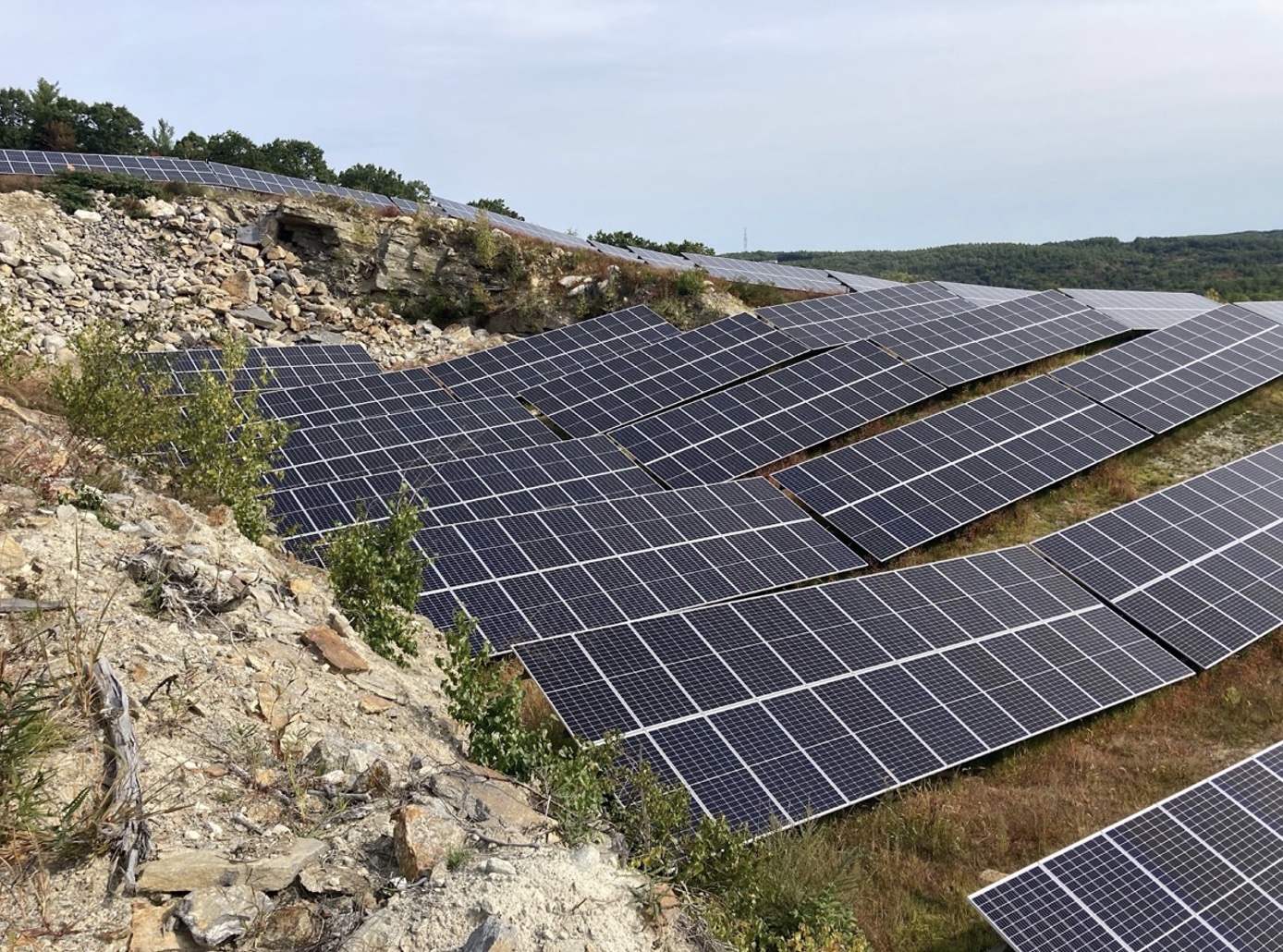 As a former farming site, the Sangerfield property also presented the challenge of working around uncharted tile — drainage pipes — and surprise flood zones at the bottom of its numerous steep slopes.
This complex site required a tracking solution fit for the extremes: flexible, durable mechanics, and intelligent controls. The developer selected a system designed specifically for steep slopes, environmentally sensitive land, frost susceptible soils, and one that would eliminate 100 percent of the refusal risk.
Ultimately, Sangerfield offered so many challenges that the racking partner responsible for building this single-axis tracker site used it as a training opportunity to contend with the unexpected. Too muddy? Establish teams to carry components in by hand so that forklifts wouldn't become mired. Too steep? Develop a flexible design that can accommodate terrain challenges of steep slopes and undulation.
Because the topography was so steep, designers divided it into two sub-sites of 113 rows each. They then installed two weather stations to communicate with a single network controller for the project's smart-tech controls and data cloud. A repeater keeps communications flowing even where line-of-sight is interrupted by the undulating hills. Software within the system maneuvers each discrete module to ensure it doesn't shade any neighboring modules, while still maintaining optimum exposure to the sun.
Team up with an integrated partner for Northeast project success
When working in extreme conditions, racking manufacturers with a broad foundation and system portfolio are ready to provide technology-agnostic advice to ensure project success. Look for deeply experienced design, engineering, and installation teams who seek only to recommend the best possible solutions for your site — not to sell you the only solution they offer. Ideally, align with a company that owns the whole process with in-house steel manufacturing, ensuring top quality and supply chain control. Integrated racking, and an installation partner with smart project feasibility software, can support you through your project's lifecycle from start to finish.

Chase Anderson, senior design engineer, drives product innovation for Terrasmart's single-axis tracker, TerraTrak, as well as GLIDE agile - Terrasmart's fixed-tilt product line.

Chris Lantz is ground mount division manager and leads product optimization for the business division. Together they bring 18 plus years of solar experience to Terrasmart's integrated project solution.
Terrasmart | http://www.terrasmart.com
Author:
Chase Anderson and Chris Lantz
Volume:
2022 May/June