18 Sep 2021
By Roy Cook and John Lerch
Across the vast majority of the US, module level rapid shutdown is now required for new rooftop solar installations as part of the 2017 and 2020 National Electrical Code. According to the code, a Photovoltaic Rapid Shutdown System (PVRSS) provides a means for firefighters and first responders to contain or reduce the voltage from a rooftop PV array so they can stay as safe as possible from electrical hazards, while still doing their jobs efficiently.
In practice, it means that a module level rapid shutdown device (RSD) must be used on new rooftop solar installations in states that have adopted NEC 2017 and later. To put the scale of this into context, SEIA estimates that that more than 5 GW of residential and commercial solar - mostly rooftops - will be installed each year, resulting in tens of millions of solar modules with rapid shutdown functionality over the coming years. With so many installations planned, it's important that installers understand their options and how to meet the requirements.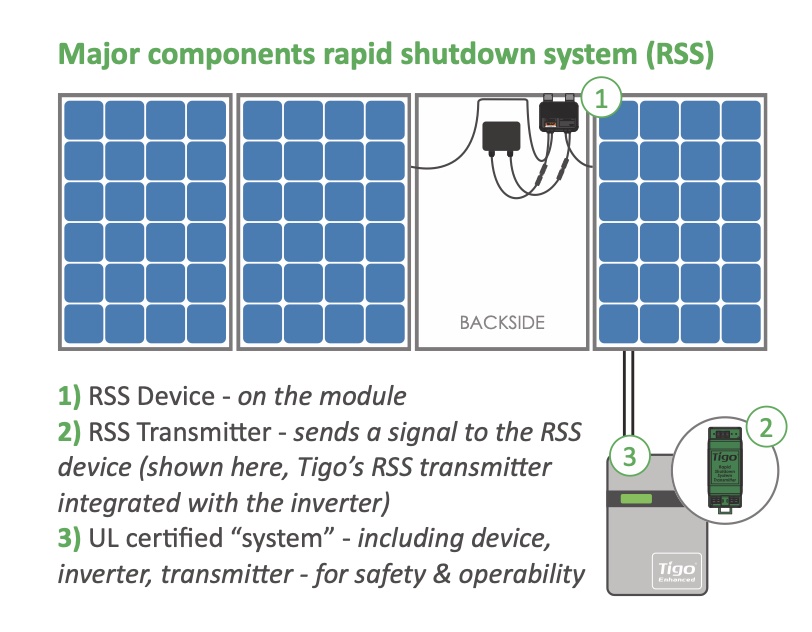 Rapid Shutdown Solution
This is how a rapid shutdown system works: a transmitter, typically located with the inverter, sends a "keep alive" signal to a rapid shutdown device that is connected to each solar module. When the transmitter loses power, the keep alive signal stops. This initiates module-level rapid shutdown, which reduces the voltage both inside and outside of the array. As long as the keep alive signal is sent, the modules and inverter will operate normally.
During a rapid shutdown event, controlled conductors must meet the following requirements within 30 seconds of initiation:
Not more than 30 volts outside the array boundary (1ft from the array in all directions)
Not more than 80 volts inside the array boundary
The code also requires the inverter and rapid shutdown device manufacturers to jointly submit for compliance, compatibility, and testing. This will verify that all components from the two manufacturers work together as a system to effectively provide rapid shutdown compliance in accordance with the required guidelines as covered in NEC 690.12. These guidelines call for rapid shutdown equipment (PVRSE) and systems (PVRSS) be listed by a Nationally Recognized Testing Laboratory (UL) for the purposes of rapid shutdown.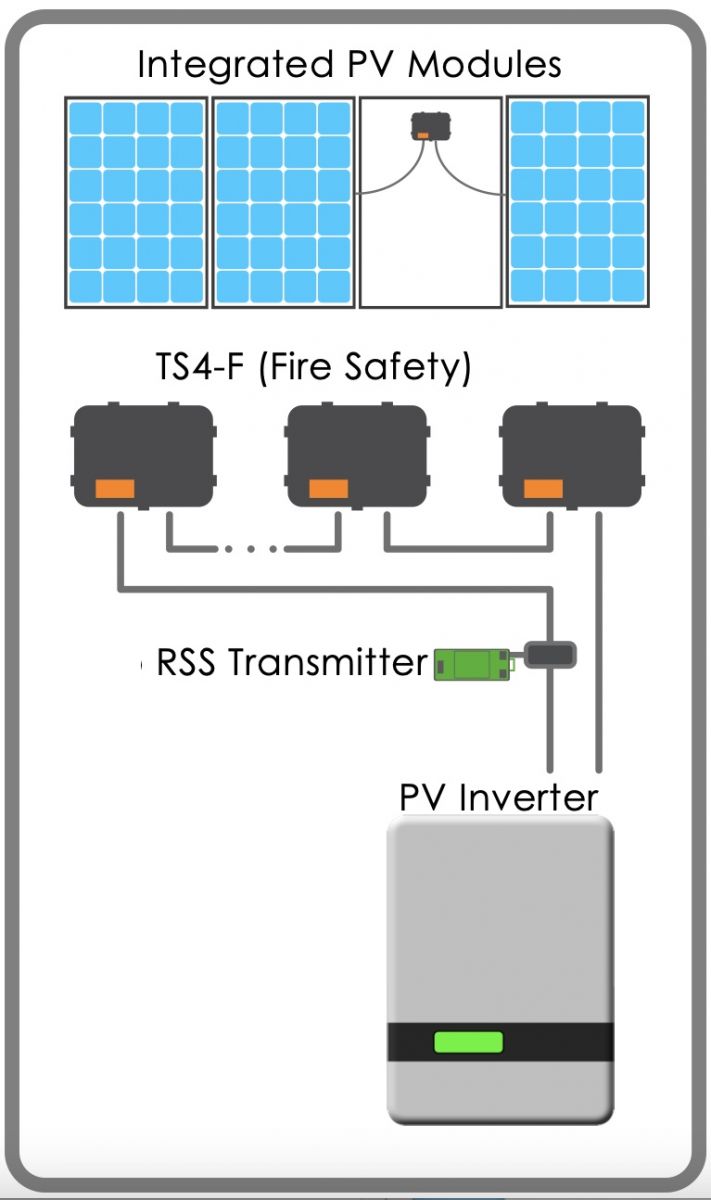 MLPE trends for C&I
Rapid shutdown devices are one of several types of module-level power electronics (MLPE) that are becoming increasingly popular for rooftop PV systems. The other two, DC optimizers and microinverters, are included in the installation of most new US residential solar systems. Many of these devices include code-compliant rapid shutdown functionality in addition to the core benefits they offer in performance improvement, shade mitigation, and module-level monitoring. Devices that only provide rapid shutdown (RSD-only) offer a cost-effective means of adding rapid shutdown compliance to larger rooftop systems. That said, while the more advanced MLPE may not have penciled out for these systems in the past, the need to meet rapid shutdown has opened them up for consideration, especially for sites with shade concerns. For example, if you are considering MLPE to meet rapid shutdown requirements, it's worth comparing the production improvement and ROI of DC optimizers vs RSD-only devices. This is one reason the market for DC optimizers for commercial systems is expected to increase by 33 percent over the next four years.
Integrated rapid shutdown systems are another example of system-level standardization for commercial solar projects. Like standardized connectors and communication protocols, these systems have been designed and tested to ensure seamless interoperability of each component in the PVRSS system (shutdown device, transmitter, and inverter). This eliminates the need for customization, which simplifies the design, permitting, installation, and operation of the system. Integrated components enable UL PVRSS certified, plug and play rapid shutdown systems right out of the box. Combine this with integrated monitoring and single-source support for all components in the system, and you have a complete solution designed for simplicity and savings.
In addition to PVRSS certification, a rapid shutdown system has been tested to ensure smooth operation with the rest of the PV system; this includes the inverter and monitoring functionality for the array. PLC communication through the DC conductors does not interfere with MPPT operation, AFCI, array monitoring, or any other function on the DC side of the inverters. The keep-alive signal is transmitted in parallel to the rest of the system operations and stops when the inverter shuts down.
Module-level rapid shutdown devices have been designed for compatibility with a wide range of commercial modules. Their input capacity can accommodate the rated power, current, and voltage for most commercial modules, including bifacial. For bifacial modules, the site-specific short circuit current should be determined for evaluating this compatibility. As long as this maximum current is within the limit of the module-level device, both the bifacial module and module-level device will operate normally.
Rapid shutdown functionality is an integral part of commercial rooftop systems, and will continue to drive the adoption of MLPE for commercial systems. Through cost reductions, technology improvements, and code iterations, rapid shutdown will become further integrated into safe, reliable PV systems.
Roy Cook is Product Manager, Inverters and Energy Storage Solutions at Canadian Solar (USA).
Canadian Solar (USA) Inc. | http://www.csisolar.com
John Lerch is Global Marketing Director at Tigo Energy.
Tigo Energy | http://www.tigoenergy.com
Author:
Roy Cook and John Lerch
Volume:
2021 September/October