15 Mar 2022
By Michael Barry
In 2005, realizing that the climate crisis was worsening, then Mayor of London Ken Livingstone founded the C40, a global organization of mega-city mayors determined to create climate solutions of their own. In 2007, New York City's Mayor Mike Bloomberg hosted a summit for C40 members; ever since then, New York City has been charting its own course toward sustainability and resiliency. While it may not be the first city you think about when the topic is green energy and sustainability, New York's city government and a growing number of its residents, businesses, and organizations are determined to see that change.
Over the last several years, NYC has consistently ranked among the top American cities for renewable energy and innovative initiatives to facilitate a greener future. Current policies are moving the metropolis toward ever more ambitious green energy goals. One key piece of recent legislation, Local Law 97 (part of the city's Climate Mobilization Act of 2019) features a plan to reign in a major source of emissions throughout the city: buildings. Surprisingly, the energy used by buildings accounts for nearly 80 percent of citywide emissions.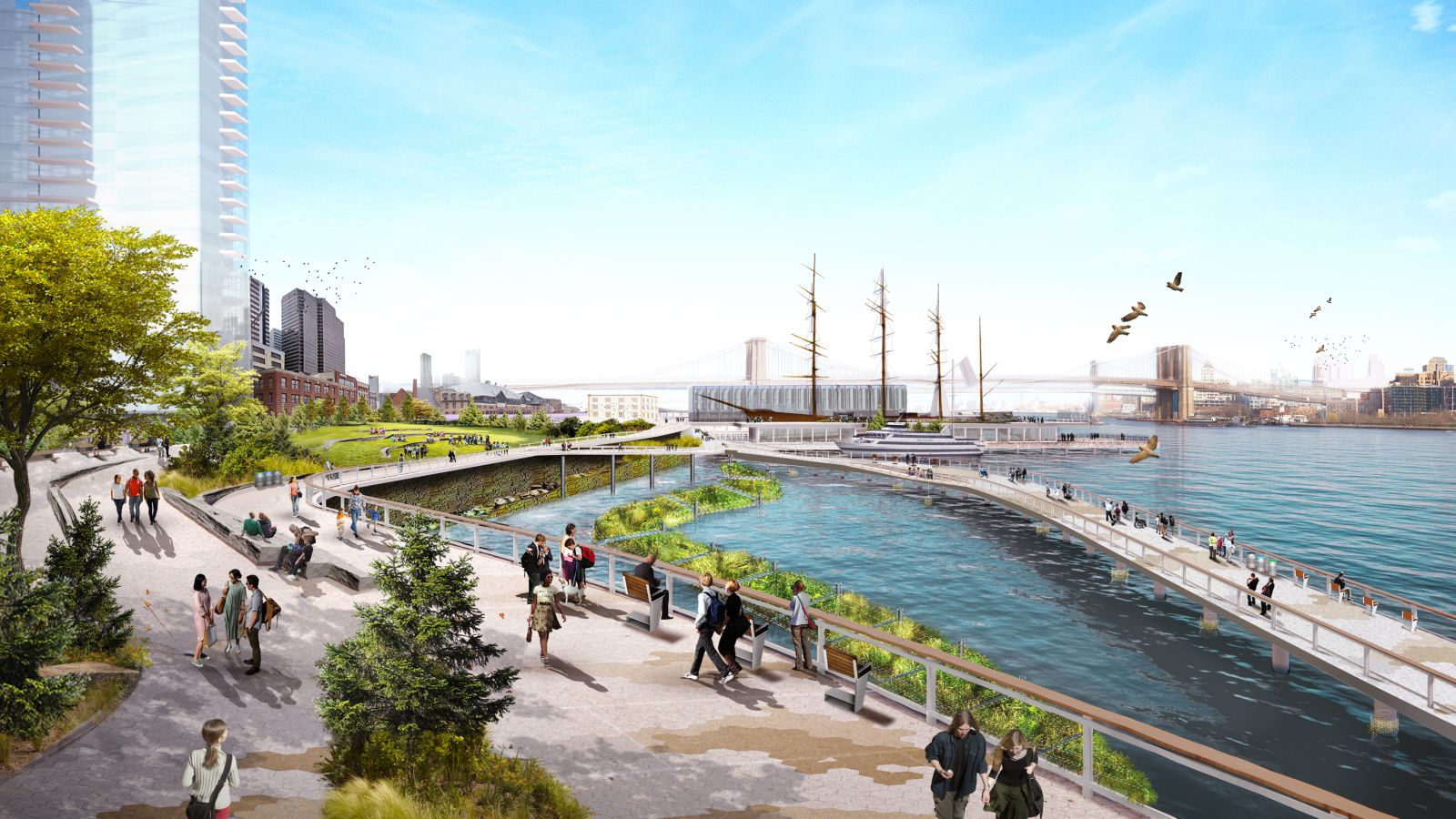 (artist rendering courtesy City EDC)
The new law mandates that most buildings over 25,000 square feet will be required to meet new energy efficiency and greenhouse gas emission limits by 2024, with the goal of reducing building emissions 40 percent by 2030. Although hard to imagine in a city dominated by skyscrapers, green roofs are appearing in all corners of the Big Apple. These roofs support vegetation that absorbs water, provides insulation, and reduce the heat island effect, a familiar phenomenon for anyone who has spent an August in NYC. In addition, green roofs reduce stress on city sewer and wastewater management systems.
An extraordinary example of a green roof in action is atop the iconic Javits Center on the west side of Manhattan. This state-of-the-art, seven-acre roof absorbs up to seven million gallons of storm water run-off annually, and reduces heat gain throughout the enormous complex. Combined with other sustainable features, the center's annual energy consumption has been reduced by 26 percent. The roof also hosts a one-acre farm that yields up to 40,000 pounds of produce annually and supports a vibrant community of wildlife.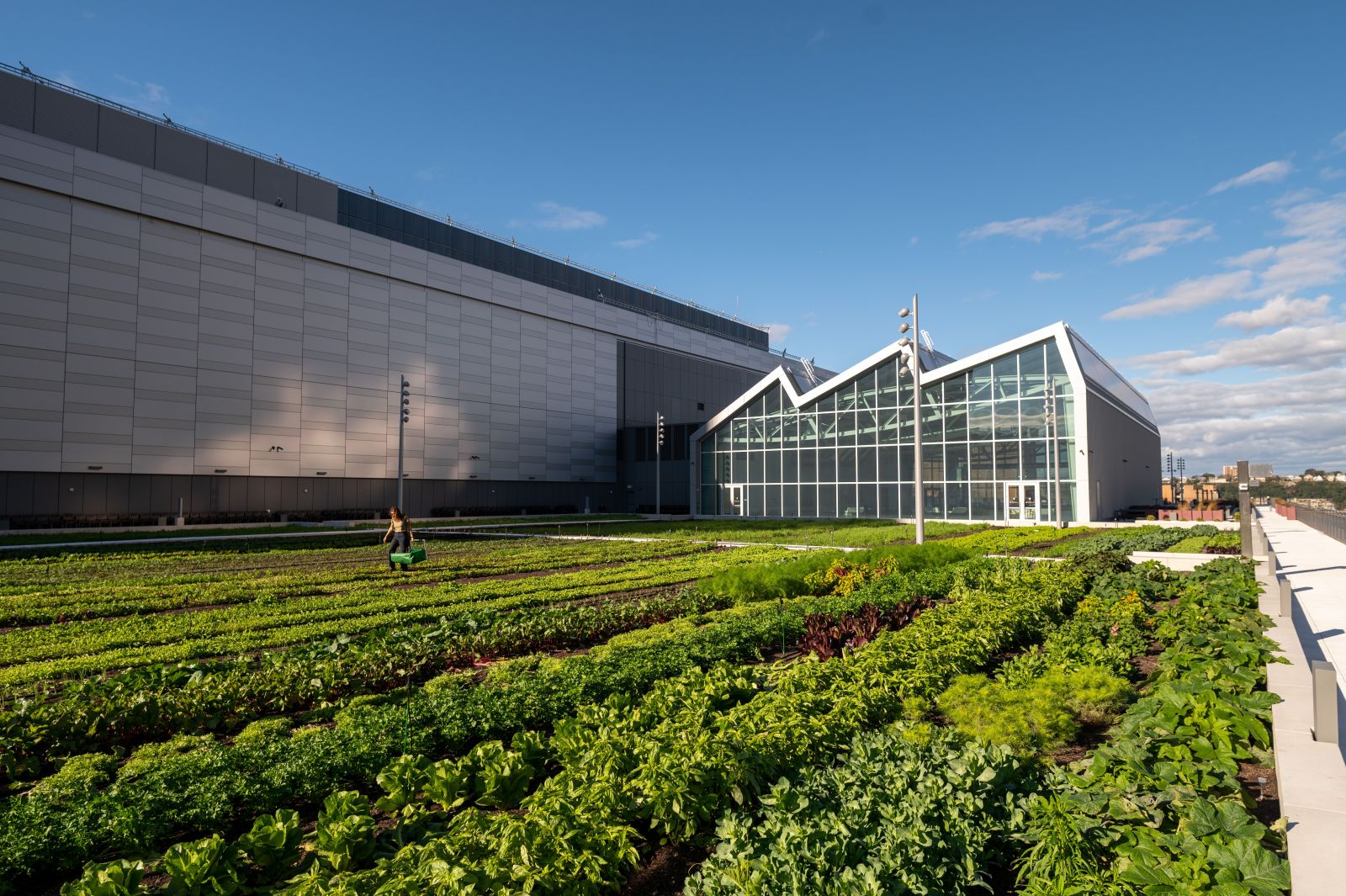 (Rooftop Javits Center)
Cities like New York have no shortage of distinct groups and factions vying for attention. Yet, most of the truly effective initiatives addressing climate change are cooperative in nature. It is not uncommon to see city government, commercial enterprises, nonprofits, and community leaders working together on projects to bring renewable energy to urban communities. In fact, it is almost impossible to create measurable change without this kind of cooperation across diverse groups.
For example, the Mayor's Office of Climate and Sustainability houses a Clean Energy Communities program. The program is run by staff from local nonprofit Solar One and works in concert with state entities like the New York State Energy Research and Development Authority (NYSERDA), local communities, and energy businesses, including solar installers and grid operators. According to Elissa Knight, Director of the Clean Energy Communities Program, The investment and innovations in programs like these reflect New York City's consistent commitment to mitigating the effects of climate change. This is a community effort that involves participation from diverse stakeholders, and I'm pleased to say that collectively, we are moving the city towards a clean energy future for all New Yorkers.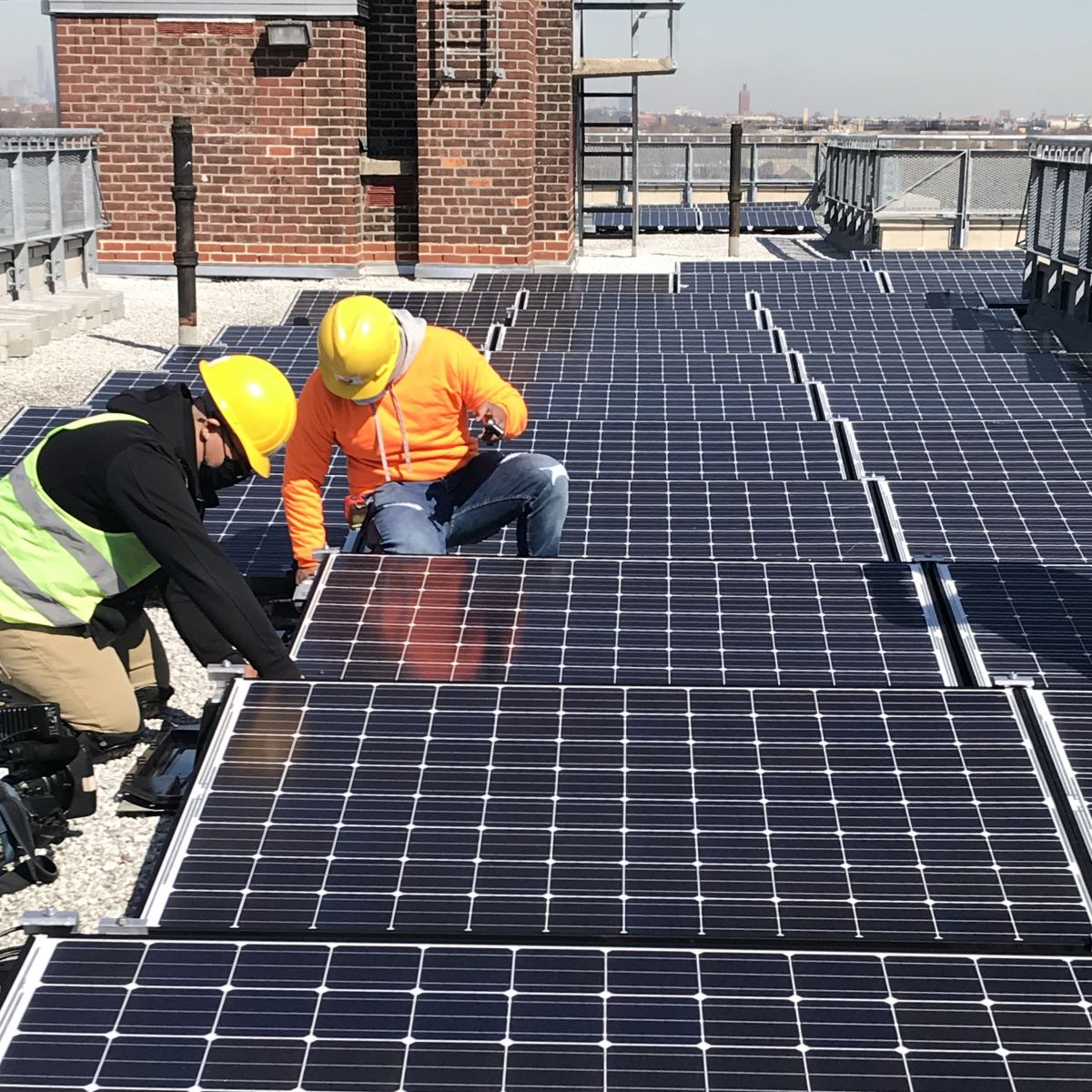 By their very nature, community power programs require cooperation between diverse groups, and it is in no small part these community wide efforts that are leading the charge toward sustainability. Marginalized communities are widely recognized as the most adversely impacted by climate change and can benefit most from access to clean energy. A growing selection of community power options enables residents, building managers, co-ops, and entire neighborhoods to choose to install solar power on their rooftops or subscribe to community power programs that supply energy generated by renewable sources.
Despite impressive efforts, the city still receives close to 85 percent of its energy from fossil fuel sources. Siting and building clean energy installations in urban areas is difficult at best; there simply are not enough transmission lines to bring power to the city from upstate clean energy sources. But ambitious plans are moving ahead on different fronts all the time. Just last fall, then Mayor Bill DiBlasio announced plans for a $191 million investment in offshore wind turbines to help the city reach a goal of 100 percent clean electricity production by 2030, and full carbon neutrality by 2050. (Javits Center rooftop solar panels pictured)
Of course, sustainability is not simply a matter of access to energy. New York City is comprised of five Boroughs - Manhattan, Queens, Brooklyn, the Bronx, and Staten Island – all of which have substantial coastlines. Manhattan is just a small island in the nexus of two major rivers, with a large natural harbor adjoining the Atlantic Ocean. Ten years after Hurricane Sandy flooded parts of all five Boroughs, the city is now beginning resiliency projects to protect the South Street Seaport and the east side of the island. Berms, seawalls, abundant vegetation, and green spaces are all part of the immense East Side Coastal Resiliency Project and the Financial District and Seaport Climate Resilience Master Plan.
New Yorkers increasingly understand that sustainability for the city is inextricably linked to environmental and economic justice. Dozens of organizations and activist groups are on the case, making sure that low-income communities are front and center in the city's plans for a clean energy future. With access to a growing variety of clean and affordable energy sources, a forward thinking and diverse population, and the considerable weight of city and state government, New York City is moving quickly toward a complete transition to clean energy.
Michael Barry is the Communications Manager at Solar One, a NYC nonprofit delivering innovative education, training, and technical assistance that fosters sustainability and resiliency in diverse urban environments.
Solar One | http://www.solar1.org
Author:
Michael Barry
Volume:
2022 March/April