15 Nov 2021
By Jim Major
Solar projects are best started with a solid understanding of the ground upon which the project will be constructed. Achieving that goal was a challenge on a recent project in Texas. A client requested a magnetometer survey of the site due to its original use for oil and gas drilling and production activities. Normal well plugging and abandonment involves removing the equipment and cutting off the top few feet of the well casing below the ground. Portions of underground wells and flow piping remained on the property, and old permitting office records predating the use of global positioning systems were the only source of information on their location.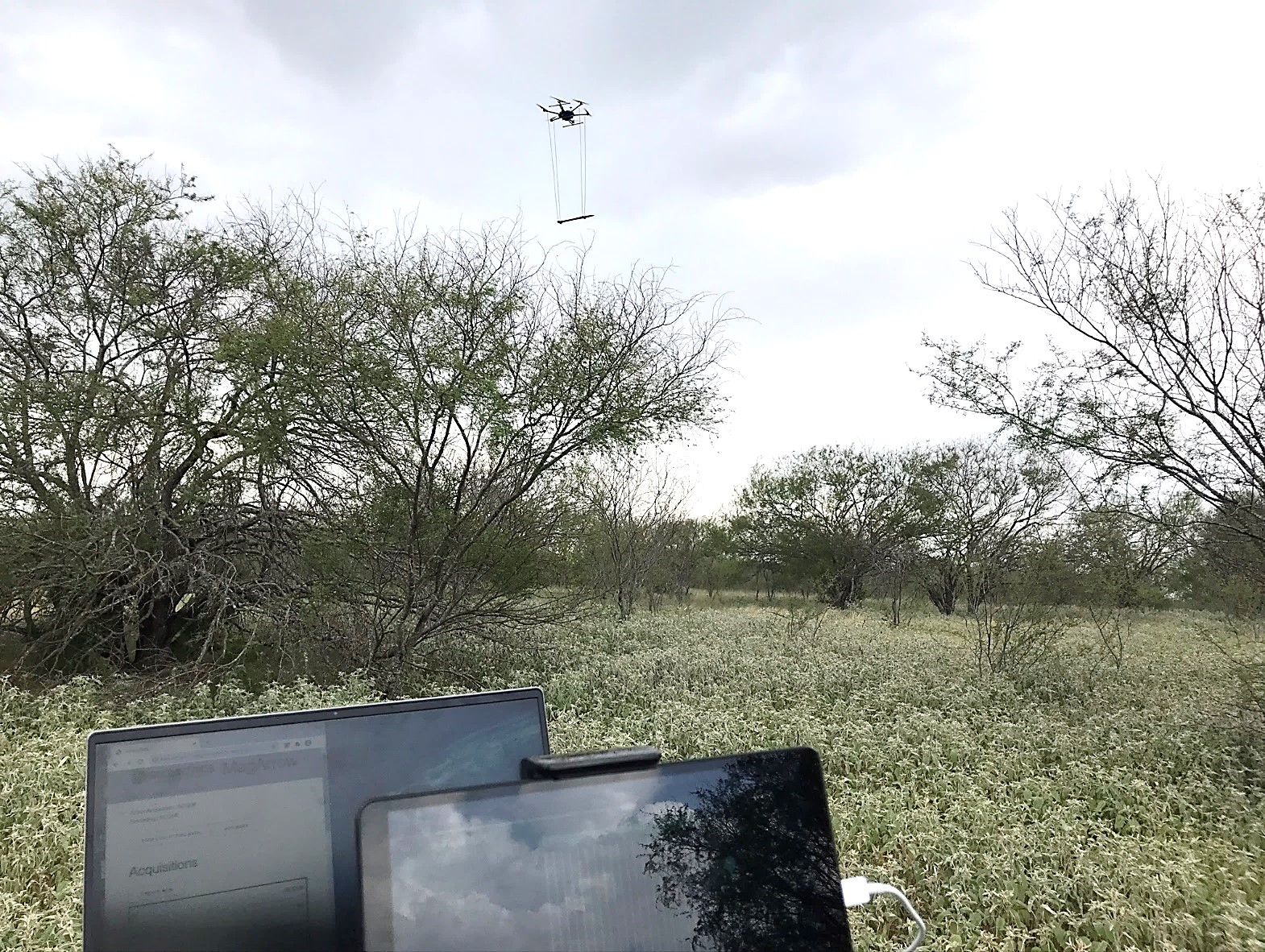 As a result, the permit office records for the abandoned well locations were not always accurate or precise. Moreover, the area was inaccessible by foot due to the dense and thorny brush that flourished while the site sat idle. Performing a traditional magnetometer survey on foot would have first involved clearing acres of brush for each suspected well location - a time-consuming and potentially expensive process.
Since walking over the project site wasn't an option, the only reasonable choice was flying over the site with an unmanned aerial vehicle (UAV) and a lightweight aerial magnetometer. UAVs (commonly called "drones") once were the domain of hobbyists and photographers. Now they're a versatile and increasingly indispensable tool, capable of performing tasks for clean power projects when having "boots on the ground" is impractical, unsafe, or both.
Recent improvements in UAV equipment and technology have made examination of previously inaccessible areas possible. These improvements include increased payload capacities and battery life, precision lightweight equipment including light detecting and ranging (LiDAR) and video and infrared/thermal cameras, as well as magnetic, electromagnetic, and ground penetrating radar (GPR) instruments. On this project, these 21st-century flying machines helped our team deliver more accurate data than could have been gathered on foot, collecting it quickly and without the need for clearing the land.
PRE-FLIGHT CHECKLIST
The client requested the magnetic survey during the early planning stages of their project so the solar equipment infrastructure could be separated from any abandoned underground oil and gas well casings and pipelines at the site. Information from this survey would minimize the need for design changes, change orders, or other remedial action if any other unidentified wells or pipes were discovered during construction.
The site's previous oil and gas history wasn't entirely undocumented; oil and gas permit records were reviewed, along with historical aerial photographs, which were essential in preparing GIS-based maps highlighting the presumed locations of buried wells. The maps were then used to prepare precise flight plans for the UAV, involving 200-foot-by-200-foot survey grids over the suspected well coordinates. GIS software and flight mission software for the UAV were used to fly on course at a steady height and along parallel flight paths to help produce the most accurate results possible. For each well location, 21 parallel flight paths were flown, covering approximately one acre of land.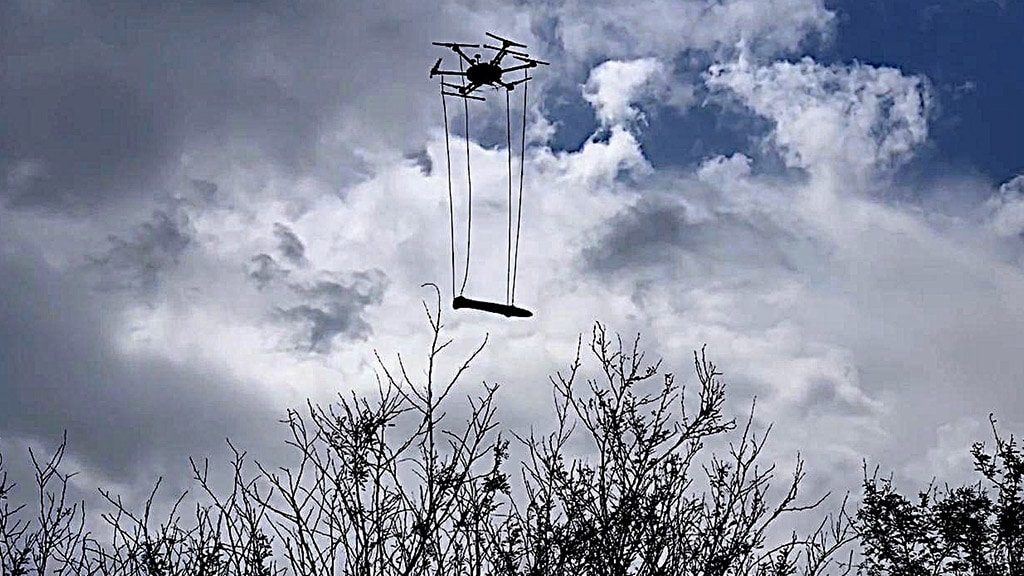 Precision was essential when planning the survey, which included parallel transects spaced 10 feet apart. The lightweight magnetometer was suspended below the UAV and the flights were conducted at heights of 15 to 60 feet above ground level. Flight speeds varied between 10 to 30 feet per second, allowing each required survey to be performed in 15 minutes or less. Covering the same amount of ground on foot with only minimal vegetation would require two hours per survey, and procuring and mobilizing equipment needed to remove and dispose of the vegetation would have cost thousands of dollars.
GATHERING DATA FROM ABOVE
Every moment of flight time was used to the fullest. The lightweight magnetometer recorded 200 or more readings per second, and the geographic coordinates of each reading were captured with a GPS data logger. The air is rarely still in rural Texas; windy conditions might have been detrimental to capturing accurate data with a human pilot. The GPS-enabled flight software automatically compensated for wind effects, maintaining the intended flight path, altitude, and speed to help stay on course and acquire accurate data.
Flight plans were created for each survey area and then uploaded to the UAV. Once the plan was uploaded and the UAV was running, it automatically proceeded to the programmed altitude and flew the route on its own. After completing the route, the UAV either hovered in place or flew to a programmed altitude and returned to the takeoff point, depending on mission parameters. Federal Aviation Administration regulations require the "remote pilot in command" to maintain visual contact with the UAV and be able to manually control it all times, should it become necessary.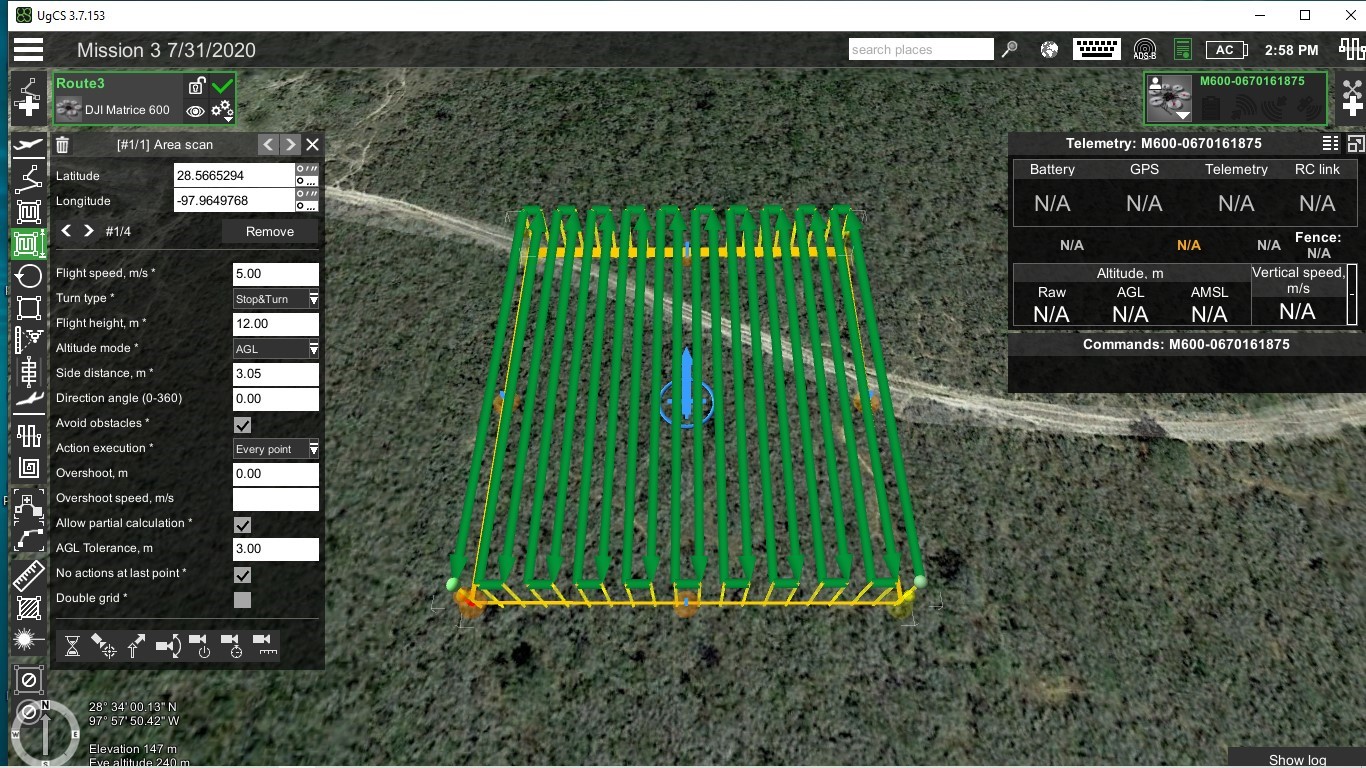 The UAV magnetometer survey was ultimately a success. The data gathered helped the team identify more than 40 underground well casings and associated flow piping. Locations with high magnetic field readings were noted and staked. The survey results indicated that the locations for the older abandoned well provided in the permitting office records varied from the actual well locations, in many cases by more than 100 feet.
The combination of a heavy-duty UAV, flight mission control software, and lightweight, high-sensitivity magnetic instrumentation provided valuable planning information that helped minimize potentially expensive and complicated site clearing, construction change orders, project revisions, and associated delays. The client received the information needed to avoid underground well casings when building the solar project, without the expense of clearing hundreds of acres of brush.
Using the high-resolution cameras now available with UAVs, aerial photography and site elevation models can also be produced of current conditions in a quick and efficient manner. These multiple uses make UAVs a valuable resource for a variety of clean power projects.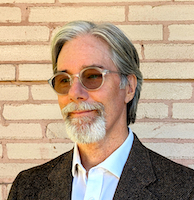 Jim Major, P.G., is a professional geophysicist and FAA licensed UAS pilot in the San Antonio, Texas office of Terracon. He is the South Texas geophysical services group leader and is responsible for managing and conducting geophysical projects across Texas. He can be reached at jim.major@terracon.com.
Terracon | http://www.terracon.com
Author:
Jim Major
Volume:
2021 November/December