15 May 2020
By Brian Mills
Picture a solar field. Chances are your mind immediately conjures up a picture of bright sunshine bouncing off of shining panels, reflecting images of blue sky and warm surroundings. Now picture a solar field surrounded by miles of snow and penguins. Few locales on the face of the planet offer a harsher environment than the Antarctic, yet it is on that inhospitable continent that engineers have had to develop and execute innovative solutions to provide life-saving photovoltaic electricity for scientific installations.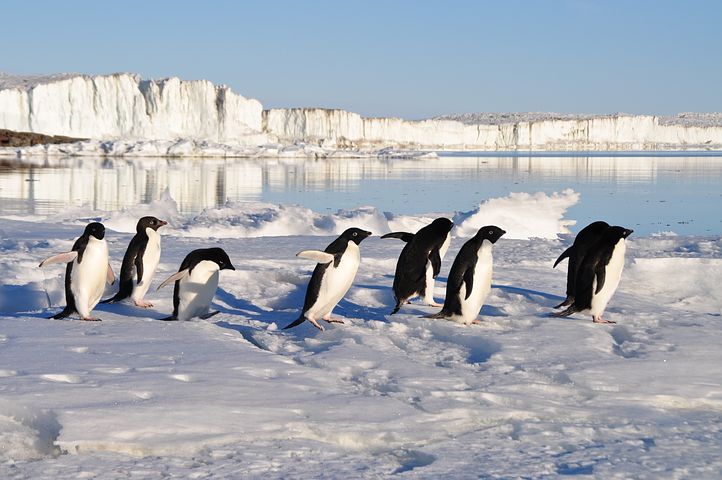 Under average conditions (based on what you may have pictured above), modern solar panels are designed to last at least a quarter-century. They are built to withstand ­extreme variations in temperature, humidity, wind, and UV radiation. In fact, all components used in panel installation - down to the connectors that transfer the electricity - must measure up to demanding standards to guarantee the safe and reliable production of PV electricity.
Average conditions, are not, however, what the Antarctic is known for. The continent is wracked by winter temperatures that plummet as low as -89° C (-129 ° F) along with punishing winds that can exceed 124 mph, or the equivalent of a Category 3 hurricane. Not only did PV designers have to deal with these extremities, they also had to account for radical swings in available sunlight, which ranged from 16-hour-days in the summers to 22-hour-nights in the bitterly cold winters. This variation meant the entire PV installation had to be constructed quickly - within one summer season - leaving virtually no room for error.
To ensure that critical electrical connections could bear the added stresses of the brutal Antarctic climate, the engineers in charge of the project relied on original MC4 connectors. The MC4 (Multi-Contact 4mm diameter) connector is the go-to connector for photovoltaic plants currently in operation around the world. It's specifically designed to withstand extreme weather conditions. In order to work properly, PV connectors must be robust, water tight, UV resistant, and able to create and maintain minimal resistance at both low and high voltages — up to 1,5000 volts.
While solar panel material and manufacturing technologies are improving on an almost-daily basis, some manufactures still rely on substandard, poor quality cable connectors in order to save a few extra pennies.
The outdoors is a brutal operating environment, even in the best of conditions. The combination of UV, moisture, and temperature cycles attacks and eventually breaks down all things, especially plastic. In order for products to continue to operate safely and consistently, they must be deliberately engineered and manufactured with a great deal of care and dedication to quality. It's imperative to use only the highest quality connectors in any solar plant – even more so when planning for arctic winters.
Original MC4 connectors are designed to be used with the standard 4mm or 6mm double-insulated solar DC cables, with tinned copper multistrand core for minimum resistance. To correctly assemble the connectors, a special crimping tool is required to properly crimp the multistrand cable to the inner terminal, which is then inserted and locked securely into the MC4 housing.
Original MC4 connectors are rated for 70 amps maximum (connector only, not including wire) and 1,500 volts max. Additionally, they are rated for a temperature range from -40 ° C to 90 ° C (-40 ° F to 194 ° F).
The MC4 connectors used in the Antarctic installation offered several valuable benefits. In addition to quality construction that provides for years of safe and reliable operation, the connectors are easily installed and suited for use in the harshest environments. They utilize proven, low-loss MULTILAM technology, and are internationally certified with IEC, UL, JET, and cTÜVus.

The MULTILAM technology utilizes bands that are leaf-spring contact elements, with unmatched electrical and mechanical properties. The MULTILAM design produces a large number of louvers, allowing contact to be made through a large number of defined contact points, which substantially reduces the overall contact resistance.
Solar-array installers should also note that there are several varieties of MC4 look-alike-connectors on the market, and though these connectors may look similar, that does not mean they will always fit together securely. It is imperative that installers use the same type and make of connector.
Regardless of where solar panels are installed, experts recommend relying on qualified installers who use high-quality components, the correct tooling, and follow the manufacture's installation instructions at all times

Brian Mills is Product Manager of Alternative Energy - North America, Stäubli, a manufacturer of solar electrical connectors and electrical contact systems.
Stäubli Electrical Connectors, Inc. | http://www.ecs-ecart.com
Author:
Brian Mills
Volume:
2020 May/June