18 Sep 2021
By Virat Damania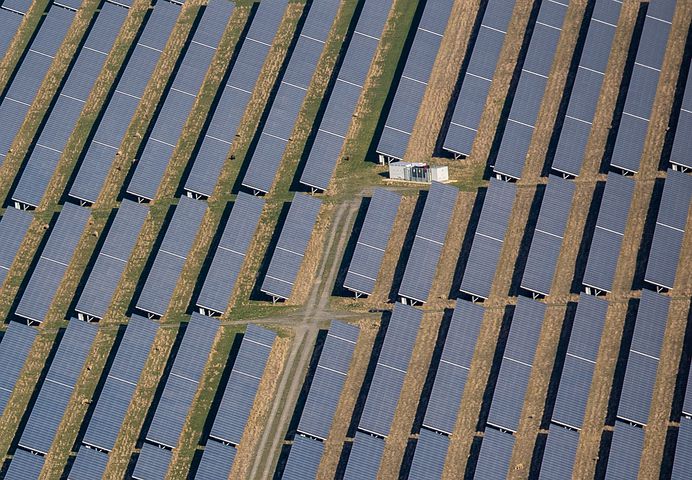 The average design life of a solar PV power plant is anywhere between 20 to 30 years. Periodic maintenance is vital during that life cycle for the proper functioning of the power plants. Otherwise, owners and operators can face reduced energy production and heavy financial consequences. With over 600+ GW of cumulative solar power plants installed globally, they play a vital role in today's energy generation mix.
Unfortunately, solar plants are often discovered to be underperforming, mainly due to couple of reasons:
Underestimation of Operations and Maintenance (O&M) requirements due to lack of moving parts, plus the general tendency of long equipment manufacturer warranties disguise the need for routine maintenance of the Balance of System (BoS).
Unavailability of comprehensive PV power plant performance data. This is by far the single most important reason why faults and underperformance go unnoticed.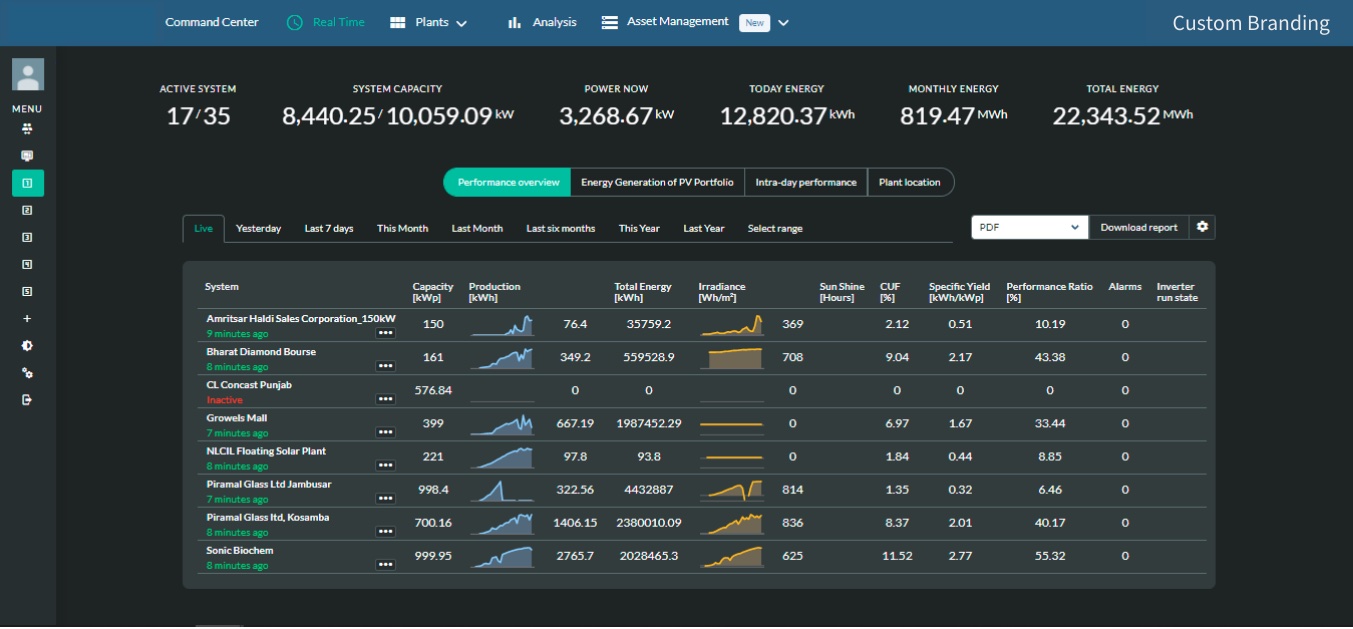 Approaches to O&M
Reactive maintenance

Troubleshooting is done after the issue has occurred.
Replacement or repair of parts happen only after they break.
Operating costs are low while repair costs can be up to 3 times higher than preventive maintenance.

Preventative maintenance

Routine inspection and servicing of equipment is conducted.
Replacement of certain identified parts are on a fixed schedule.
Operating costs are high and repair costs are low.

Condition based maintenance

This is where a good remote monitoring software with real-time data makes a huge difference in proactively diagnosing any failure or underperformance. It also allows the service team to be fully aware of the issue before a costly site visit.
Software with predictive analytics lets owners and operators anticipate failures in advance, allowing the service team to prioritize resources to increase (MW served/Technician) and carry/send the right spares that are needed during the site visit.
Upfront investment may be slightly higher for a good DAS, hardware, and software.
Parts are replaced as they wear-out, as determined by software data.
Operating costs and repair costs are neither high nor low, yet condition based monitoring with comprehensive software is the only way to keep the total cost lowest over the life of the power plant.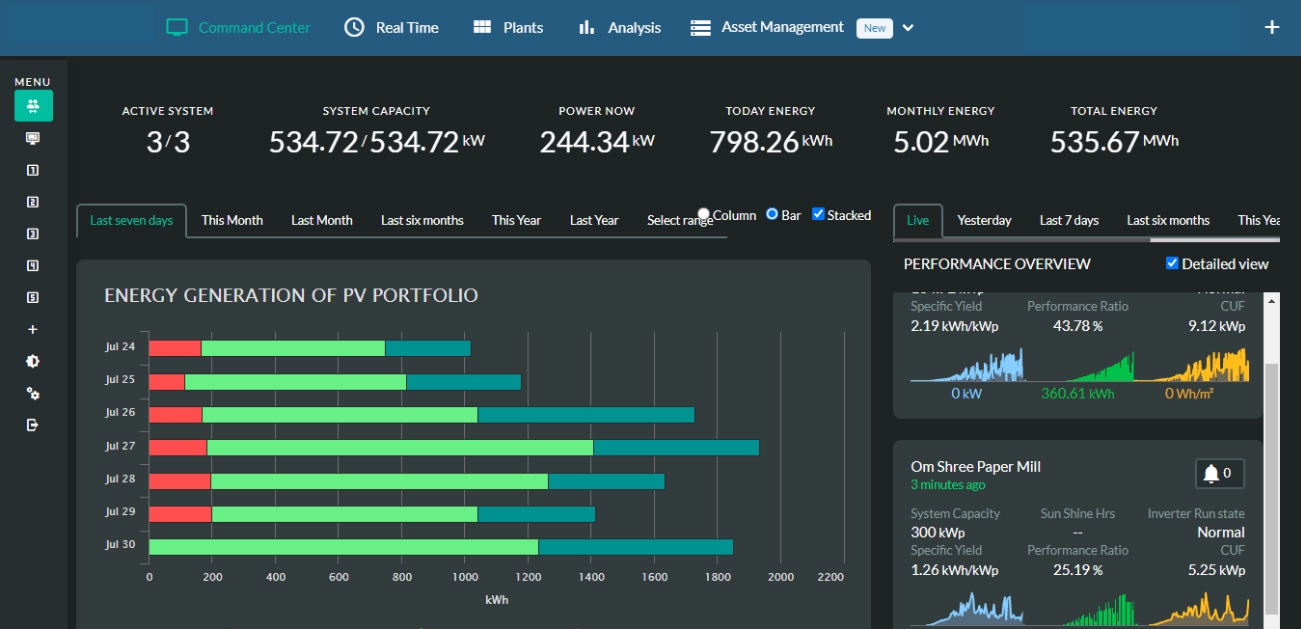 Approaches to Monitoring
Software is integrated with the inverter
Device agnostic software
Inverter integrated software usually comes packaged with the product and is relatively inexpensive, as there is no hardware cost and software is often free or bundled with the cost of the inverter. However, inverter integrated software provides limited data, and lacks complete information needed to evaluate the system performance. This type of software usually works for installers that mainly work with single brand inverters (and primarily in the rooftop solar segment). The biggest disadvantage here is for multi-brand installers and O&M companies as they have to keep track of all the various brands of software and their respective logins and each having their own UI / UX and data visibility.
What happens when the plant portfolio outgrows the inverter monitoring software capabilities? Or when additional components need to be added to the system like weather monitoring stations or sensors like pyranometer, module temperature, multi-function meter etc.?
A Device Agnostic software not only monitors inverters from any brand but also monitors any equipment in a solar power plant, which can communicate over Modbus or similar communication protocols. This type of software is typically used in large scale C&I power plants and Utility scale ground mounted power plants where the financial impact for loss of even partial energy production can be huge. It allows for monitoring and management of an entire portfolio of power plants globally and on a consolidated platform, optimizing processes and improving technician efficiency by increasing MW served per technician - in many cases doubling the technician efficiency. Also, companies can easily switch between brands. This is especially relevant and important considering market developments of the past 10 years; several brands have entered into the solar industry, some are out of business, and/or they have consolidated under a different brand.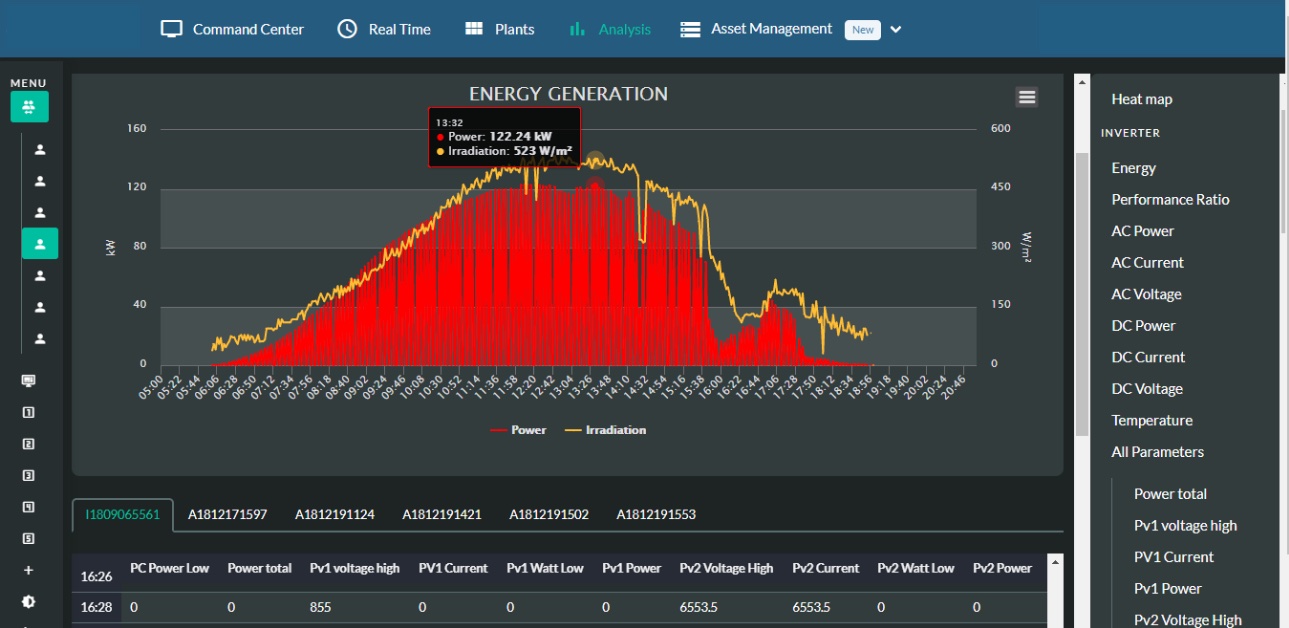 Factors Affecting Energy Generation
Inverter failures are usually the most talked about failure to impact energy production. In fact, there are several factors that impact energy generation, including shading, soiling on modules, cable damage, RISO Low, installation errors, and module degradation. These errors are difficult to detect without professional monitoring software and devices. A good software with ticketing system and asset management allows users to analyze tickets, helping to identify causes of failures and bounce them off with revenue loss per failure reason.
Inverter manufacturers invest millions of dollars in R&D every year to make their hardware smaller, cost competitive, more reliable, more advanced, and more efficient. Their primary focus is on developing the best hardware. On the flip side, the primary focus of a professional monitoring company is to develop the best software. Their R&D focus is to understand the physics behind working of the entire solar system, its components, and associated faults. This puts them in a unique position to provide greater insights and better analytics, which are essential for maximizing the return on investment in solar power plants. This can result in performance improvements up to 4 percent in utility scale plants, and up to 12 percent in large scale C&I rooftop power plants, as well as a reduction in O&M expenditure by as much as 25 percent.
The right digital O&M platform must predict actionable insights for optimization, with pattern-based data analytics and real time data and integration options with existing legacy systems for data acquisition, along with advanced sensors, robots, and drones.
Virat Damania is Co-Founder and Managing Director of Ellume, which offers solar owners and operators a comprehensive remote monitoring and asset management platform. He can be reached at virat.damania@ellume.net
Ellume Solar Inc. | ellume.net
Author:
Virat Damania
Volume:
2021 September/October