15 Sep 2019
By Chris Greenmyer
It was spring 2017. The worst drought in California's history had just shown signs of letting up. Even though supplies were replenishing, water was still in high demand; valley farmers were desperately looking for ways to cut costs while trying to stay afloat with diminished crops. On top of that, utility prices were at an all-time high, and discussions of tariffs were making their way through the industry, striking fear into the eyes of every developer, builder, and end user in the country. No better time to start an AG-driven, large scale solar project in the middle of the California valley, right?
For one project contractor, it was the perfect time, and the project was given the green light. As 2018 rolled in, 22 trucks rolled towards Stockton, California. Carrying over 230,000 pounds of pre-fabricated gray steel, the fleet delivered their load to Sousa Farms Inc., which was getting ready for the construction of an 85,000 sq. ft solar canopy.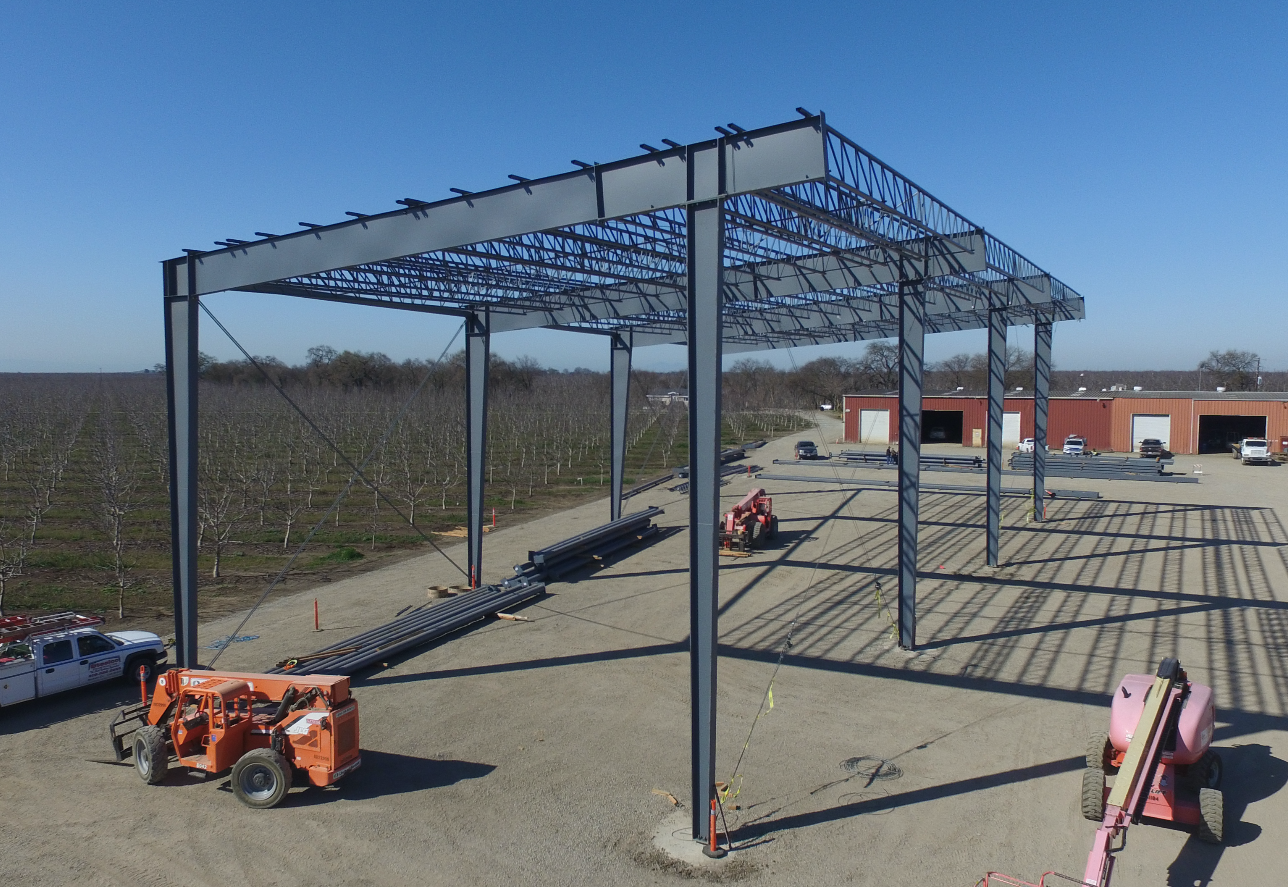 Construction started with the columns. Each column is supported by spread footings that measure a minimum of 10' in length, by 10' in width, and 3' in depth. Yards and yards of concrete flooded the site, topping off all 28 rebar caged footings. Then came the steel canopy, erected by a crew of hard-working individuals responsible for making sure that each bolt, nut, and washer was installed according to plan, and torqued to correct specifications.
After the drought had ended, the rain arrived. The structure was in jeopardy of delays due to what the weather report was showing on the horizon. In order to avoid costly delays, the contractor needed all hands on deck, and as many resources as possible to overcome the challenges of a potentially historic wet winter. Even as numerous storms bore down on the site, the team did not give up. To help push through winter muck, truckloads of crushed rock were installed on site; this allowed work to continue in the wet conditions. The crew rode the wave through the harsh winter, and into the foggy, dew-filled spring mornings. By summer, the structure was a skeleton of gray, soaking up the UV rays that would soon be used to harness energy.
At completion, the south eave of the structure measured at 32 ft, while the north end was a mere 50ft in height. This massive steel structure spanned a total 510 ft, which ended up creating a masterful design for shade, even spanning across the existing Sousa Farms Inc. office and warehouse. Mr. Sousa wasn't exactly after shade, however. Instead, his goal was the 85,000 sq. ft rooftop footprint which would become home to Sousa Farms Inc's 1.16MW DC PV system.
The Photovoltaic Grid Tied system is comprised of (3,335) 335w 72 cell panels. (18) 50kw and (2) 30kw String Inverters. The PV system is monitored through a web-based monitoring portal. Choosing a monitoring service involved finding a platform with as much detailed information as possible. Mr. Sousa is very detail oriented when it comes to his farming processes, so it only makes sense that he would decide on a web-based monitoring program that would allow him to dissect the inverter's analytics (such as, watts, voltage, amps and kwh production). A master of numbers and American ingenuity, Mr. Sousa prides himself on engineering, data spreadsheets, and a work-smarter-not-harder mentality.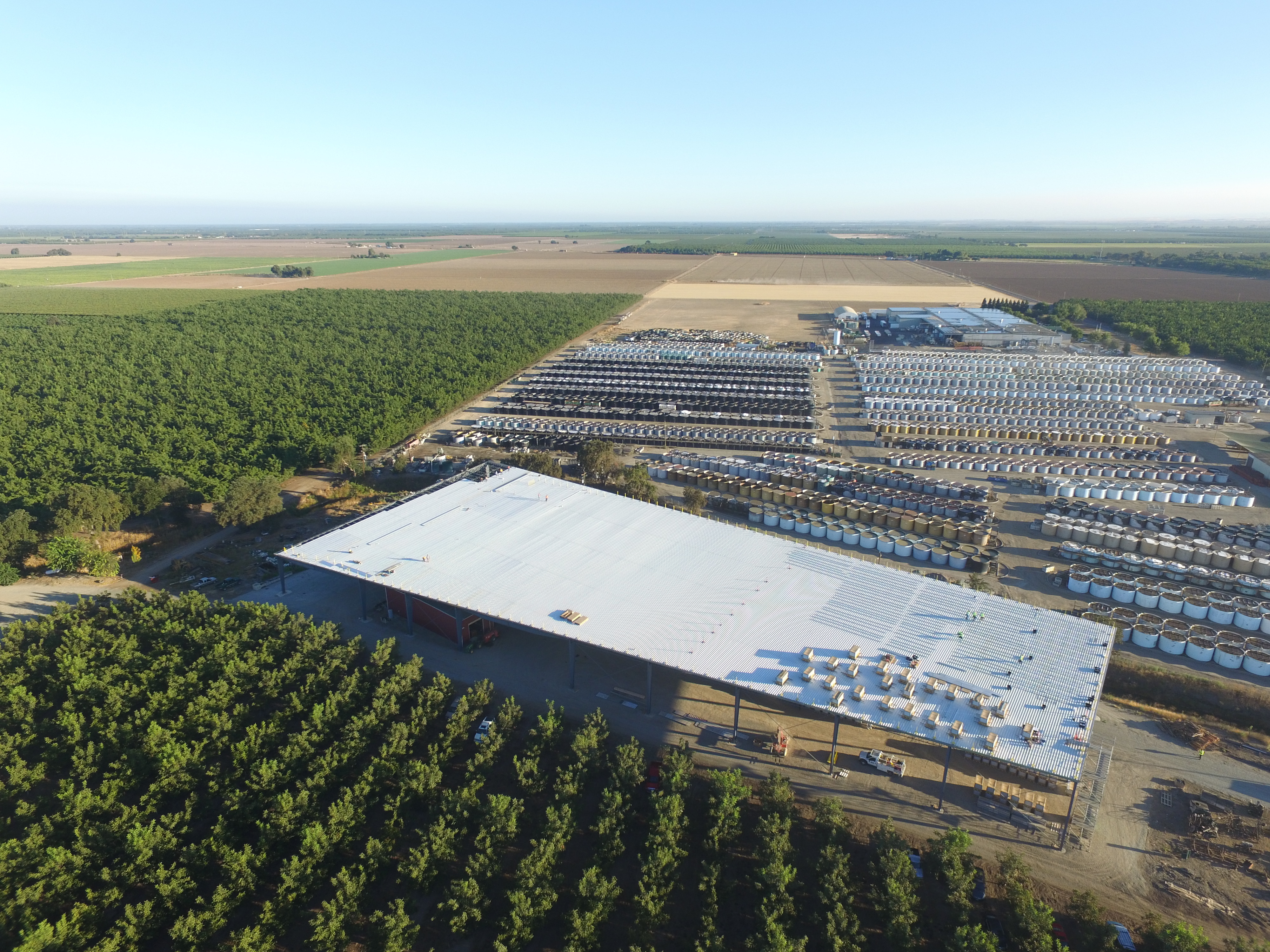 The contractor used their engineering experience to apply this same premise to the system design: trapezoidal roof mounts were the base of the racking system, which included over 20,000 ft of aluminum rail attached across 5,900 aluminum cube mounts, and multiple walkways were designed to allow access for maintenance and cleaning.
The system has an anticipated energy production of over 1.5 million kWh in year one – enough power to fully charge 30,000 Tesla Model 3's. In Mr. Sousa's case, the energy will be diverted in a different direction. The system will be able to offset multiple irrigation pumps that feed acres of walnuts and cucumbers across the Sousa Farms ranch, which included three homes and a main office.
A project of 1.16MW wouldn't normally grab anyone's attention, but when you take a close look, you'll see that it's the structure that makes this system truly unique, and a great asset to the Sousa family and their business operation. Months later, into the early summer of 2019, it was finally time to flip the switch; the Permission to Operate was issued by PG&E on June 4th, 2019, and the solar system went live. Not only are they reducing their carbon footprint and providing clean energy to the grid, Sousa Farms has grown into a forward-thinking business, driving the local economy and putting food on the table.
Chris Greenmyer is Project Manager at Lenzi Incorporated, a California-based construction company with 40 years' experience in general contracting and development. Since starting a solar division in 2010, Lenzi has constructed and developed a combined 135MW of PV throughout the country.
Lenzi Incorporated | lenziconstructionandsolar.com
Author:
Chris Greenmyer
Volume:
2019 September/October