15 Jul 2018
Whether grease or oil, lubricant in wind turbines works to prevent wear and damage between a bearing's rolling and sliding contact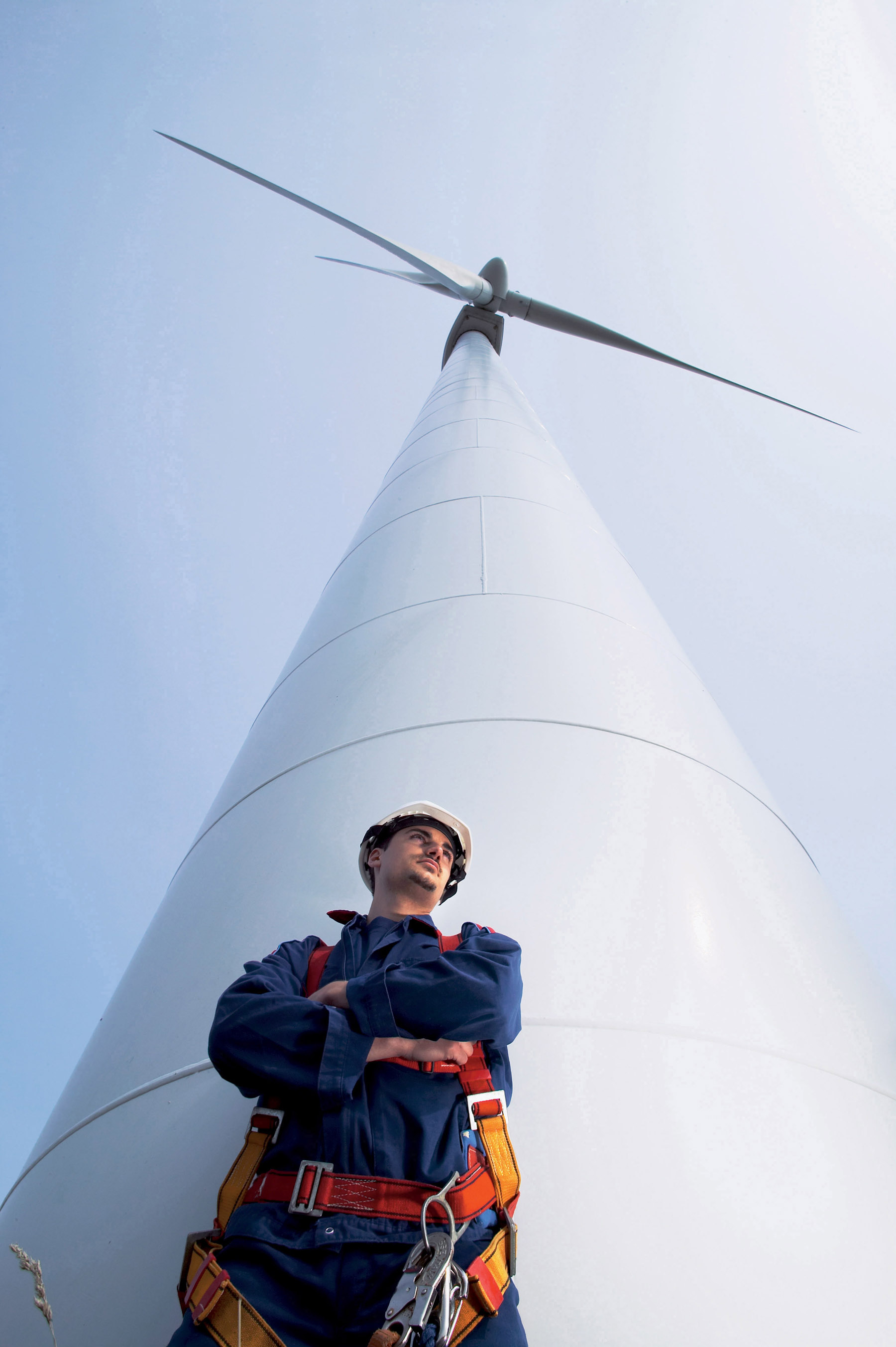 surfaces. It reduces friction and heat generation, helps protect against corrosion, and keeps out contaminants. On the other hand, the wronglubricant (and/or improper lubrication-related practices) can jeopardize bearing performance and service life.
How can wind farm operators avoid lubrication issues?
The right lubricant should always be supplied in the right quantity, at the right time. But lubrication points may be difficult to reach, or inaccessible (perhaps placing maintenance staff in harm's way). In these cases, over- or under-greasing will always be a possibility, lubrication intervals may be sporadic or ill timed, and contaminants may be introduced.
A better alternative can be found in automatic lubrication systems, which are engineered to dispense precisely controlled amounts of the correct lubricant at pre-set intervals. These various systems can effectively safeguard against wear, damage, and premature failures. Ultimately, they enable bearings to perform to their rated capacity at all critical points in a nacelle.
Profiles of System Technologies
According to industry averages, up to 20 percent of the time involved when servicing a turbine is spent on re-lubrication - technicians crawl around in the cramped nacelle and hub of each turbine, and grease lubrication points (from 10 to more than 80) with several different greases. Yet, 36 percent of all premature bearing damage has been attributed to poor lubrication-related practices. In the worst case, improper lubrication can bring a turbine to a standstill.
When wind turbines go down, the resulting unplanned shutdowns and time-consuming maintenance fixes can exact a heavy toll: exorbitant crane mobilization expenses, lost energy production, soaring costs per kilowatt-hour, and delays in obtaining replacement parts – especially in an industry where demand for necessary components routinely outstrips supply. Anything that prevents a service trip will help boost overall wind turbine ROI (Return on Investment).
Decision-making for the most appropriate lubrication system will depend, in general, on the application, and in particular, on a range of other parameters. These parameters include the operating conditions (variations in the operating temperature and lubricant viscosity), accuracy requirements for lubricant quantities, turbine system geometry (size, dimensions, and symmetry), and monitoring demands, among others.
Centralized lubrication systems can be applied to all bearings at a turbine's rotor shaft, blade pitch, and azimuth positions, as well as non-rotating applications inside the turbine.Stationary systems can supply grease accurately to main shaft, generator, blade, and yaw bearings. For the rotating blade bearings, lubrication systems can be equipped with a follower plate.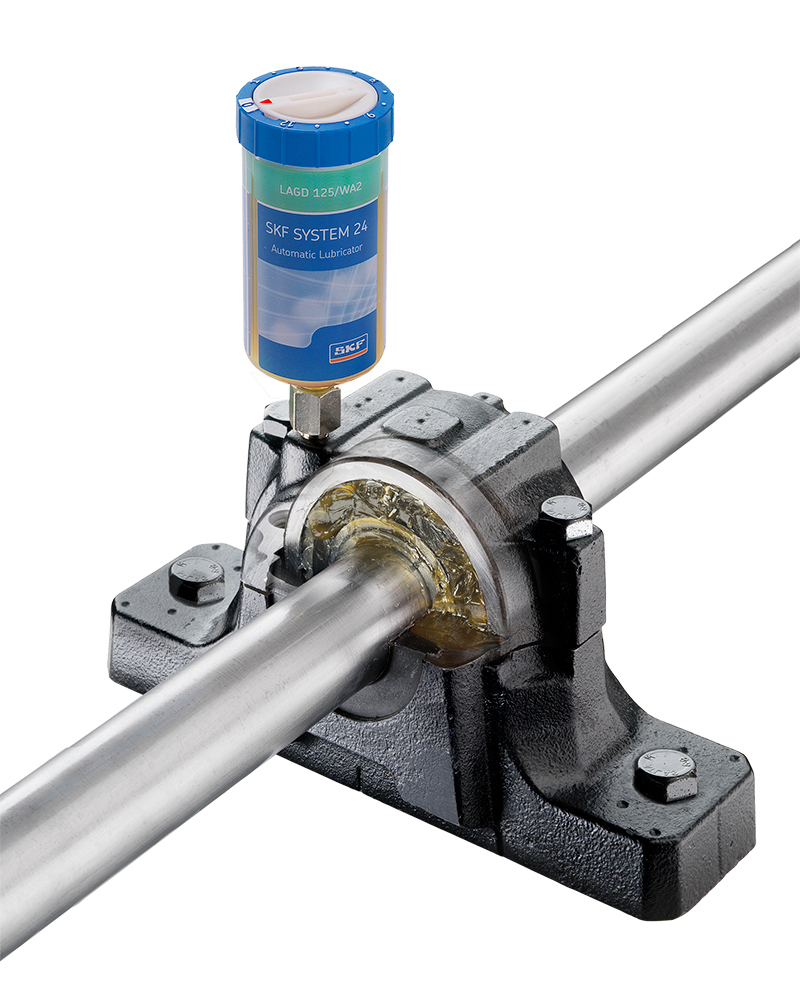 System technologies include:
Single point automatic lubricators. These inject the precise and correct amounts of contaminant-free grease, and often will be used for the re-lubrication of pitch bearings and other bearings in moving parts. They inherently minimize the risks of over- or under-greasing, and can supply lubricant 24/7 for periods up to a year, as governed by a pre-set automatic timer.
Single-line lubrication systems. In this centralized configuration, a central pump station automatically delivers lubricant through a single supply line to a lubricant metering device. Each metering device serves one lubrication point, and can be adjusted to deliver the precise amount of required grease or oil. A single-line system can pump long distances and within a wide temperature range. Components in corrosion-resistant designs will especially benefit offshore applications.
Progressive lubrication systems. These dispense small measured amounts of lubricant at frequent and intermittent intervals. The grease flow created by the system's pump is proportioned by progressive metering devices, and distributed to each bearing according to need. Metered quantities of lubricant are fed progressively in predetermined ratios, from master feeders to the lube points. The lubricant does not leave the respective feeder until the preceding one has discharged its volume.
If a lube point does not receive any lubricant, regardless of the reason, or if a secondary feeder is blocked, the entire lubrication cycle is interrupted, and the system provides a signal to alert operators to the problem. Integrated system control and monitoring is another plus for both progressive and single-line lubrication systems.
Guidelines for Success
When planning to install an automatic lubrication system inside a wind turbine, these guidelines can help:
• Determine the number of lube points
• Choose the proper lubricant for the temperature, speed, and load conditions
• Calculate appropriate dispense rates and quantities for the application
• Choose pumps consistent with the type of actuation and system capacity
• Consider monitoring as an integral requirement for the lubrication system
Close attention should always be paid to the specific type of lubricant required for the turbine main shaft, yaw, and blades. There is no "universal" one-size-fits-all lubricant solution for every application. The proper grease will provide proper lubrication whether the turbine is operating or in standstill mode, onshore or offshore, or in extreme temperatures or conditions.
After an automatic lubrication system is up and running, measurable benefits can be realized at every turn: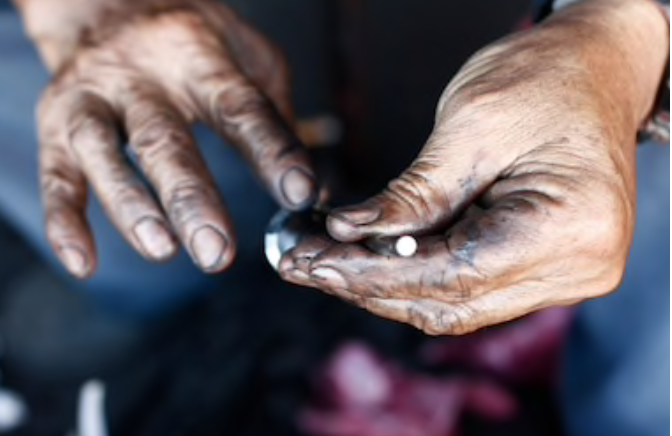 • No more over- or under-greasing
• Lubricant consumption can match requirements
• More informed and timely lubricant purchasing decisions can be made
• Lubrication-related breakdowns can be reduced
• Turbine productivity, reliability, and availability can be improved
It's never too late. For existing equipment in the wind turbine aftermarket, generally populated with older and/or smaller machines, operators can take advantage of the latest advanced technologies by upgrading their lubrication programs.
One last piece of advice: partnering with a knowledgeable specialist, with relevant experience and expertise, can help implement best lubrication practices on your wind farm.
Kevin Witbrodt is an Application Engineer at SKF USA Inc., a global supplier of bearings, seals, lubrication systems, and maintenance and reliability technologies and services.
SKF USA Inc. | http://www.skfusa.com
Volume:
2018 July/August