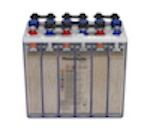 EnerSys introduces PowerSafe OGi batteries. The multi-cell design reduces the rack footprint and is ideal for tight space requirements. Powe....

Sirius Integrator announces the first Indiegogo campaign for the new SiriusM3 Monitor. The SiriusM3 Monitor System monitors DC voltage of 12....
Sirius Integrator offers a new fully integrated Horizon Mini 100 (100w) Reformed Methanol fuel cell battery-charging generator. The Mini 100....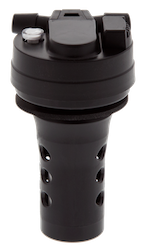 Battery Watering Technologies' new VB-TBU valve is an encapsulated valve offered for commercial applications. The new valve design was ori....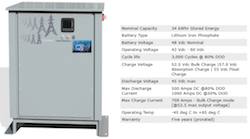 The AESHG technology is a reliable, cost effective, advanced energy storage hydrogen power solution. The technology overcomes the biggest ob....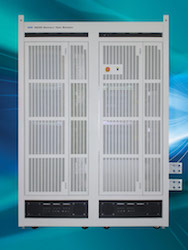 NH Research, Inc. (NHR) has released its new 9220 Series Low Voltage/High Current Battery Charge/Discharge Test System (Dual Bay). This 9220....

Developed in partnership with solar and energy storage installers to optimize equipment and streamline cost calculations, SimpliPhi Power ha....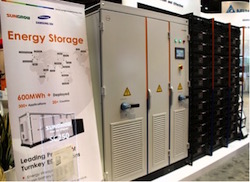 Sungrow-Samsung SDI has released new energy storage system solutions which integrates, energy storage inverters and Li-ion batteries and is ....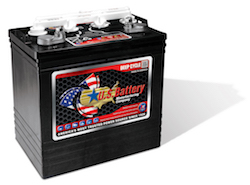 U.S. Battery has redesigned its US 8VGCE XC2 8-volt deep-cycle battery with more amp-hour performance and improved longevity, to provide....

A new cold storage solution is gaining momentum. The refrigeration is supplied by a recently commissioned biomass powered Thermochiller. Thi....

Vishay Intertechnology, Inc. introduced a new series of ENYCAP electrical double-layer energy storage capacitors for energy harvesting, powe....

Trojan Battery's J200-RE is the newest addition to their Premium line of flooded, deep-cycle batteries, with Smart Carbon for Partial Stat....

In order to meet the rapidly growing demand for storing solar energy, sonnen announces the launch of the sonnenBatterie eco compact. The str....

Saft's Uptimax nickel battery systems guarantee reliable and safe operation without the need for regular maintenance visits. Saft's Upti....

Corvus Energy announces the introduction of its next generation product line, Orca ESS. The Orca ESS product line was specifically designed ....