23 Jan 2020
When the Lake Benton II wind farm in southwestern Minnesota was taken offline this past October after 20 years of service, the shutdown made news for its novelty. Wind farms are being built these days, not closed, and Lake Benton II was supposed to last until 2029.
AT AROUND THE SAME TIME THAT THE 100-MEGAWATT (MW) WIND FARM MADE HEADLINES, AES Southland retired a 506MW gas-powered unit at its Los Angeles-area Redondo Beach plant, which was commissioned 70 years ago. Exelon Corp. had just retired the 820MW, 45-year-old nuclear plant at Three Mile Island in Pennsylvania, and the operators of Navajo Generating Station in Arizona had closed a 750MW unit as part of a phased shutdown that took the entire 2,250MW plant offline in November. The 630MW Unit 3 of the coal-fired, 39-year-old Baldwin Energy Complex in Illinois was retired in September, as was the 100MW Nucla coal plant in Colorado, after 60 years of operation.
But Lake Benton II was different. Indeed, timing is the only thing the Minnesota wind farm has in common with all those other plants, none of which are coming back.
The Lake Benton wind farm is being reconfigured now with 44 higher-performing turbines to replace the original 138. With a generation capacity of 100MW, it is not a gigantic wind farm, but it is a prime example of a resilient and booming industry that shows no sign of slowdown in its growth and that persists in part because wind farms seldom ever die. They are typically just retooled—"repowered" in industry terms—with new hardware that gives them another 20 or 30 years of life. Rarely is a wind farm ever truly decommissioned (see this 2013 report by the National Renewable Energy Laboratory and this item from the American Wind Energy Association).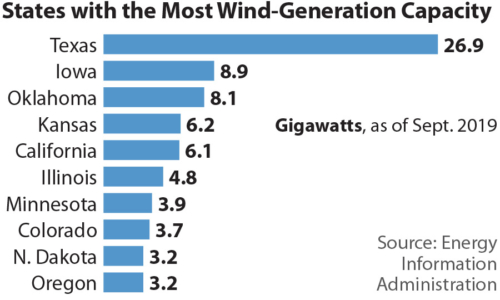 MOMENTUM AROUND U.S. WIND-POWERED ELECTRICITY WAS DETAILED MOST RECENTLY in an update published in December by the Energy Information Administration (EIA) showing that wind-generation capacity in September hit 100GW nationally, a first. That milestone marked a more than doubling in capacity since 2012 and a roughly 300 percent increase over the past decade.
The agency—and others—see the trend accelerating. The EIA hasn't compiled fourth-quarter 2019 data yet but said it expected an additional 7.2GW of wind generation to come online in December alone (EIA analysts note that more projects are commissioned toward the end of calendar years because developers rush to take advantage of expiring tax credits). The EIA is projecting that an additional 14.3GW of capacity will be installed in 2020, meaning that over the course of a year or so the 100GW recorded in September will have been eclipsed by more than 20 percent, a gain that suggests runaway momentum.
by Karl Cates, an IEEFA energy transition policy analyst.
IEEFA | http://www.ieefa.org