15 Jan 2019
By Marty McKewon
As a budding junior meteorologist in the mid-1970s, I used to wonder how cool it would be if I could pull up a radar at home and see what the storm was doing. Instead, every night I had to settle for watching my favorite television meteorologist use his magic marker to draw fronts on the weather map, and listening to the constant recorded weather loop on my NOAA weather radio.
How far the weather industry has come! Today, anyone can pull up one of hundreds of weather apps on their phone to view an instant radar, or search for boundless weather information and models, watching the weather be sliced, diced, and analyzed 24/7. You can easily experience weather information overload - something I never thought I'd be saying.
Technological advancements in the industry are truly a significant boon to the renewable energy professional - especially during a time when volatile and extreme weather has become the norm, and will be for the foreseeable future. More targeted and useful weather information is available for decision making purposes.
Advanced weather modeling
The general public was first introduced to weather models by their weatherman, during the local on-air forecasts. Compared to those early days, the current data dump can seem overwhelming (especially when you try to make sense of the spaghetti plot of 15 different hurricane tracks, each depicting a different solution). That said, the new NOAA High Resolution Rapid Refresh (HRRR) model can provide accurate near-term forecasts for many weather variables. A major tool for renewable wind energy professionals is the prediction of the lightning threat. Updated every hour, and extending to 18 hours into the future, this forecast depicts the coverage and intensity of lightning events. Armed with this information, wind farm site managers can more accurately prepare the day's maintenance plan. For example, an expected afternoon of high lightning activity may warrant a reschedule of the planned gear box job.
Additionally, smarter planning through review of lightning predictions can result in safer work conditions for your employees. Commercial solution providers are introducing intelligent displays of these forecasts, making it easier and faster for renewable energy professionals to leverage this information, and make smarter decisions. Additional value from the HRRR model forecasts include radar reflectivity and hub height wind forecasts; these variables are produced every hour.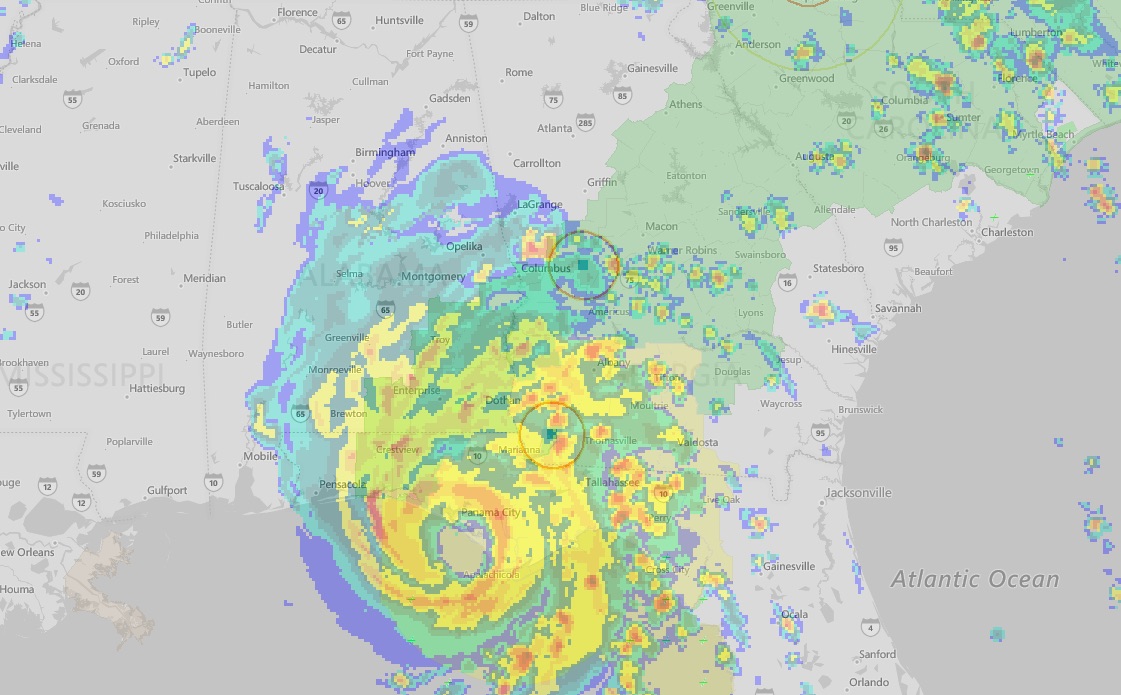 HRRR forecast of Hurricane Michael Landfall
Dual Polarization Radar
You know the radar gun that state trooper used to pull you over for speeding? The same technology is used in all National Weather Service Doppler radars. The original NEXRAD Doppler radar produced horizontal pulses to detect precipitation and other weather phenomena. The upgrade - Dual Polarization radar - produces horizontal and vertical pulses, which gives meteorologists a better handle on the size and shape of the target the radar is seeing.
Today's radar can more easily determine between rain, snow, and ice. Ice and snow are major concerns to the industry because both can have a significant impact on wind production; ice and wet snow can accumulate on turbine blades, creating extra load and cutting generation. Heavy loads can cause turbines to shut down, leading to complete production loss. Dual Polarization radars can even detect very light precipitation like freezing drizzle and freezing mist which, when present over a prolonged period, can also impact turbine performance.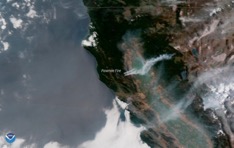 New GOES Satellite Imagery
(GOES 16 image shows wildfires burning in Northern California, at left)
The GOES 16 Satellite (launched in 2016) and GOES 17 (launched in 2017), are two of the newer technological advancements in the weather industry. These satellites can collect three times more data, at four times improved resolution, and cover the planet five times faster than their predecessors. Both satellites will allow meteorologists to deliver more accurate forecasts and analysis, and allow turbine owners to better access hazards impacting their operation. Consider some of the benefits:
Better detection of low clouds = increased awareness of production loss to solar operators
Better detection of smoke from wildfires = impacts to work crews/potential unsafe working conditions
Improved tropical tracking and forecasting = clearer picture of potential impact on wind farm facilities
In recent years, Hurricanes like Harvey have impacted the wind industry. Nowcasting tools like the GOES satellites give a much clearer picture of the intensity of the storm, and whether it's trending weaker or stronger. Why? Because these satellites update as frequently as every 5 minutes - hurricane hunters can only fly into the storm a limited number of times per day, to collect information.
How can you make all this work for you?
Most of you reading this article are not meteorologists; you need to check what the experts say. Similarly, renewable energy professionals need to rely on their commercial providers to deliver the latest technology in clear, easy to digest formats in order to make fast, accurate decisions that benefit the bottom line. In today's volatile climate, it's vital to leverage all the tools you can to mitigate the impact of weather on your business.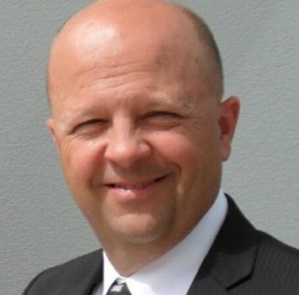 Marty McKewon is Chief Meteorologist at Indji Systems, a provider of weather monitoring and alerting solutions to the Renewable Energy Industry. Marty has 30 years of weather industry experience, including roles as a Meteorologist, Product Manager, and Sales Professional.
Indji Systems | http://www.indji.com
Author:
Marty McKewon
Volume:
2019 January/February