15 Jan 2018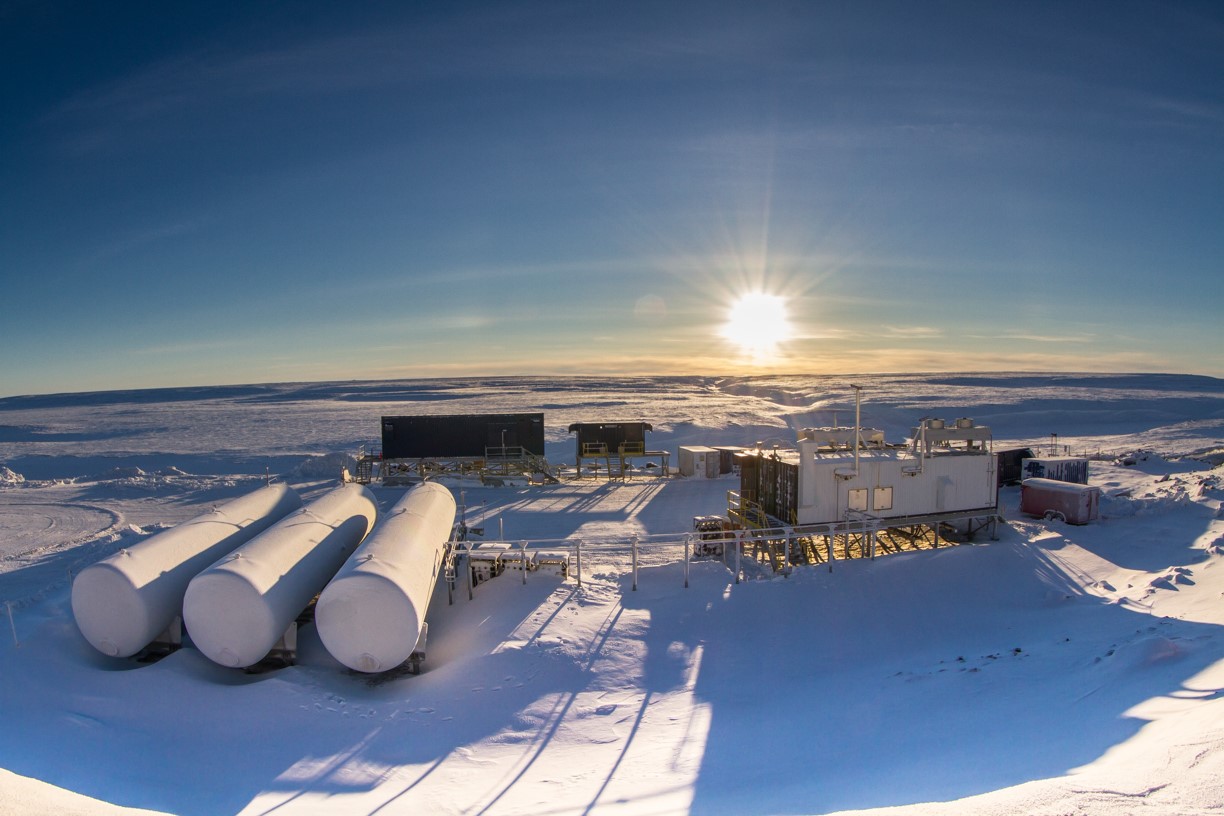 The Raglan mine in northern Quebec, near the Arctic Circle, relies on a wind powered electrical system which was specifically constructed to provide energy for this nickel mining project. The mine's energy costs are substantially reduced because wind power displaces part of the mine's more expensive diesel fuel consumption. It is estimated this first-of-its-kind wind powered energy system will save the Raglan mine 2.4 million liters of diesel fuel annually.
This three Megawatt wind turbine is an important aspect of controlling the underground mine's costs as energy accounts for between 18 and 24 percent of its annual operating costs. Moreover, the mine site is very remote with no connections to the Hydro Quebec main power grid. This energy system was completed in 2015 and is expected to continue to operate over the mine's entire life.
The objective of this project was to construct a wind hydrogen/energy storage smart grid system at a remote northern mining location, in order to illustrate that this technology could successfully operate in severe arctic climate conditions at an industrial scale and, achieve significant reductions in the cost of energy and in diesel consumption compared to diesel only or wind-diesel alternatives.
The project includes three different energy storage technologies -- a high speed fly wheel, a lithium ion battery, and a hydrogen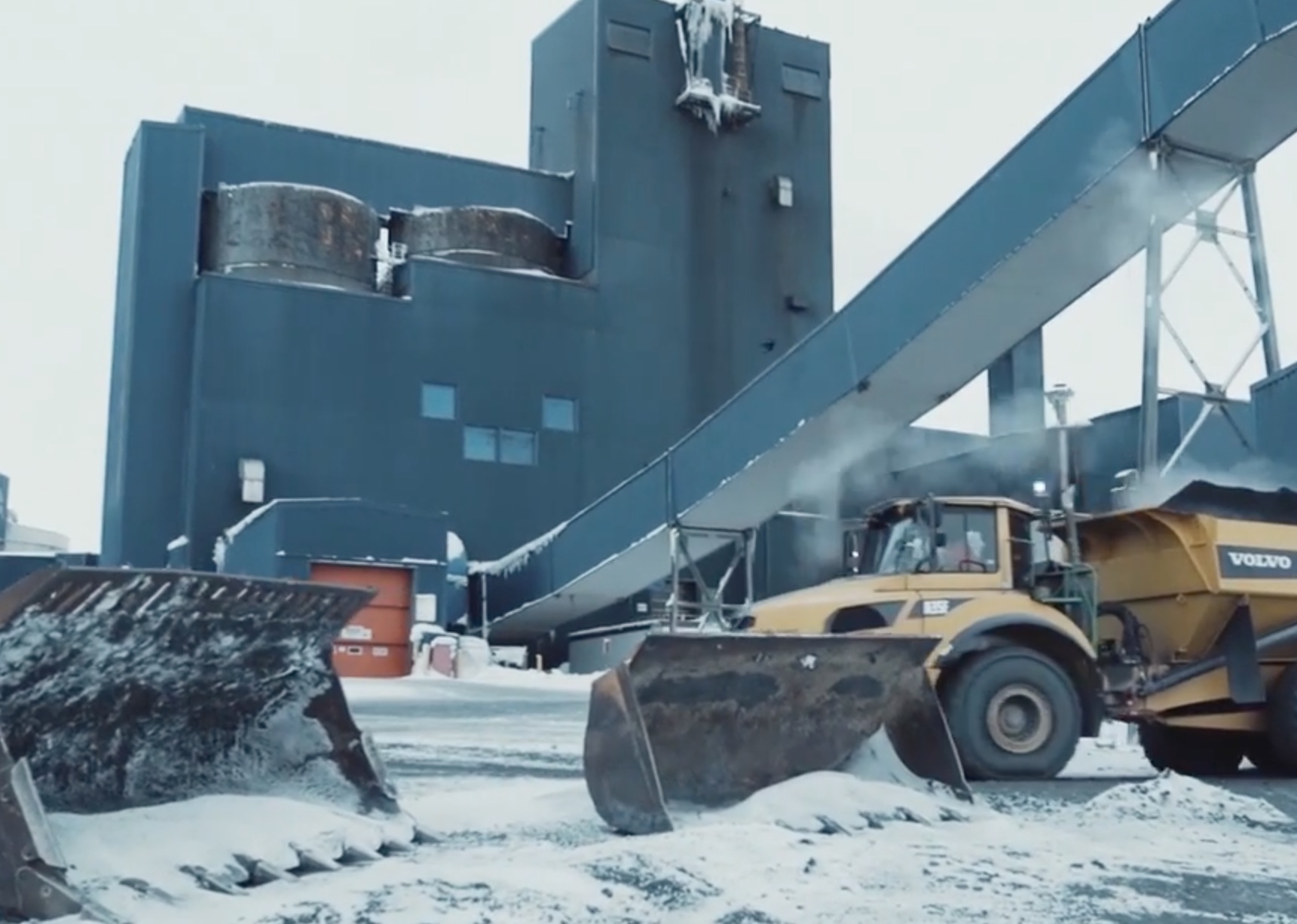 storage loop complete with a electrolyzer and a fuel cell. The lithium battery technology powering this wind energy system is used in many electric and electric-hybrid automobiles, as well as in utility-scale energy storage applications ranging from single-family homes up to utility-scale systems. Lithium batteries are designed with built-in safety features. When they overheat, they automatically shut down. The typical lead acid battery offers 50 percent of capacity, whereas lithium batteries provide 80 percent of usable capacity. Lithium batteries are usually half the size and a third of the weight of traditional batteries. The life of a lithium battery is typically more than thirteen years and requires low maintenance. Moreover, lithium batteries reduce CO2 emissions and are recyclable.
The fly wheel system has a rotor which turns at a very high speed. The energy stored in the fly wheel system can be supplied back to the electricity system as needed to smooth out rapid wind power variations.
Dramatic variations in wind power can cause variations in the grid power system frequency; so generated power is continually adjusted via the fuel valve, but the mechanical action of the valve and complemented with power from the energy storage components. A micro-grid controller has been designed to handle energy management and power flow of the energy storage to smooth out wind power variations, and to ensure power system reliability and stability.
The system has successfully demonstrated the interplay of multiple storage technologies, and been able to respond effectively to the variability of wind power. The battery and flywheel combination have operated without tripping the security mechanisms of the Raglan diesel micro-grid. The turbine has achieved 97.3 percent availability since its installation in 2014, displacing over 6 million liters of diesel and 17,899 tons of greenhouse gases over 38 months of operation.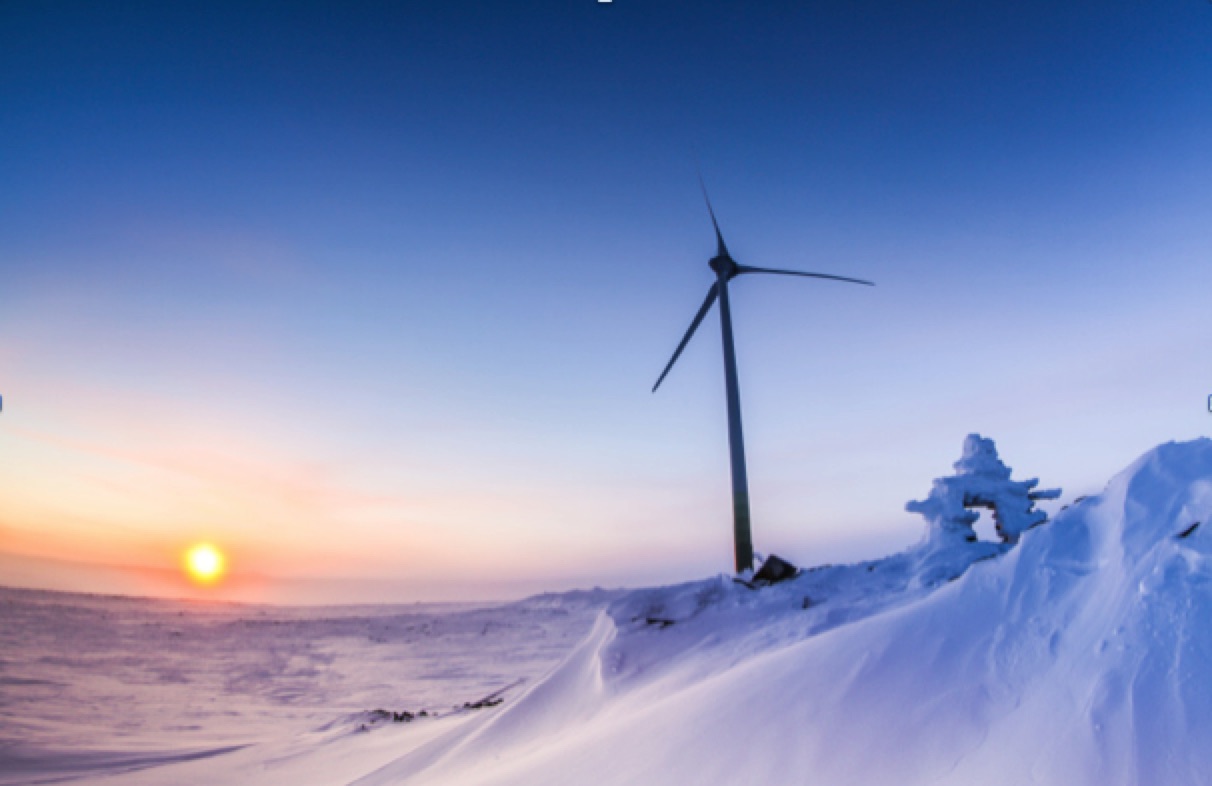 The wind turbine uses an innovative foundation structure, which is elevated one meter above ground and mounted on piles 16 meters deep, to minimize environmental footprint, and adapt to permafrost degradation over the life of the turbine. The amount of concrete used in the foundation is dramatically lower compared to the amount used in the platforms of conventional wind turbines (30 instead of 450 cubic meters). This is an important factor, as concrete is significantly more expensive in the North compared to Southern Canada.
(photo supplied by Justin Bulota, Tugliq Energy Company/www.tugliq.com)
The Raglan Mine employs 950 workers. It has been awarded the "Coup de coeur" award for the Northern Québec region at the Prix Créateurs d'emplois du Québec. This award recognizes Glencore's contribution to maintaining quality jobs with a view to sustainable development. The Prix créateurs d'emplois du Québec event annually celebrates the principle job creators in each of the 17 administrative regions of Québec. Two prizes are awarded in each administrative region. First, the "Champion" category highlights the remarkable performance of a company in the region according to the number of jobs created or maintained. Second, the category "Coup de coeur" recognizes the exemplary contribution of a regional company to innovation, strategy, or impact of creating or maintaining employment in its sector.
Very few wind projects have been installed over the past 30 years in northern Canada. Conditions in the North can be challenging for rotating machines, and the variable nature of wind makes it difficult to integrate with diesel power plants in adapting to variable community loads. These conditions have resulted in high installation costs coupled with high operation and maintenance costs. For these reasons, wind powered energy systems in the North are rare.
Acting as a flagship site for future industrial-scale wind power development in the region, this energy project successfully demonstrates that wind energy can improve long-term economic stability and energy security, and reduce greenhouse gas emissions and the environmental footprint of Canada's northern mining operations and communities.

Beverly Brooks, MA MBA, is an economist and writer, who has worked for the federal government and private sector companies on energy policy.
Hatch designed and implemented the Hatch Microgrid at Raglan, which monitors wind power production and load variations, and economically dispatches the charge and discharge from energy storage units to smooth out wind power variations and displace diesel generation.
Hatch | http://www.hatch.com
Volume:
2018 January/February