15 May 2017
Across the golden state, farmers are turning their focus from the soil to the sky by adding large-scale photovoltaic (PV) installations to their land. California farms account for almost one-fourth of the total number of solar panels installed on farms nationwide. The adoption of renewables on farms is growing quickly, and spans the entire nation; over 57,000 farm businesses engaged in producing renewable energy such as solar, wind, and geothermal in 2012 - more than twice as many as in 2007. The agriculture industry is soaking up the benefits of solar like never before, and realizing the real business advantages associated with going green.
Like many industries, farms consume a great deal of energy. They must be able to heat and light onsite barns and buildings, pump water for irrigation, feed animals, harvest milk, and dehydrate or refrigerate crops. The University of Wisconsin estimates that the average dairy farm uses between 800 and 1200 kilowatt-hours per cow per year (kWh/cow-yr) of electricity. The EPA estimates that, in 2014, fuel and electricity constituted 12 to 16 percent of total cash expenses for rice, cotton, peanut, and poultry producers, compared with 7 to 10 percent for other crop and livestock producers.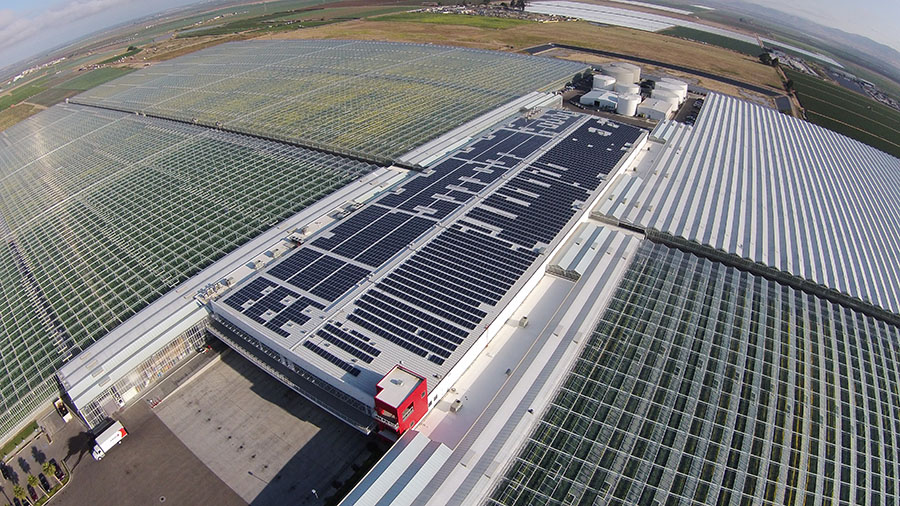 Due to falling technology prices, solar has become a financially viable option to help both commercial and family-owned farms better manage this high-energy expense. Module prices have dropped 33.8 percent since the first half of 2016, and PV pricing is expected to continue to fall in the coming years. Labor costs have also fallen – the solar industry experienced a $0.01 per watt of DC current (Wdc) drop from the first to the second half of 2016. Solar is on track to beat prices associated with traditional energy sources, making it a more attractive option to farmers across the golden state.
Here are some of the key benefits that farmers can gain from going green:
Cost Savings
Many farm owners currently see energy as a fixed cost; they believe there's nothing they can do to bring that cost down. However, smart farmers are quickly realizing that solar enables them to control energy costs and better manage their expenses. Solar resources allow farms to purchase electricity at or below local rates, and lock in fixed energy pricing for years. Attractive tax incentives, and financing options like Power Purchase Agreements (PPAs), can also help farms go solar with little to no up-front cost. Every dollar counts for farmers. Solar reduces operating costs to free up vital revenue and help farms succeed.
Energy Independence
Energy price volatility can greatly impact farms. The ever-changing rates, incentives, and demand charges make it difficult for many farms to plan financially. By investing in onsite power generation like solar, farms can more effectively manage and plan for future expenses.
A leading provider of fresh produce has recently taken advantage of solar and wind installations at its facility. Through the combined power of these two clean energy assets, that facility can now offset up to 25 percent of its energy use with predictable and affordable onsite supplies.
"Solar power, and other forms of renewable and alternative energy are a great way to manage energy costs in a predictable way and create a platform for promoting sustainable business practices," said the Director of the facility . "It's important for companies in the food industry or any other sector to understand their energy profile to identify the best mix of alternative energy investments that can help the company meet their energy goals."
Attractive Branding Opportunities
Solar also offers a unique "sustainably produced" branding opportunity to farms, branding that's in demand by today's consumers. Sustainable practices can increase business; consumers are more likely to spend money on products that were grown sustainably, for the "green glow" of knowing that they are responsible and eco-friendly in their consumption.
The 2015 Nielsen Global Corporate Sustainability Report states that 66 percent of global consumers say they're willing to pay more for sustainable brands. In consumer markets, sustainability and environmental responsibility are increasingly important corporate values that impact purchasing decisions. To remain attractive to modern consumers, farms can emphasize that they utilize onsite solar energy to produce their crops.
Farmers are quickly realizing the many economic and environmental benefits of installing onsite solar. In addition to greening operations, the predictable and low energy costs, and sustainable company branding, make going solar a no-brainer for California agriculture.
Garrett Colburn is the Director of Marketing Communications and Demand Generation at REC Solar, which has been a commercial solar leader since 1997, and is majority-owned by Duke Energy, the largest utility in the United States.
REC Solar | http://www.recsolar.com
Volume:
2017 May/June