15 Mar 2017
Now that we have a new President, what can be expected to happen with the renewable energy industry in the United States and, more specifically, with PV Solar? Unfortunately, it's too early to get an idea of what side of the renewable energy future President Trump will take. In many of his comments pre-election, as well as those post-election, he stated he does not believe in global warming and that he wants to enhance coal and oil production while reducing EPA regulations for fossil fuels.
If Trump were really concerned about job growth, and took into account the massive growth of jobs in renewables (solar alone created over 209,000 jobs since 2010), he would fully support the success of these industries. While the number of employment opportunities is impressive, more importantly, these are good paying jobs. So, let's look at some of the facts, and where we hope to see the growth of solar PV. After President Trump's inauguration on Friday, January 20th, the energy URL changed to "An America First Energy Plan."
Boosting Domestic Energy Production
Trump has said that he believes boosting domestic energy production is in the United States National Security interest. Considering the value of solar PV and other renewables, it makes sense for the present administration to align with this stance. Whatever program we end up with, it's vital to consider the impact on the global environment.
Trump shares many Americans' belief that we should commit to achieving energy independence from OPEC. This heightens the value of a focus on renewable energy. Since Trump loves to watch polls when it fits his views, hopefully he will look at the polls that show that renewable energy jobs are higher paying job,s and that over 80% of Americas' believe that solar is a great source of energy while reducing energy costs to the home and business.
Job Creation and National Security
The United States Military also views solar as a boost to national security for global installations, including the front lines of the current war in the Middle East. In fact, one of the United States military bases in Israel has invested in a 5MW solar project due to go online early 2017. It's a perfect example of advocating solar to both reduce energy costs and increase national security. Another example is the decision by the miltary, in 2015, to establish solar energy training programs in an effort to equip soldiers with the necessary skills to land lucrative solar jobs upon their release from military service.
A brighter future depends on policies that stimulate our economy, ensure our security, and protect our lives. Any White House Administration with policies that fail to help companies and consumers lower energy costs while gaining energy independence, will also fail to secure a future where the United States is in control of its own energy resources.
The world has watched China become the largest supplier of solar PV modules. The science for this actually started with NASA, and grew from revenues coming through the oil companies, the US Coast Guard, the US railroads and our space program. If the US policy early on had supported PV manufacturing on US soil, chances are that we would have added countless manufacturing jobs and grown our own economy.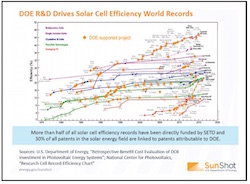 Even taking into account the loss of manufacturing jobs in other sectors, the solar PV industry had an approximate 34 percent year-on-year growth rate in 2016, exceeding the 32 percent year-on-year growth rate a year earlier. In 2017, producing global capacity reaching 77 gigawatts (GW) in 2016 and 79 GW. Had these been US jobs, we potentially would have added thousands if not a million or more high paying manufacturing jobs.
Solar is Cost Competitive with Fossil Fuels
Falling prices have helped the solar industry be cost competitive with fossil fuels. Although the solar market will continue to look good over the long term, major policy changes can impact ups and downs in growth, and will either help or hinder job creation and costs. In the past, the involvement of the DOE in solar cell efficiency has outperformed all other innovation (either from private investment or manufacturers trying to edge out their rivals for market share).
No Clear Message Towards Policy
During and after the election, Trump has spoken without clarity about the United States efforts to combat climate change, but he has shown a willingness to embrace renewables as a domestically produced energy source and jobs driver. After months of speculation about how a President Trump would act toward clean energy, the administration has signaled its intent to erase President Barack Obama's clean energy policies. There was a climate action plan under Obama, now there is no mention of it. The previous energy policy can be viewed at https://energy.gov/eere/solarpoweringamerica/solar-energy-united-states
Trump's pick to lead the Department of Energy, former Texas Governor Rick Perry, has some supporters saying they believe innovation will be the hallmark of his tenure. Previously, Perry stated that energy storage and solar power are some of the methods for energy innovation developing energy independence. At his confirmation hearing, Perry appeared to support clean energy programs via research through DOE programs.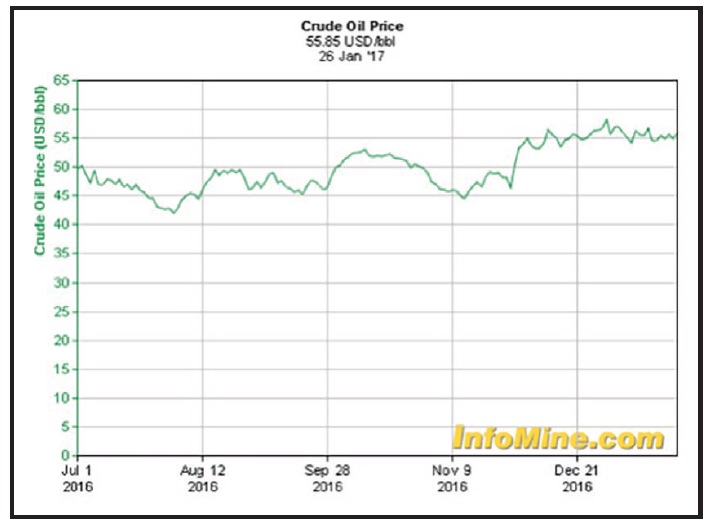 Another important signal to watch when considering post-election pricing of energy is the steady increase of the price of gas. At my local gas station, it has increase by 28 cents a gallon. Although that's still relatively inexpensive, the last thing any of us wants is a progressive rise in gas prices.
The growth of solar depends on all of us. We need to keep voicing our opinion and work harder to get that next project sold and started. This started as a grassroots effort, and in many ways it still is. We all create an image of the value that solar brings to our customers, and they look to us to help them reduce their costs and their carbon footprint in the world.
Robert Benedict is Vice President of Sales Americas for Recom Solar, the second largest PV manufacturing company in Europe.
Recom Solar | http://www.recom-solar.com
Volume:
2017 March/April