15 Mar 2017
Native American tribes have harnessed solar power's potential to reduce energy costs and support environmental goals for years, but a new trend is emerging – tribes creating local economic growth by joining the fast-growing solar industry.
In Southern California, where solar installation is a thriving economic engine, the Mesa Grande Band of Mission Indians took advantage of a state low-income solar program to build a tribally owned solar company that will create opportunity for tribal members for years to come.
The Mesa Grande Band may be one of the first tribes to form their own solar businesses, but they won't be the last. Its experience offers other tribes lessons on turning short-term opportunity into long-term gain while expanding renewable energy on their reservations.
In 2014, two individual Mesa Grande members had rooftop solar installed on their homes through California's Single-family Affordable Solar Homes program (SASH). As often happens when one home in a community adds solar, other homes follow suit. In the case of Mesa Grande, the reservation leaders wanted to add more.
"The tribal chairman and I came back from a business trip, saw these homes with solar panels on the roofs, and asked the homeowners about it," said Mesa Grande Band Vice Chairman Curtis La Chusa. "We figured that's a really good plan – renewable energy fits our environmental respect as a tribe."
It was also a boon for a tribe facing 80 percent unemployment and sky-high energy rates. "The gas and electric cost of living up here is enormous," said Chairman Virgil Oyos, Jr. "If people run their air conditioning 24/7, which a lot of people do, they're looking at a $700-$800 bill. Now [with solar] they're paying pennies comparatively."
Tribal leaders worked with SASH program administrator GRID Alternatives to sign up other households for the program. With additional solar installations came workforce training opportunities for tribal members, learning to install on homes in their own community. For the participants, this sparked a new venture – a tribally owned energy company.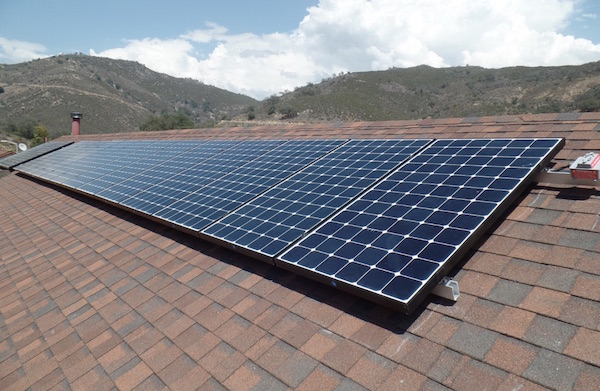 In 2015, the tribe secured a $165,000 community development grant from the Department of the Interior, using some of the funding to lay groundwork for the business, and started recruiting founding members.
Candace McElroy, a stay-at-home mom with two kids, was one of them. "I got an email from Curtis saying we have an opportunity to start a company to help our mother earth, help our people, and help people on other reservations. As soon as I heard we were going to help our people I said, 'I'm ready to jump in.'"
She joined a core team of 10 people from Mesa Grande and other tribes in the area, and began volunteering on SASH installations both on and off the reservation.
Within a year, they gained enough experience to strike out on their own, and Tekamuk Energy was born. Tekamuk means "protected place in the sun" in the Mesa Grande language and refers to the tribe's homeland village – fitting for a company harnessing solar to bring financial relief and economic opportunity to the community.
"A spark was ignited by these volunteers. They could see something greater than just learning the trade and getting a job," said La Chusa. "They saw they could create a company that would last many years and provide opportunities to not only Mesa Grande but for other communities. They kept that spark and grew it into a fire."
Tribal leaders helped Tekamuk partner with a local solar company to gain additional training and work experience. It may seem unconventional for one solar company to share its expertise and hardware to help a potential competitor grow, but the company's owner, a former community college instructor, saw the bigger picture.
"We knew if we could actually get Tekamuk and its team to become a self-sustaining solar electric installation and support team, there could be years of continued employment and training," said owner Ross Hider, who is also a C10 electrician. "Tribal members would be building careers to provide for them and their families long-term, and Tekamuk could support the backcountry where distributed power is most practical and most needed."
Hider developed a six-month/80-hour training curriculum for the ten initial Tekamuk employees, providing enough classroom hours to take the NABCEP Entry Level Solar PV Installation exam, helping secure required certifications, and training them on NEC code. Meanwhile, he hired the crew from Tekamuk to work on a variety of jobs, and helped them get some jobs of their own.
"We have been working business-to-business with different installers," said Hider, who estimates they've done 15-20 installation and troubleshooting jobs so far. This year, the company will recruit ten new employee to start their training, while the original ten move into more specialized and supervisorial roles.
With the early success of Tekamuk and the community's enthusiasm for solar power, Mesa Grande is looking toward 100 percent participation. By 2019, Mesa Grande wants to supply all 175 tribal members living on the reservation with renewable energy, including some who have never had electricity before. With solar already on 13 of the reservation's 50 homes, that goal is within reach.
In September 2016, the tribe teamed up with neighboring San Pasqual and La Jolla tribes to secure a U.S. Department of Energy cost-share grant. This collaboration will leverage SASH and other funding to bring at least 170 kW capacity grid-tied rooftop solar projects for two community buildings and 40 low-income single-family tribal homes—five in Mesa Grande. Tekamuk will install a portion of these projects as a SASH program subcontractor a status it won with help from Hider in late 2016.
Mesa Grande officials hope Tekamuk, the tribe's broader renewable energy goals, and its collaboration with other tribes will encourage Native Americans everywhere to embrace solar as an opportunity. "We've taken this thing and built on it to create an economic opportunity for folks in their home," said La Chusa. "Hopefully this will be a start for tribes around the nation to work together in bringing clean energy to their reservations."
Tim Willink is Director of Tribal Programs for GRID Alternatives, America's largest nonprofit solar installer, whose mission is to make solar power and job training accessible to underserved communities. GRID has partnered with 40 Native American tribes across the country since 2010, helping them achieve their renewable energy goals.
GRID Alternatives | http://www.gridalternatives.org/tribal
Volume:
2017 March/April