16 May 2016
Pairing college students with industry workforce training through tribal installations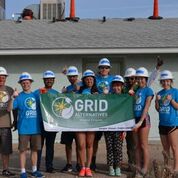 Spring break usually means sunny beaches and parties, but for over 100 students from 10 colleges, this year it meant getting hands-on with solar by installing no-cost rooftop photovoltaics for low-income families.
"Solar Spring Break," an alternative break program launched in 2014 by GRID Alternatives, provides a unique experience built around renewable energy and community service. This year students came from schools across America to install projects in California and Colorado.
The program has grown from six schools and teams in 2014 to ten schools and eleven teams in 2016, a sign of new interest in solar careers as the industry expands.
Duke University's tribal installations stand out
While each team brought solar's benefits to underserved communities through lower utility bills and reduced emissions, the Duke University team's installations at the Chemehuevi Indian Reservation on the California-Arizona border stand out for their combination of homeowner impact and student initiative.
The eight-student team, all members of the Duke University Energy Club majoring in energy-related fields, spent four days installing rooftop solar systems on two tribal homes. With most of the team expecting to enter the clean energy industry after graduation, the installations provided valuable hands-on experience with solar technology and how it works in the field.
Professional staff provided on-site guidance and instruction, helping students complete every step of installation from cutting and installing rails to securing panels and setting up electrical system wiring.
"I always considered solar to be a distant, complex idea with numerous environmental benefits I was interested in," said Duke student team member Emilia Chojkiewicz, "Installing solar as it turns out, is very easy and straightforward. Anyone can do it."
Funding for the installations was primarily provided through California's Single-Family Affordable Solar Homes (SASH) program, with additional contributions from Southern California Edison, the San Manuel Band of Mission Indians, in-kind donations from the Chemehuevi Indian Tribe, and student fundraising.
Both systems used donated SunPower SPR panels with SMA 240V inverters. The first system features 10 SPR panels for a 3.27kW DC rating and $760 in estimated annual utility bill savings, and the second system features 12 SPR panels for a 4.92kW DC rating and nearly $940 in annual savings.
Solar as economic opportunity
Tribal communities, especially rural ones, face some of the highest unemployment and poverty rates in America. Although reducing electricity costs is important for every low-income consumer, combining clean energy resources with solar's economic benefits are particularly salient for tribes developing resources consistent with their values.
Part of the Great Basin Culture Area, the Chemehuevi Indian Tribe is a branch of the Southern Paiute. Known to themselves as Nuwuvi (The People), they have been nomadic residents of the Mojave Desert and Colorado River shoreline for thousands of years. The Chemehuevi became a federally recognized tribe in 1970. Today, the reservation comprises 32,000 acres of trust land including thirty miles of Lake Havasu shoreline.
The tribe operates a small casino, restaurant, and other tourist-oriented businesses, but struggles to find economic opportunities for residents. Most Chemehuevi are on fixed incomes, and temperatures exceed 110 degrees in the summer, forcing them to choose between air conditioning and other expenses.
The solar systems installed by the Duke student team are expected to reduce household electricity bills at least 75 percent, saving homeowners up to $21,000 over their 25-year expected lifespans. Since 2012, 85 systems have been installed on the Chemehuevi Reservation, with SASH program funding, representing $1.7 million in investment. The savings to families are up to 90 percent on electricity costs.
Home solar installations are just the beginning for tribes like the Chemehuevi, looking to transition to renewable energy. In addition to their field work, the Solar Spring Break students met University of California Riverside (UCR) Professor Dr. Alfredo Martinez-Morales, Managing Director of the Southern California Research Initiative for Solar Energy, to discuss a solar carport microgrid being planned for the Chemehuevi.
The system will manage energy use profiles and provide uninterruptable power at the Chemehuevi Community Center, which is currently prone to outages through a 90kW solar PV array with a 60kWh/30kW flow battery energy storage system. The design includes an advanced control system to take advantage of energy management strategies with expected benefits like lower energy costs, improved energy management, and increased grid stability for the whole community.
Building a diverse and skilled solar workforce
Beyond improving tribal family lives, Solar Spring Break is helping develop the next generation of solar industry workers and building a diverse workforce. America's solar industry needs qualified workers, the National Solar Jobs Census forecasts industry employment will grow 14 percent in 2016 but one in five solar employers already consider it "very difficult" to find qualified employees.
Most installers seek hands-on experience in new workers, so by combining classroom learning and passion for clean energy with actual work environment experience, Solar Spring Break participants graduate roof-ready.
"We were taught more in two days than we learned in months at school," said Abhishek Rao, a graduate student at Arizona State University who participated in 2015. "We put into practice all we studied from textbooks about residential solar systems, from surveying the site, to using tools to determine shading, designing the system, and actually installing it with our own hands. Solar Spring Break definitely added a much-needed real-world perspective to my experience studying solar energy engineering at school."
Solar Spring Break's student training benefits mirror training opportunities provided for tribal members through SASH-funded installations. To date, thirty-one Chemehuevi members have received a combined 1,500 hours of training, installing systems in the community, and learning skills they can use to start careers in solar.
As America's solar industry matures and installations expand, we're entering an incredible opportunity to build our own diverse, skilled workforce while extending the benefits of clean energy to all communities.
Lia Papazoglou is the volunteerism and collegiate programs manager for GRID Alternatives. GRID Alternatives' vision is a successful transition to clean, renewable energy that includes everyone. Their mission is to make renewable energy technology and job training accessible to underserved communities. College students are encouraged to get involved with Solar Spring Break next year by visiting http://www.solarspringbreak.org.
Volume:
2016 May/June