20 Jul 2014
By Michael Maher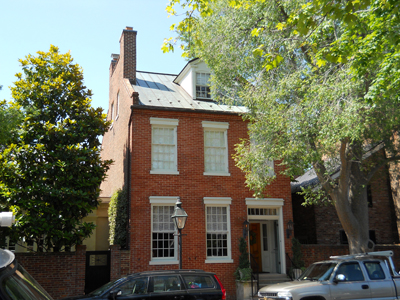 When Harry and Maria Hopper purchased their 1830's Federal-style Old Town Alexandria home, they were excited to take ownership of a piece of architectural history just miles from the nation's Capitol.
Old Town Alexandria is a quaint, historic town, just on the other side of the Potomac River from Washington, DC. Once an important port during the colonial, revolutionary, and Civil War periods, today Old Town is a revitalized waterfront with cobblestone streets, colonial houses, and unique shops and restaurants.
"We realized in the initial years of living in our Old Town home that it was going to be a challenge for us when it came to maintaining indoor comfort," shared Maria Hopper. "Ultimately, we would need to compensate for lost heating and cooling with a highly efficient HVAC system upgrade."
Bridging the gap between old and new, at least in terms of technology, was worth the challenge for these homeowners. The Hopper's have a geothermal heat-pump system in their farmhouse in rural Virginia, and hoped to retrofit a geothermal-driven, heating, ventilation, and cooling (HVAC) system into their newly purchased, Old Town home as well.
Along with saving on electricity costs (offering between 25% and 50% power savings compared to traditional systems), geothermal HVAC systems also provide efficient and precise distribution of comfortable air all year long, eliminating noisy ventilation and uneven hot or cold spots. According to the Department of Energy and the Environmental Protection Agency, geothermal systems are the most environmentally friendly way to heat and cool a home. They reduce the emission of carbon dioxide, carbon monoxide, and other greenhouse gasses, which are considered to be major contributors to environmental air pollution.
However, installing a geothermal HVAC system at the Hopper's Alexandria residence proved somewhat challenging. The home provided some limitations, at least in terms of spacing. A 17-foot by 30-foot walled backyard surrounded the house, adding difficulty to the initial design layout.
"Boreholes typically require 20 feet of spacing," explained Rich Abernathy, president of Air Cool & Heating Systems, and mechanical contractor for the job. "And, with the Btu requirements for the HVAC system we'd designed, the backyard space was technically not quite big enough."
Fortunately, a solution was found with a PEXa-based (crosslinked polyethylene) piping system. Traditionally, HDPE (high-density polyethylene) piping systems are used, and are more familiar among geothermal installers. But, PEXa is a high-performance thermoelastic polymer material that allows for flexibility. Its flexible nature enhances installation parameters by enabling a minimum bend radius as tight as three times the pipe's outer diameter, making it possible to install two nested U-bends in each borehole.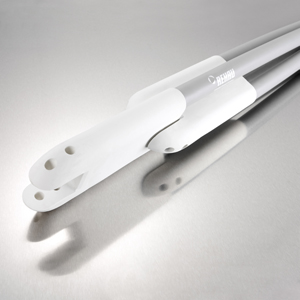 "Using a PEXa-based system, including double U-bends that allow for collection of up to 30% more energy per borehole, we only needed to drill five wells, which the backyard could accommodate," said Abernathy.
A U-bend, which is the 180-degree bend of pipe length at the bottom of a vertical loop, represents a crucial component of the geothermal system. PEXa U-bends can be considered particularly beneficial, as they are constructed in a joint-free manner in which the pipe itself is pre-bent and cast into a solid resin shell. The result is a highly reliable U-bend with no connecting point flow obstructions, and no chance of failure in the borehole due to a fittings malfunction.
The system for the Hopper's home was designed using a home-run, loop-field configuration. This included five 260-foot loops of PEXa pipe run from each of the five 230 feet deep boreholes. In addition, two 5-port 1-1/4-inch balancing manifolds were used to accommodate 10 supply and 10 return runs from the borehole field.
Another advantage to this solution was that each U-bend in the borehole can be controlled and isolated individually by the balancing manifolds, allowing the system to be optimized. It's also possible to isolate an individual borehole for maintenance or troubleshooting, without shutting down the entire system, which is advantageous to the mechanical contractor and the homeowner.
According to Gregg Drunagel, installer of the balancing manifolds and chief operations manager at Green Hill Mechanical, the PEXa-based system provides a new level of opportunity for retrofit applications.
"Getting significantly more Btus out of a borehole like this opens up so many project doors," Drunagel said. "We are experiencing more interest in retrofit versus new construction projects these days. It helps to be able to say with assurance that we can deliver the required amount of energy no matter what kind of tight space we're faced with."
"We're looking forward to a summer of that consistent, dry, cool temperature that only geothermal can provide," Maria Hopper said. "With our experience in our other home, we're also confident that the utility bills are going to be minimal compared to what we've seen here over the past 12 years. The system is also so pleasantly quiet, friends who visit always seem to wonder if it's even on!"

Michael Maher is the sales manager of Renewable Energies for REHAU.
REHAU
http://www.na.rehau.com
Author:
Michael Maher
Volume:
July/August 2014