15 Sep 2021

Blades Meet Efficient, High-Velocity Cargo Handling
Twenty years ago, a 16-meter wind turbine blade was considered a long blade. The Port of Vancouver USA recently handled 77-meter-long blades—the longest ever imported into North America—nearly 5x longer than blades from two decades ago. Wind turbine size has increased in parallel with demand for wind components throughout North America. Any shipper's list of port selection criteria has to include the laydown capacity to safely and efficiently handle such oversized cargo.
With its combination of favorable West Coast location, available laydown space, exceptional equip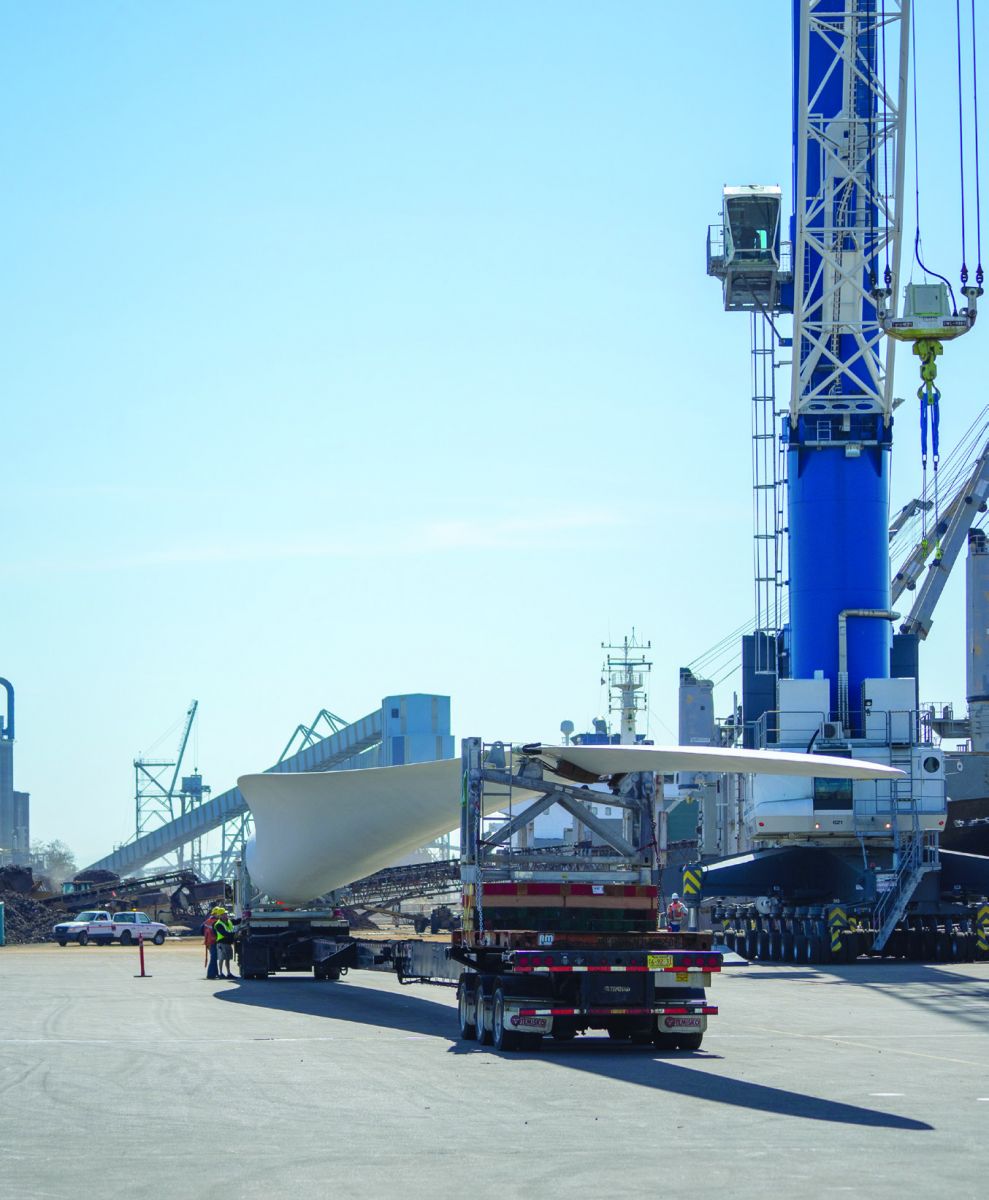 ment and infrastructure and experienced labor force, the Port of Vancouver USA has
a track record of success for handling wind energy components into the US and Canada.
Location and capacity
Just over one hundred miles up the Columbia River from the Pacific Ocean, the Port of Vancouver USA enables shippers to bypass the congestion of other coastal ports. In addition, the port lies at the nexus of two interstate highways and a continent-spanning rail network, providing direct access from Asia to the US Midwest and Central Canada.
In contrast to most other West Coast ports, the Port of Vancouver USA also has vast amounts of acreage available for marshaling and short-term storage of large wind components. The port's Terminal 5 facility features more than 80 acres of laydown space immediately adjacent to the deep-draft shipping channel.
Experience and flexibility
The Port of Vancouver USA has more than 18 years of experience handling the transit of wind components bound for Eastern Washington, Oregon and Canada. In-depth knowledge of handling procedures, fixture types and other manufacturer-specific requirements allows the port to rapidly, efficiently and safely accommodate the full array of component types, sizes and designs.

Velocity and certainty
The Port of Vancouver USA offers logistics professionals the hard-to-find balance of fast and efficient cargo handling along with the peace of mind that components will be handled safely. The operators of the port's two heavy-lift Liebherr cranes are experts in engineered and tandem lifts, plus representatives from heavy-haul trucking companies are on-site to manage cargo movement.
Considering all the advantages the Port of Vancouver USA offers the wind energy industry,
it comes as no surprise that the port will handle more wind energy shipments than any other
US West Coast port in 2020.
Find out more at portvanusa.com

Port of Vancouver, USA
Volume:
2021 September/October