08 Sep 2021
KEEN Utility's Troy, featuring KEEN.BELLOWS Flex technology, an ergonomically engineered system designed to offer multidirectional flexion making bending, squatting, kneeling, and knee-down work up to three times easier. Part of the brand's American Built line of boots and shoes, this boot is assembled with pride in KEEN's Portland, OR manufacturing facility using materials from around the world. The six-inch boot offers asymmetrical carbon fiber safety toes providing ASTM-rated, metal-free toe protection with a roomy, less obtrusive fit. The Troy features proprietary comfort innovations including a lightweight LuftCell air-infused PU midsole for comfort and all-day support and a LuftCore air-injected heel for enhanced cushioning and shock absorption helping reduce impact on the body with every heel strike. An oil- and slip-resistant non-marking multi-directional lugged rubber outsole provides increased stability and traction on uneven terrain and is EH-rated to provide a secondary source of protection if the outsole accidentally comes in contact with live electrical circuits. A KEEN.Dry waterproof, breathable membrane allows water vapor out without letting water in and an antimicrobial lining helps to keep the boots odor-free. Available in two colorways, the KEEN Utility Troy is available online and in select retailers.
Keen Utility | http://www.keenutility.com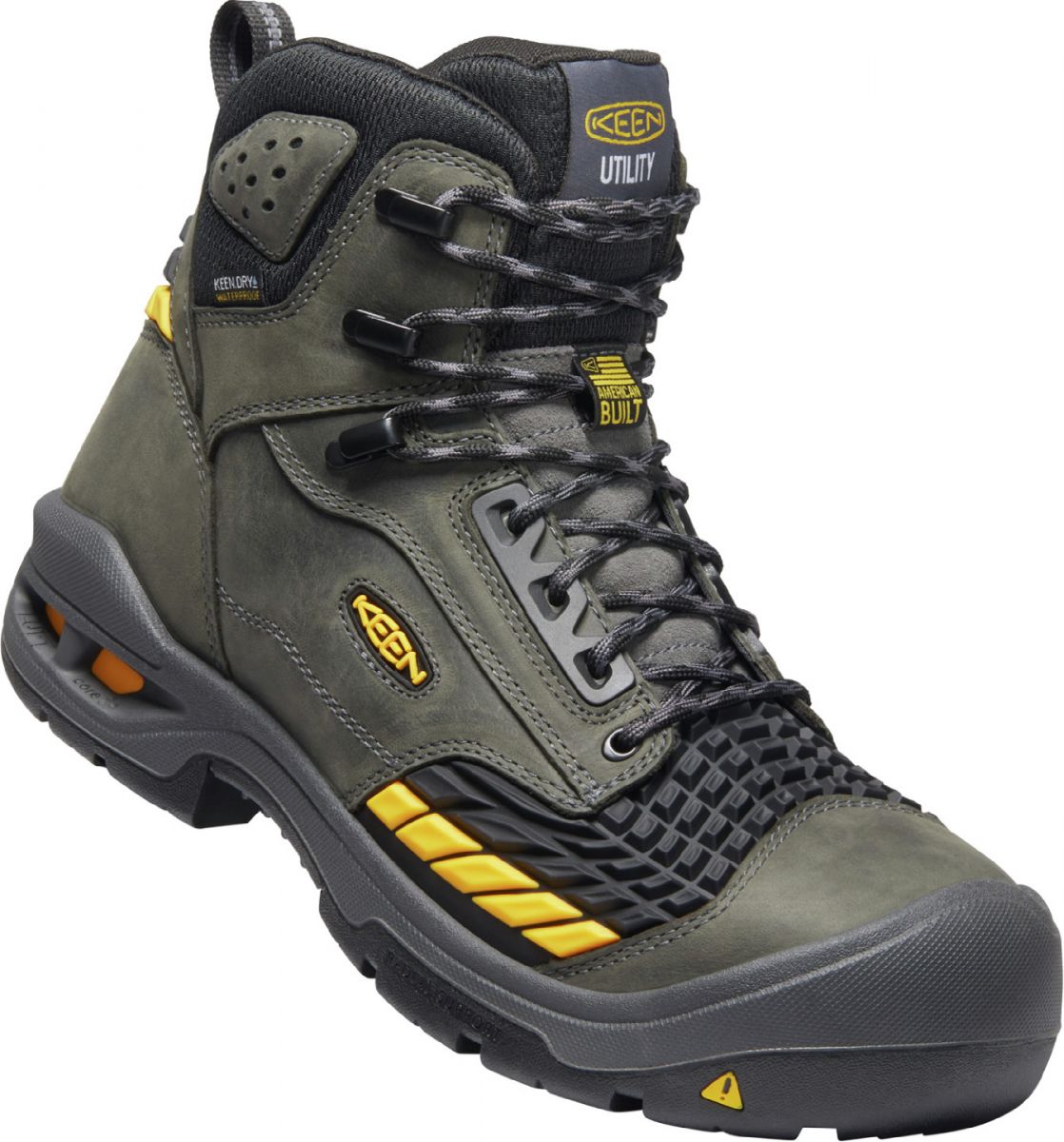 When Keen named their new Utility/Work Boot the "Troy" they were right on target. These boots were made for Trojan Warriors! For the past few months, the Product Evaluation Team at NACE has had the opportunity to work and play in these boots and they have performed flawlessly. These rugged safety boots are ready for wear right out of the box. We love the fact that these boots are assembled in Portland, Oregon and the craftsmanship shows. From the Heavy-Duty Eyelets to a double stitched leather exterior to a soft comfortable, breathable anti-microbial interior to the thick nonslip Electrical Hazard (EH) rated sole, this Troy Utility Boot is built to last. The boot features an ASTM-rated carbon fiber safety toe with a huge toe box. Not only is the Carbon Fiber toe box metal detector friendly (for those working in secure areas), but it also that offers plenty of room and doesn't pinch down when your foot flexes! Like other Keen work boots we've tested, we found the sizes to run a little small and recommend you order at least ½ size up. So, after 2 months of putting these comfortable boots through rigorous testing on the job site and shop floor we wondered how they would perform on the hiking trails, so we set out into the woods! These waterproof boots worked great. They have all the safety features you need on the job yet are comfortable enough you can put in a 10-mile day on the trails. We really think Keen should be marketing them as a dual-purpose boot! Bottom line, if you are still wearing those old heavy uncomfortable steel toed boots which make your feet sweat, you must treat yourself to a pair of Keen's new Troy Utility Boots. You will not be disappointed. We give these boots a 5 out of 5.