17 Mar 2021
Dealership outshines the rest with Solar Carports
Today's car dealerships are looking for ways to improve their competitiveness. The cost of power, competition from online car buying, and escalating insurance premiums due to vehicle damage and deductibles are among their biggest challenges. One Texas car dealership has discovered that carports equipped with rooftop solar power address all three of these challenges while also benefiting the environment—and providing them with predictable and stable future power costs.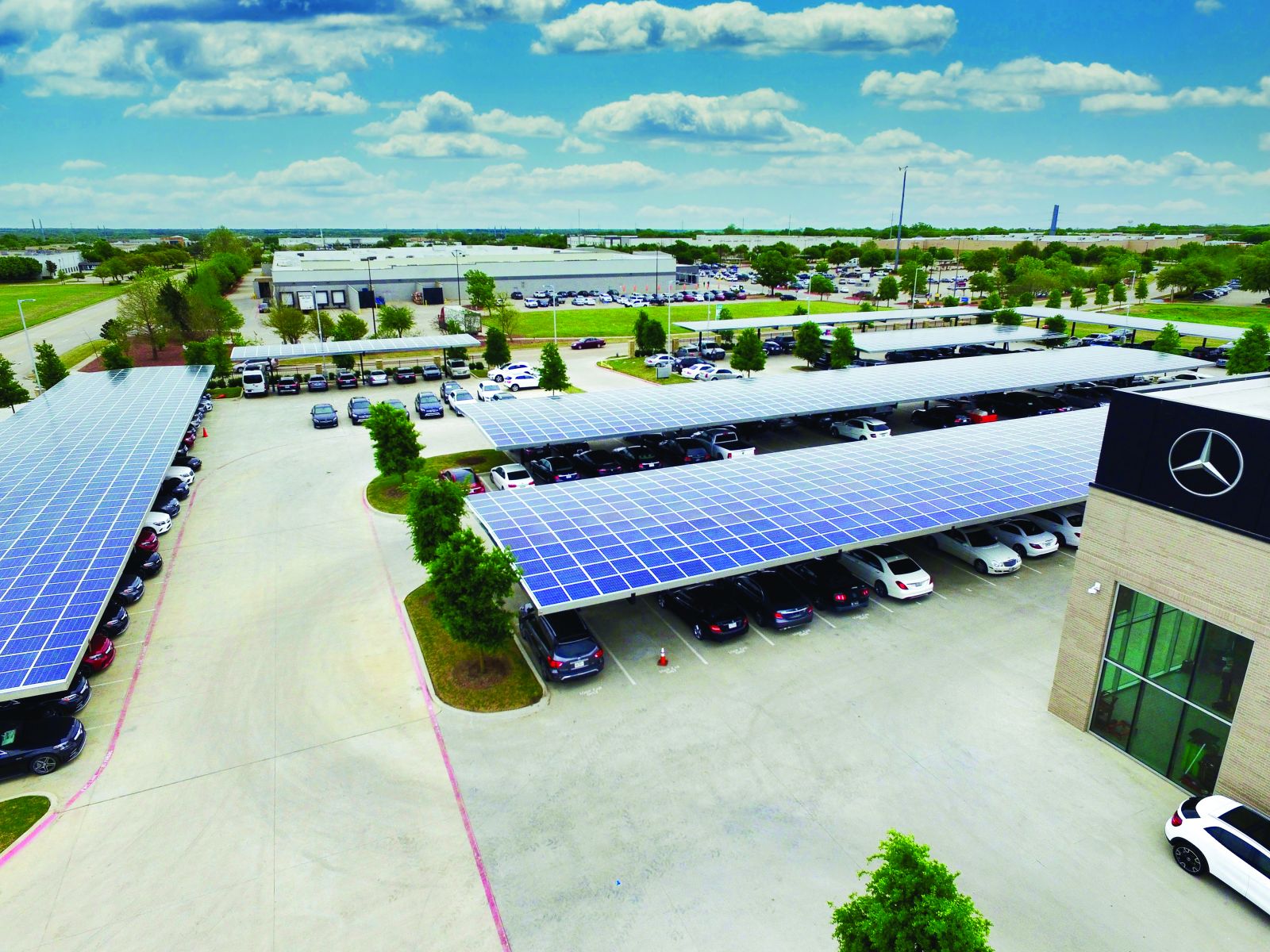 Mercedes-Benz of McKinney McKinney, Texas | 787 kW

BAJA Carports builds a beautiful carport solution for Texas Mercedes Dealership to generate power & protect from hail in just 28 days
The main motivation for this solar power carport installation in McKinney, Texas, a suburb of Dallas, was to protect the dealership's high-end car inventory from hail. It was completed last April after three months of construction. Using a solar carport structure to protect their inventory gives car dealerships, like this one in Texas, the ammunition to potentially negotiate better rates and deductibles with their insurers.
The solar carports produce 1.089 megawatt (MW) hours of solar power annually and offsets 1213 metric tons of greenhouse gas. This is the equivalent of over 136,000 gallons of consumed gasoline or the annual power consumption of 190 homes. They are offsetting 78 percent of their power consumption with this solar installation. Their power costs are nearly eliminated, with a potential payback on the solar installation in five years or less.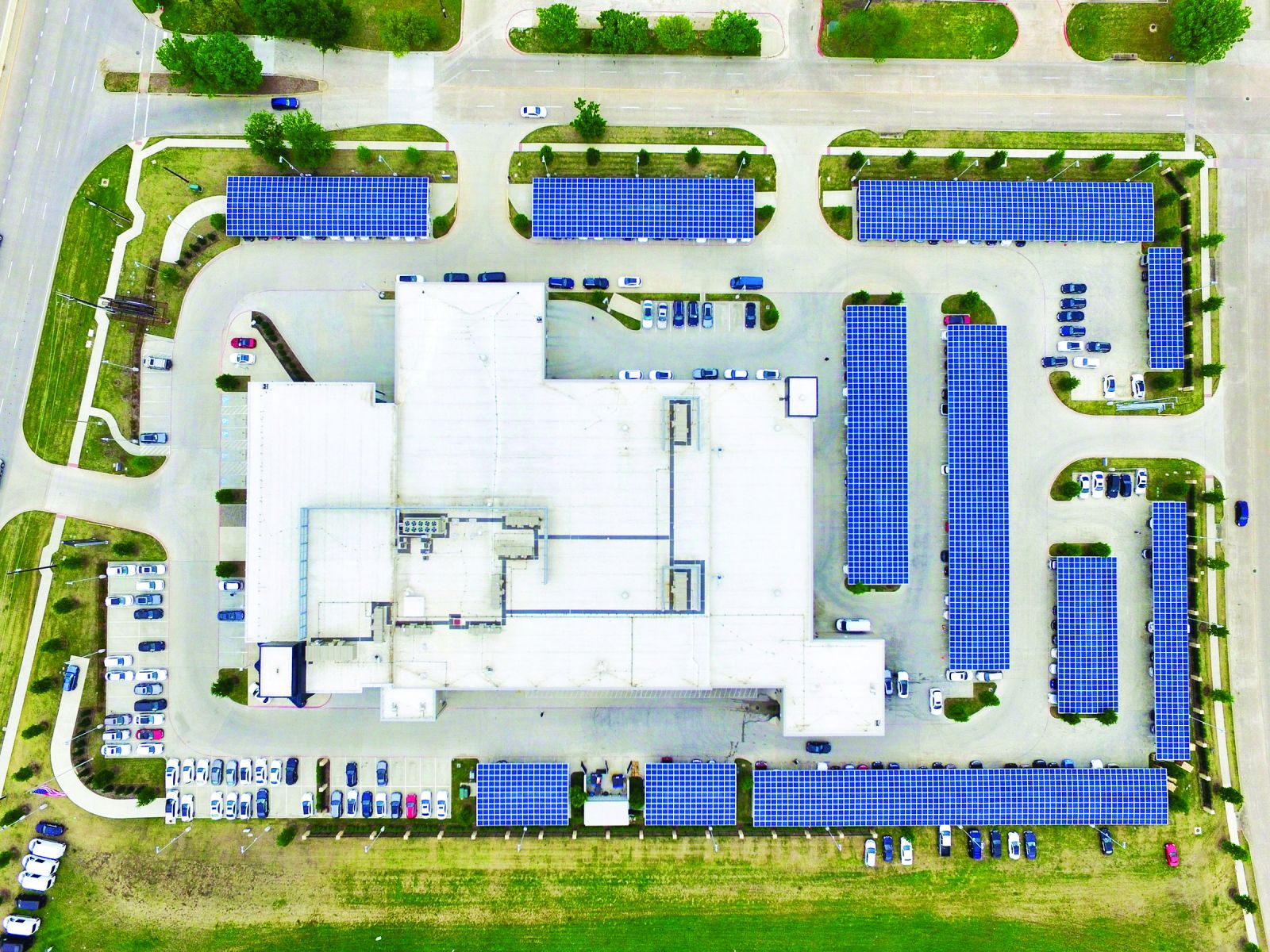 In terms of curb appeal, the unique and attractive curved design of this carport, which encompasses the dealership's showroom and service building, complements their inventory and provides a shaded and comfortable environment for customers. It acts as an extension of their showroom floor where customers can walk around out of the sun and make their way into the dealership's VIP lounge. The carport is also equipped with solar-powered canopy lighting to illuminate the inventory late into the evening.
Baja Carports provided structural design, components, and installation on the project. Their team of in-house engineers to design the carport configuration. It features Baja's TS radius beam solar support system manufactured from pre-fabricated steel. The solar panels are attached directly to the structure's framing system or its rooftop decking, which was a design challenge since solar panels do not bend nor are their frames curved. According to Baja Carports, the structure's curvature made for a challenging solar panel installation.
"The current design was born out of necessity to not design too tight of a radius so that solar modules could be installed. The outcome was a slight curvature, which works for solar modules and provides a unique look," says Baja Carport's Director of Operations Paul Cerejo.
Baja Carports was able to deliver and install the solar carport structure using a designated staging area and installing the carport structure in three phases with eight crew members in just 28 days. There was very close coordination with dealership management and a dynamic situation where the staging area was diminishing in size on a daily basis.
"Working at a high-end dealership, which cannot shut down for installation, while keeping their facility in operating condition is always a complex task," says Cerejo. "Coordination between our installation crew and the dealership's sales department was vital."
Outdoor lots at car dealerships are common for storing and displaying their inventory. Therefore, there is a constant need to protect that inventory from destructive weather like hail, as well as direct sun, rain, and snow. Solar carports are a perfect solution.
Baja Carports | bajacarports.com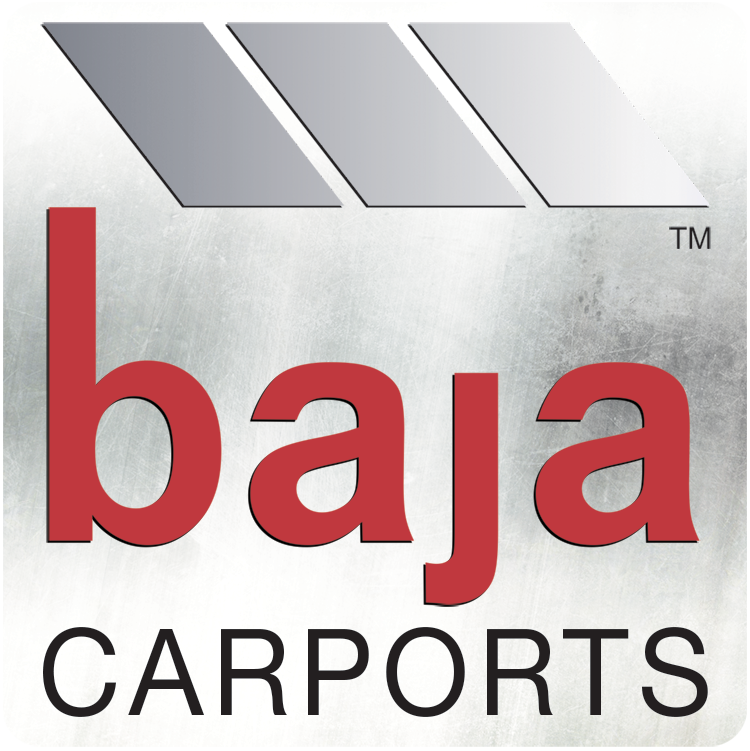 Volume:
2021 March/April