15 Nov 2020
By Russell Schmit
Thanks to incentives, sustainability missions, and resiliency goals, California schools are leading by their example as customers for integrated solar and storage systems. Campuses nationwide can look to their California counterparts for ways to incorporate renewable energy into their school systems.
California school districts will typically install systems on canopies in parking lots and play areas, which provides the added benefit of shade while preserving precious space. Where space is not a concern and/or roofs are suitable, arrays can be found in fields or on rooftops. Increasingly, batteries are paired with solar to shape building loads, further lowering electric bills. Higher sustainability goals are driving recent trends, such as the electrification of school bus fleets, and solar-plus-storage projects to power schools during grid outages. As new goals are defined and technology evolves, it's increasingly important to have independent engineers guiding your project from concept to completion.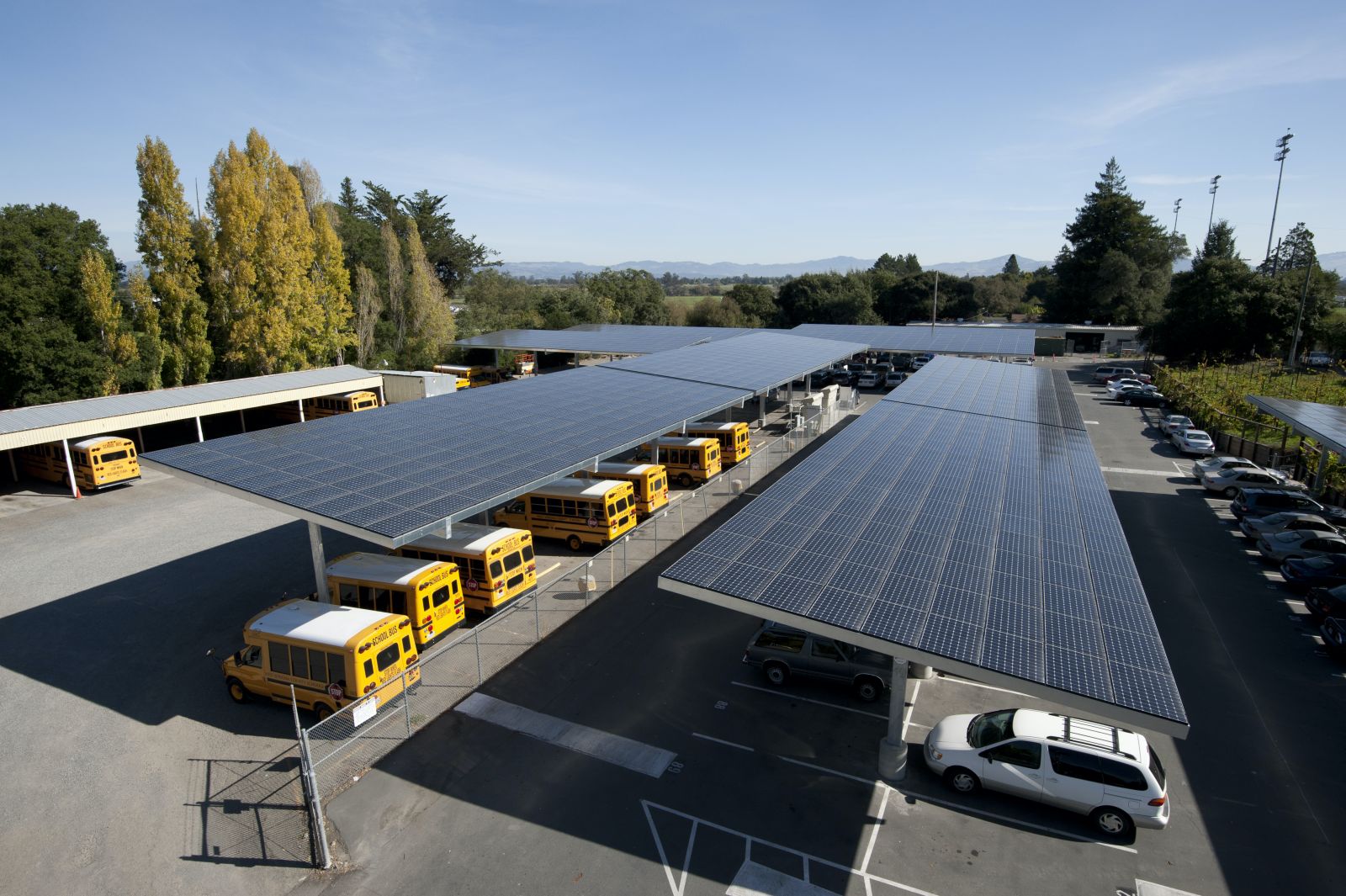 Over 80 school districts have benefitted from such projects. Solar pioneers include San Diego, Santa Barbara, Kern County, and Temecula Valley. What can schools elsewhere learn from their experiences?
Efficiency first. The greenest energy, and frequently the lowest cost investment, is the electricity and gas that you do not consume. While many facilities have already addressed low hanging fruit like lighting, further efficiency should be part of any generation and storage program. Lighting and daylighting, HVAC systems, controls, building envelope, and behavioral changes should all be considered when planning for solar.
All solar isn't the same. The idea is not to implement solar simply for the sake of going solar. Look for a quality system that meets your organization's goals of savings, a long-term hedge on utility costs, low maintenance, a visible commitment to sustainability, etc. Additionally, the system should provide backup for an increasingly less reliable grid. The properly designed and financed system will pay for itself faster and reduce maintenance headaches over its lifetime. Temecula Valley, for instance, expects to save $36 million over 25 years. It's worth the time spent on due diligence, and exploring emerging technologies such as bifacial panels, batteries, and microgrids.

Low-maintenance doesn't mean no-maintenance. How energy systems are specified, designed, constructed - and then operated and maintained - can have a big impact on their performance. Owner's representation and quality control is important throughout the process.
Add battery storage. Energy storage will shape and optimize your facility's energy consumption to further reduce costs. A solar-plus-storage system can help reduce spikes in usage, store daytime solar generation, and offset higher-cost afternoon and evening usage. These paired generation and storage systems are increasingly being used to provide resiliency through a "microgrid", allowing you to operate critical systems when the electric grid is down. In California, especially, this is a growing issue.
Incentives are key. Incentives for energy projects are often integral to the financial performance of a project. Federal tax incentives continue to drive public-private partnerships, such as solar PPAs. California's incentives for energy storage and zero-emission transportation are significant drivers for the growth in battery and electric bus markets. Recent grants and fuel credits for fueling with clean electricity have offset the high cost of electric busses (currently 2.5-3 times the cost of a traditional diesel bus), making battery electric buses a much easier choice. Because state incentives differ, and all incentives involve schedule consideration, it's important to understand which are available at the beginning of the process.
Don't undervalue the opinion of an expert. Energy projects are a significant and long-term investment, and frequently implemented as design-build or design-build-own-operate. Having expertise on your team helps you properly scope your project, set realistic financial projections, solicit competitive bids, and provide owner's representation during design, construction, and commissioning of the systems. Upfront engineering services can lower your costs, reduce risk of underperformance, and optimize the incentives and other benefits. For many schools, this may be a first look at alternative energy options. Developing the right systems requires drawing on the experiences of those who have done this before.
Schools are increasingly developing larger and more complex energy systems. The Santa Barbara Unified School District recently reviewed proposals for solar-driven microgrids and EV charging stations. The project will cover 15 sites, including three high schools, four junior high schools, six elementary schools, a district office/continuation high school, and a warehouse. Together, they will add 4.5 megawatts (MW) of solar capacity and 6 megawatt-hours of battery storage. Six sites will host microgrids, incorporating two to six hours of "islanding-mode" (off-grid) backup. Fourteen will feature solar shade canopies over existing parking lots and playgrounds, with the remaining sites featuring ground-mounted systems. Construction is slated for summer 2021.
Communicate and understand all the benefits. Saving taxpayers' money is always appreciated. It's possible to install these systems with no upfront investment, as Temecula Valley was able to do by selling the output in advance on long-term PPAs. Panels that shade playgrounds and lunch areas add ancillary benefits, often while cutting non-solar shade structures from the budget - shaded parking provides a popular amenity. Electric buses reduce noise pollution, and don't expose students to diesel exhaust. Then there are the environmental benefits: The 6 MW system that Temecula Valley began operating in 2016, will offset 96,000 metric tons of greenhouse gas emissions over its lifetime (the same amount 20,000 cars emit in a year). Unlike fossil-powered plants, Temecula Valley's system uses virtually no water, which will end up saving 4 billion gallons of water - sorely needed in drought-stricken California. It's a learning opportunity for students, and a money-saver for their parents.
California schools will continue to be pioneers in developing innovative clean energy solutions with economic, environmental, and community benefits. Schools across the country will likely follow suit, developing plans that include energy efficiency, solar, battery energy storage, and electrified busses. These projects represent a glimpse into the future, laying the foundation today for a clean energy economy, and providing hands-on learning experiences for the clean energy workforce of the future.
Russell Schmit is COO of Sage Energy Consulting, which has helped 60 school districts, as well as governments and companies, make decisions about solar PV, battery storage, electric vehicle charging and fleet planning, zero net energy plans and implementation, and Community Choice programs.
Sage Energy Consulting | http://www.sagerenew.com
Author:
Russell Schmit
Volume:
2020 November/December